The One TJ's Item To Try Based On Your Astrological Sign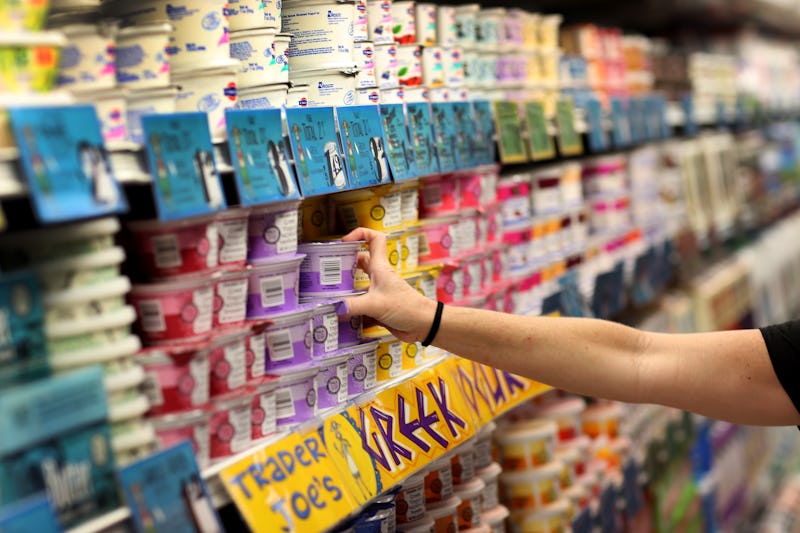 Joe Raedle/Getty Images News/Getty Images
Sick of buying the same bag of peanut butter-filled pretzels each trip to Trader Joe's? Want to try something new, but feel overwhelmed by the immense selection? Let the stars be your shopping guide! Just as the zodiac can help you find a perfect romantic match, it can also direct you to the one item you need to try at Trader Joe's, so you don't keep distractedly walking the aisles.
Trader Joe's has a bevy of strange and wonderful original products that range from "Why didn't I think of that?" to "How the heck did they come up with that?" TJ's is always ready with their own take on the hottest food, health, or beauty trend (at an affordable price, of course). New items hit shelves weekly, and limited-edition or seasonal products can sell out pretty quickly — forming a kind of cult around certain hard-to-get products.
It's hard to believe that Trader Joe's is turning 50 this year. To this day the supermarket giant prides itself in "packaging innovative, hard-to-find, great-tasting foods under the 'Trader Joe's' name" — so you're not sure what to buy, we have a handy guide to make shopping simpler. With a little help from the ancient wisdom of the zodiac, these affordable, tasty, and nutritious options can improve dinner and your snacking routine.
Here is the one item you need to try at Trader Joe's based on your Astrological sign: