The One Makeup Organizer You Need To Get Ready If You Don't Sit At A Vanity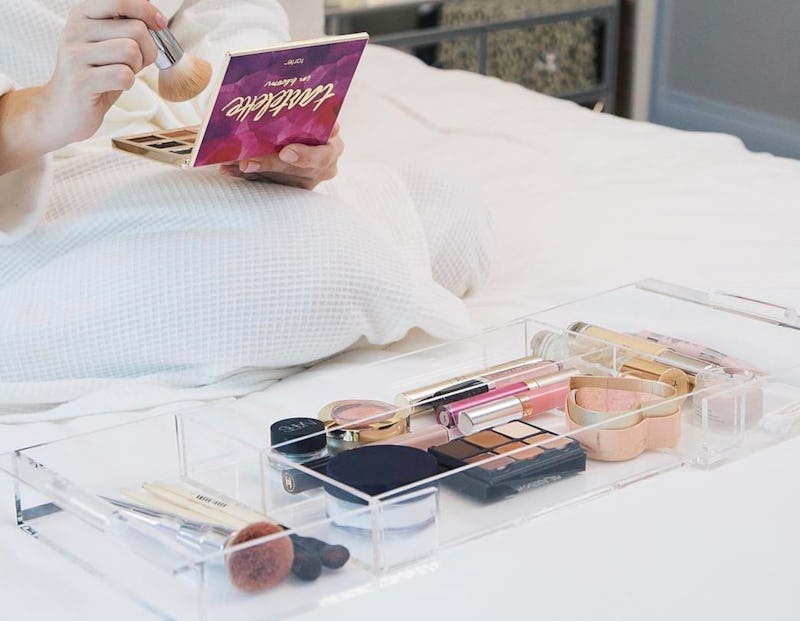 There's nothing better than a well-organized vanity filled with tons of your favorite makeup products. But let's be real — sometimes you need to get ready in your bedroom (while on your bed of course) with all that natural sunlight or in your bathroom in front of your largest mirror. If you've had trouble moving your makeup products from one place to the next, say hello to your new favorite makeup organizer: the GLAMboard. This new luxury organizer is by GLAMboxes, which is a company that specializes in high-end beauty organizers, and it's about to change your life.
While GLAMboxes is infamous for its clear acrylic makeup cases with drawers that sit on top of a vanity, the company's newest product is something they have never offered before. The GLAMboard is the perfect and portable solution for a bathroom or a vanity that has little to no counter space. Both sides of the GLAMboard expand so that you have even more space to get ready in the morning or for a big night out.
What makes the GLAMboard even better for all of your makeup organizing needs is that the container has several different sized compartments so that you can see everything you need to use, and you can even store long makeup brushes and other products that would otherwise be unorganized and rolling around in a drawer.
Using the GLAMboard will help you get ready so much faster! And you won't have to worry about products rolling off your bed or bathroom counter.
You can shop for the GLAMboard and other GLAMbox organizers directly on the brand's website.
GLAMboard, $59.99, glamboxes.com
Just grab your GLAMboard and move to wherever you want to get ready!