NYPD Arrested Women's Strike Organizers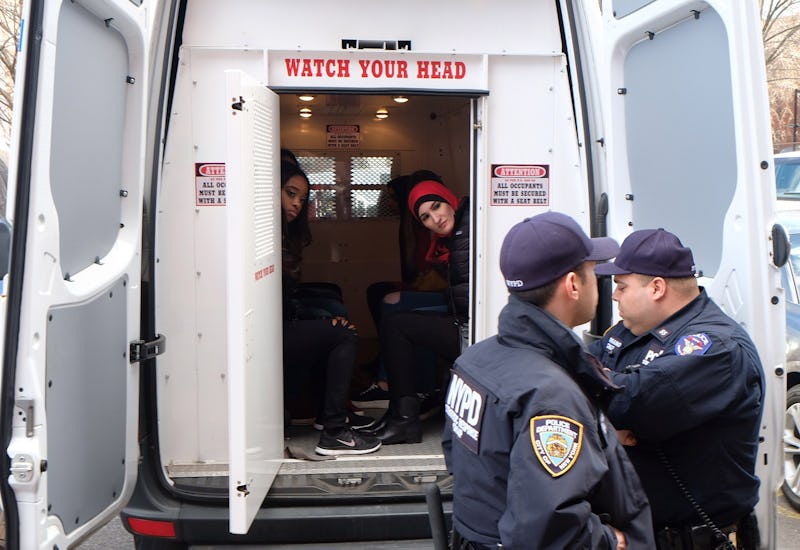 Andy Kiss/Getty Images News/Getty Images
The International Women's Strike was huge. It closed schools and filled the streets with red from New York City to Buenos Aires. Feminist and abortion rights advocates filled city centers in Warsaw and Dublin, and workplaces across the globe noted fewer women in the office. By all measures, this International Women's Day was a huge success — by far the most active and political in years. But there's one story you need to know from the Women's Strike: Some of the protest's U.S. organizers were arrested outside Trump International Hotel in Manhattan during an act of civil disobedience.
You can follow along the entire ordeal on the group's Twitter page. Some 13 women were arrested, The Huffington Post reported, among them Linda Sarsour, Tamika D. Mallory, Bob Bland, and Carmen Perez, some of the key organizers of the Women's March on Washington, as well as Wednesday's Women's Strike.
The New York City protest was just off Columbus Circle when the group decided to cross Central Park West and block the street in front of the Trump International Hotel on the corner. Some protestors sat, blocking the street, and others moved to form a human chain around the building. This is what the Women's March Twitter feed called a "direct action." They also tweeted, "We are blocking traffic as a form of civil disobedience in Columbus Circle (outside Trump Hotel)."
The group chanted in call and response, "Shut it down!" and "Hey hey, ho ho! Donald Trump has got to go!" Then the police came up and told the protestors blocking the street that they needed to disperse. Cosmopolitan reported the officers giving those present an option: "If you do so voluntarily, charges will be placed against you. If you remain in the roadway and refuse to utilize the sidewalk, you will be placed under arrest."
Many of those gathered did choose to go, but not the 13 who were arrested, 11 of whom were organizers of the event. A spokesperson for the Women's March explained the group's thoughts to The Hollywood Reporter:
Today, the national leaders of the Women's March gathered with allies and those participating in the day's actions for a show of solidarity and revolutionary love. After a peaceful protest in New York City in honor of A Day Without a Woman, 13 organizers and supporters were arrested by the New York City Police Department in an act of civil disobedience outside of Trump International Hotel & Towers.
That did not end the protesting for the day. Immediately after Sarsour, the famous Muslim American activist and march co-organizer, was placed into a police van, protestors surrounded it and began a chant that the police let her go. Just before 3 p.m., the Women's March posted details about where those arrested were being processed, and they asked followers to join them outside.
As late as 6 p.m., NYPD had still not provided a reason for the arrest, but later NYPD confirmed that they were arrested for "disorderly conduct" because they were blocking traffic, Cosmpolitan reported.
Around 10 p.m. ET, the Women's March Twitter finally reported that the 13 protestors had been released from NYPD custody — nearly nine hours later.
A Day Without A Woman was number 4 of 10 planned actions for Trump's first 100 days in office. Trump tweeted Wednesday about International Women's Day. "I have tremendous respect for women and the many roles they serve that are vital to the fabric of our society and our economy," he wrote. The goal of actions like this is to make him prove it.
Hats off to those arrested. If the White House's move to reintroduce a travel ban show us anything, it's that more direct actions like this are vitally necessary.