The One Thing Carrie Underwood Wishes She Knew When She Was Younger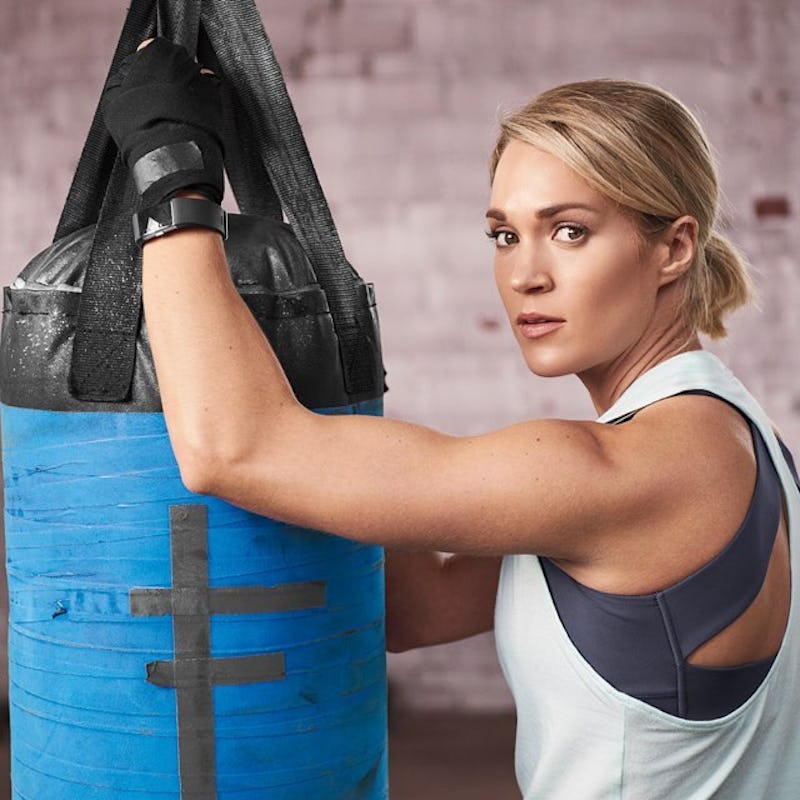 CALIA By Carrie/Instagram
In case you're wondering, Carrie Underwood looks as "camera ready" doing burpees and jumping jacks as she does shimmying across the stage in a sequined mini dress. I can say this with utmost confidence because I'm actually watching her exercise, IRL, under the hot Malibu sun with a near perfect face of makeup and hair. (I'm also doing the workout, but unlike her, I'm nearly drowning in my own sweat.) I'm here because Underwood invited editors and influencers to experience the spring and summer launches of her athletic apparel line, CALIA, at a beautiful oceanfront estate.
The day-long agenda includes two CALIA outfit changes, a braid makeover, a celebrity chef-curated vegan lunch, and yes, a high-intensity workout led by her trainer, Eve Overland. It's a long amount of time for a big celebrity to spend with a bunch of strangers, in my opinion, especially when she could be back in Nashville with her family, but Underwood seems at ease and totally happy to be here. It could have to do with the fact that her CALIA clothing (which we're all wearing) is so freaking comfortable, but as Underwood tells me, a day like this, filled with exercising and healthy noshing, is her perfect way of practicing self-care.
"I try to take care of my body and in turn, it keeps my mind feeling healthy as well," says Underwood. "Working out serves as a stress reducer for me. If I'm having a long day, or I'm on the road, getting my workouts in keeps me focused and energized. Endorphins are real!"
In addition to staying active, Underwood says maintaining a clean and mostly vegan diet (hence our plant-based feast) and getting a proper amount of sleep helps her feel her best. That's not to say Underwood won't indulge when she wants to or skip the gym if she's busy. "I try my best not to be too hard on myself — if I can't fit my workout into my day, that's OK. It happens!"
Underwood's passion for physical health and wellness started at a young age. When she wasn't performing at local shows and singing at church, she also grew up playing sports, which not only kept her active, but also helped her become a stronger person. "I played softball. Sports helped me become more confident in myself and taught me how to set and achieve goals. Being part of a team and being active taught me to push my limits and to strive for what I wanted."
And strive for what she wanted, she did. Everyone knows Underwood's American Idol success story, but that win was merely a jumping off point for the reigning queen of country music (and now activewear designer.) Since 2005, Underwood has become a household name, with six albums, countless number one hits, and dozens upon dozens of awards under her belt.
Second to being a widely successful country star, Underwood has now become a major figure in the fitness world. Even before CALIA, she (along with her workout routine) has been featured in places like Self and Shape. And now that she has her own athletic apparel line, being "fit" isn't just a hobby — it's almost like a full-time job she has to succeed at, or at least that's what her Instagram followers make it seem like. They critique her form in workout videos or leave snarky remarks about her sweaty selfies. And while this could've unnerved her years ago, Underwood could care less about the negative comments now.
"When I was younger I worried about what people thought about me. I wish I could go back and tell my younger self what I know now — that trying to fit into someone else's vision of you will never make you happy," she tells me, very sincerely. "Now I focus on the goals I set for myself and try my best to do what's right for me."
Of course, she still feels the weight from her fans, especially since she is a role model to so many women, young and old. "Sometimes I feel pressure as someone in the spotlight to do things the 'right way.' When it comes to fitness, everyone has an opinion or comment. I just try to remember I am doing my best and what works for me, and hopefully that resonates with people."
This seems really important to Underwood — resonating with her fans, especially through CALIA. The pieces are trendy, affordable, and really wearable for loads of occasions, whether you're an avid SoulCyclist or just looking for a pair of leggings to run errands in. The CALIA Instagram account shows a wide range of women, all wearing colorful tops and bottoms for Crossfit, commuting, and beyond.
But above all, outside of creating stylish activewear, Underwood wants CALIA to empower women to be strong, including teens and kids. She even teamed up with DICK's Sporting Goods Foundation to make a $200,000 commitment to fully fund over 100 girls team sports projects across the country. But don't take my word for it — check out Underwood's commercial for CALIA, where she shares her wish for young women to know that they are beautiful and capable of achieving whatever it is that they want in life.
To see the entire CALIA by Carrie Underwood collection, head over to Dick's Sporting Goods, where the line is exclusively sold.