The Only Outfit You Need Based On Your Aura Color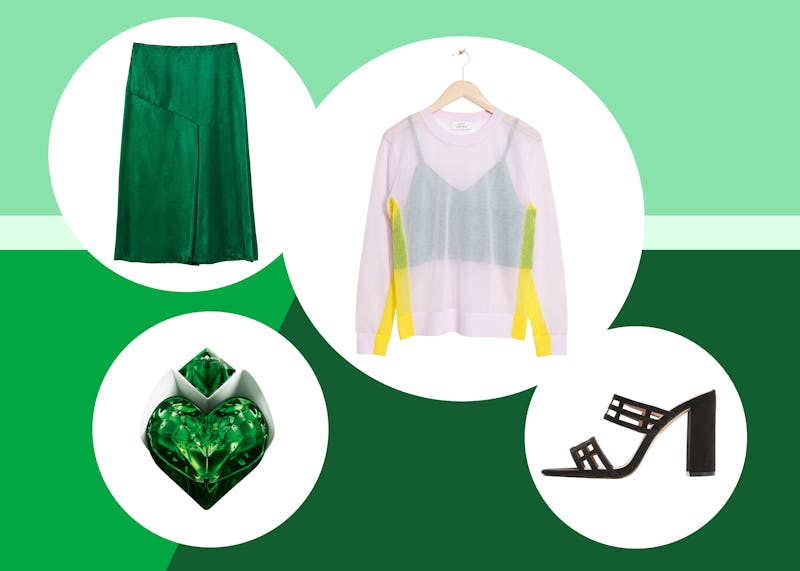 Bustle
There's a reason things like power ties and power lipsticks all tend to be a shade of red — it's a color that evokes strength, authority...power. And yellow is a go-to color for anything happy and uplifting. We have strong emotional responses to certain hues, and they affect our days whether we realize it or not. But what if we said there's another type of color in your life you're probably not considering, but should? It's time to tap into your spiritual side, because we're talking about your aura, the electromagnetic energy field that radiates around you (believe us, it's a thing). We've teamed up with AURA MUGLER — Mugler's newest fragrance — to bring you seven stylish looks that will help you delve deeper into your mystical self.
Are you a sensual, spiritual blue? Why not dress in that spectrum to really embrace your intuitive side? Or maybe you want to tap into the qualities of the aura shade you dream of having. Try an emerald look to get the creative juices flowing. Now, go on and find your shade (if it hasn't already found you).
Green
If you're seeing green, then chances are you're creative and down-to-earth. You see beauty in everything, including your surroundings (likely because a green aura is associated with the heart chakra). Start your look with a spritz of AURA MUGLER, whose warm notes exude a floral bouquet, and whose bottle shape aligns perfects with your chakra. Pair it with a sleek color-blocked sweater and a matching emerald midi skirt for maximum impact.
AURA MUGLER Eau de Parfum, muglerusa.com; layered sweater, stories.com; midi skirt, zara.com; caged mules, topshop.com.
Blue
Blues are associated with being spiritual and sensual beings, while also keeping a (necessary) rational side. It's time to show off your playful nature with a shoulder-bearing knit and fun pinstripe flares. Leather heeled slides elongate the look, and an embellished evil eye necklace is the perfect talisman to keep close to the heart.
Enzo Costa off-the-shoulder sweater, intermixonline.com; Eve Denim high-rise culottes, modaoperandi.com; evil eye pendant necklace, astleyclarke.com; leather mules, zara.com.
Yellow
If you're logical and great at communicating, then you may have a yellow aura. These individuals are extremely intelligent and pay attention to even the tiniest details. Channel this vibe in an ultra-soft knit and sleek white trousers. Don't forget a buttery leather backpack for carrying your essentials (including the new book you're reading).
Ganni mohair sweater, intermixonline.com; skinny-fit pants, bananarepublic.com; leather backpack, everlane.com; woven mules, topshop.com.
Red
As you may have expected, those with a red aura are often romantic and in tune with matters of the heart. A flirty red flamenco-style dress is totally up your alley, while lace-up ghillie flats mean you can still pad around town with ease (sans blisters). Finish the look with mismatched constellation stud earrings — after all, this type is also believed to have a special earthly connection.
Maggie Marilyn silk satin dress, net-a-porter.com; quilted clutch, asos.com; stud earrings, catbirdnyc.com; Callisto of California flats, dsw.com.
Purple
Purple auras are the most perceptive of the bunch, sometimes even accumulating information about others without knowing it. They can veer towards being empathetic or even psychic (if they happen to have that ability). Go for this sage vibe with an eclectic bell-sleeve top and a pink grommeted mini. Half-moon drop earrings and stark white sneaks round out the colorful look.
Roksanda satin-trimmed blouse, net-a-porter.com; Topshop faux leather skirt, nordstrom.com; half-moon earrings, urbanoutfitters.com; trainers, topshop.com.
Orange
If you need a mood boost, red isn't the only shade you should wear. Orange auras are exciting and up for a thrill. Plus, this color is associated with leadership. A silky bold tangerine dress is equal parts energetic and professional, while tassel earrings and a confetti cell phone case up the fun factor.
Zimmermann ruffled dress, net-a-porter.com; Dannijo x UO drop earrings, urbanoutfitters.com; Ban.do glitter phone case, saks.com; Cally shoes, aldoshoes.com.
Indigo
The indigo aura may be fairly rare, but if you're blessed with it, that means you're the dynamic and influential sort. They tend to be even-keeled and thoughtful in their behavior, while acting fearless when necessary. But how to dress for this aura? An indigo striped top exhibits balance, while on-trend denim stud slippers show off some serious edge.
Striped blouse, zara.com; Rag & Bone jeans, intermixonline.com; top-zip satchel, rebeccaminkoff.com; Alexander Wang slippers, intermixonline.com.
This post is sponsored by AURA MUGLER.
Design: Allison Gore/Bustle