Orly x Muslim Girl #HalalPaint Nail Polish Is An Important Innovation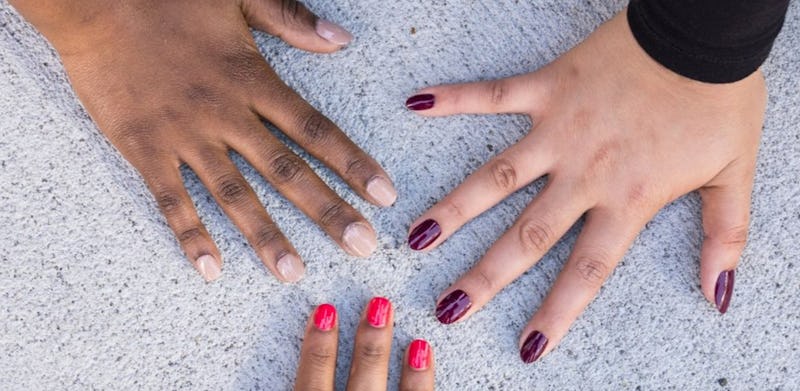 Courtesy of #HalalPaint
This is such an important innovation. Nail polish brand Orly and lifestyle blog Muslim Girl collaborated on #HalalPaint, a Halal-certified lacquer collection.
The #HalalPaint collection features unique and water-permeable nail polishes comprised of 100 percent halal ingredients. This capsule collection is of critical importance, because some Muslim women nix wearing regular nail polish "because it creates a barrier on their nails against ablution water for prayer," according to the #HalalPaint site.
However, thanks to the breathable technology created by Orly, "both oxygen and hydration are able to pass through the layer of paint." Teen Vogue also points out that this custom formula results in a longer-lasting manicure and a hydrated nail.
The collection is $49 and is currently available for pre-order on the #HalalPaint site. The set is expected to ship by Jul. 1. The collab offers both a viable and inclusive beauty option for Muslim women and it is one that promotes nail health.
There are six, vitamin-infused shades in the collection, ranging from red and berry to neutral and gold. It's an utterly gorgeous, one step collection. The names of the shades are as follows: Haram Bae, #MuslimGirlFire, The Perfect Amani-Cure, What The Fatima, Ig-Noor The Haters, and Wallah Bro Wipe Out.
The collection truly caters the needs of Muslim women that have been underserved.
This video shows the colors IRL and on actual nails! Totally gorg, right?
The #HalalPaint collection is also vegan and cruelty-free.
"The Perfect Amani-cure" is a pretty pink x lavender shade that was named Amani Al-Khatahtbeh, the founder of MuslimGirl.com. She stated on the #HalalPaint site, "Many of us are the girls who could never find our names on a keychain, so we wanted to make sure we provided that experience through this collection."
MuslimGirl.com's Azmia Magane echoed those sentiments, saying, "This line is important because there are so many girls and young women who aren't represented by mainstream industries. They see things about them that are designed without them instead of for them and by them. This is our way of bridging that gap."
The nail polishes and the sentiments are beautiful things.