The 'Parks & Recreation' Cast Reunited At The March For Our Lives & The Photo Will Make You Smile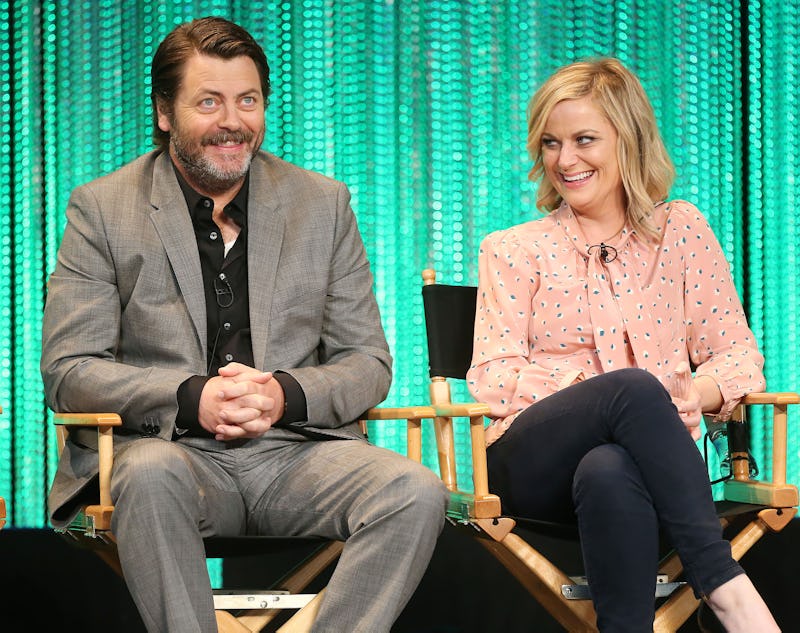 Frederick M. Brown/Getty Images Entertainment/Getty Images
On Saturday, March 24, millions of demonstrators came together for the March for Our Lives in cities across the nation — and even citizens of good ol' Pawnee, Indiana turned out. That's right, the Parks and Recreation cast reunited at the March for Our Lives in Washington, D.C. on Saturday afternoon. It's still unclear whether the likes of Natalie Morales, Billy Eichner, Adam Scott, Paul Rudd and Aubrey Plaza planned the meet-up or simply feel respectively passionate about ending gun violence. Either way, one thing's for certain: Leslie Knope would be so proud.
The cast members of NBC's beloved politically-charged sitcom pulled out all the stops during Saturday's D.C. March, which saw some half-million protestors come out to join in the demonstration. Morales, who played Lucy on Parks and Rec (the bartender girlfriend of Aziz Ansari's Tom Haverford), shared the activism-tinged cast reunion with her Twitter following Saturday morning, just before the march kicked off. Accompanying a sweet photo of herself alongside her fellow Pawnee veterans (in addition to Eichner, Scott, and Plaza, former Parks and Rec guest star Paul Rudd was there, too), Morales captioned the tweet with a hashtag that would probably have their former social justice-championing boss in tears: #ParksforParkland. Who else wants that slogan printed on a button?
The photo pictures Pawnee's best donning a variety of slogans, t-shirts, and posters supporting the tenets of Saturday's March for Our Lives. Eichner held up a red, white, and blue-themed sign that read "Change gun laws or change Congress," while Rudd sported a t-shirt with the message "Protect kids, not guns." Morales and Plaza held matching signs promoting the Everytown for Gun Safety movement. Scott also tweeted from Saturday's event, sharing a black-and-white selfie of himself and Plaza donning hopeful smiles and several iterations of March for Our Lives merchandise.
The protests, which gleaned near-unprecedented attendance levels on Saturday, were organized by a faction of high schoolers in response to the February 14 shooting at Marjory Stoneman Douglas High School in Parkland, Florida, which killed 17 people. As the protest's name suggests, March for Our Lives advocates for more stringent gun legislation in the hopes of eventually ending gun violence — and school shootings, specifically — for good.
Poehler herself wasn't actually in attendance during Saturday's D.C. march, but that certainly doesn't mean the actor was a no-show. So, in lieu of physically showing up, the 46-year-old Parks and Rec luminary made sure to express her support for the cause via Instagram (and later, Twitter) throughout the afternoon. And, what better platform to back a social justice-related cause than the social media accounts attached to Smart Girls, an organization and website dedicated to empowering young women. Poehler co-founded the organization alongside former Nickelodeon producer Meredith Walker in 2008.
Poehler took to Smart Girls' Instagram page Saturday afternoon with a particularly no-nonsense selfie and equally poignant caption to boot. Donning a March For Our Lives Los Angeles T-shirt and an expression that can probably only be described as one of steadfast solidarity, Poehler penned a powerful message to the Parkland shooting survivors, whose indelible courage gave way to the massive string of protests in the first place. The uplifting caption, which Poehler also tweeted via Smart Girls' Twitter account, reads,
"We stand with you, young people. I applaud your bravery and incredible poise, and the fire that you have started will not go out. It will only get stronger, and we will help fan the flames."
Even though the real-life Leslie Knope didn't take part in Saturday's Parks and Rec reunion, the character still managed to make a statement. (Because, of course she did.) Thanks to an artist who drew up this incredible anti-NRA slogan featuring a cartoon rendering of Knope herself, it seems safe to say the fictional do-gooder is still doing her part. The slogan, which fellow Parks and Rec alum Nick Offerman literally wore as a graphic tee, is pretty straightforward: "Don't be a dope, vote like Knope." Offerman posted a photo of the T-shirt on Instagram and stated in the caption that he was headed to the Los Angeles march.
Parks and Recreation might be three years off the air, but it looks like Knope's political spirit lives on.