The Patriots Lost The Super Bowl & Twitter's Like, Trump's Going Down Next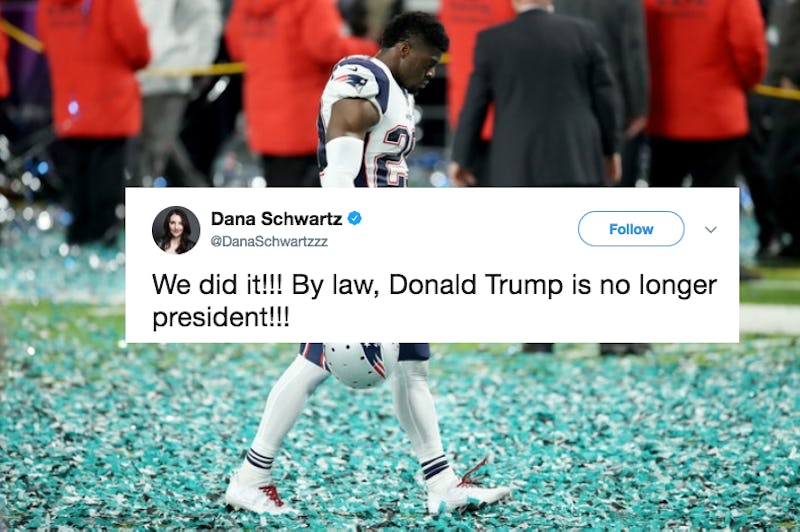 Andy Lyons/Getty Images Sport/Getty Images
On Sunday evening, a hard-fought Super Bowl LII game resulted in the Philadelphia Eagles securing victory over the New England Patriots, with a score of 41-33. Considering the New England team's historic propensity for victory, many on Twitter believe that the Patriots losing serves as a sign that Trump will be defeated as well.
Indeed, in an article published earlier on Sunday, Callum Borchers of the Washington Post described the New England Patriots as an "avatar" for Trump. As Borchers indicated, in recent years the Pats have acquired Trump and a litany of other controversial conservative figures as fans, with Trump reportedly previously describing quarterback Tom Brady, head coach Bill Belichick, and owner Robert Kraft as "total winners."
As Borchers also noted, Patriots have, for many, come to symbolize the Trump administration. As the author put it, "Trump and the Patriots go beyond mutual admiration. To some, the Patriots are the sports world's version of Trump — attacked by the establishment, persecuted by a major TV network and still winning."
Thus, for many, the New England team's loss to the Philadelphia Eagles in the Super Bowl symbolized a loss for the Trump administration as well — something reflected in many tweets shared on Sunday after the game.