The Internet Dubbed A Woman "Permit Patty" For Trying To Call The Cops On A Black Child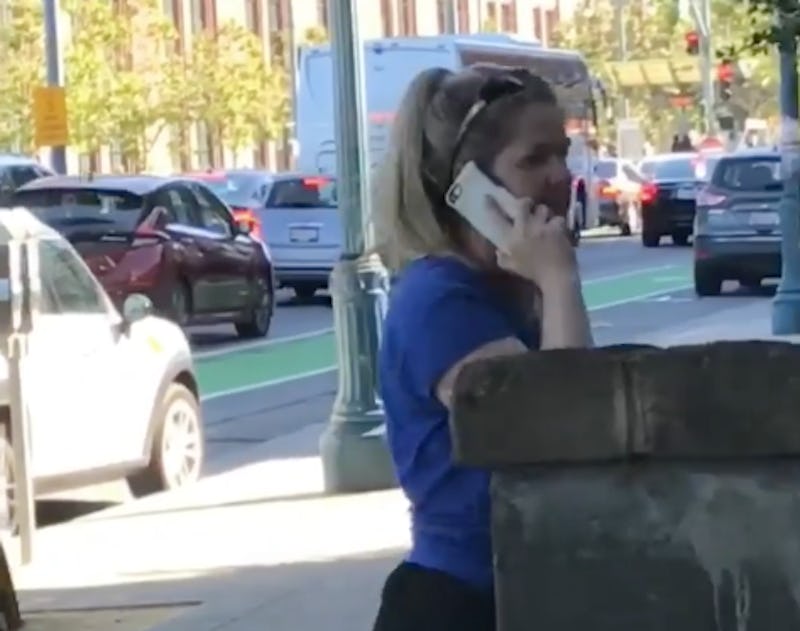 In a recording uploaded to Twitter on Saturday, a white woman in San Francisco can be seen apparently trying to call the police on an 8-year-old black girl selling bottled water. The internet quickly dubbed the woman, who was caught making the call on video, "Permit Patty."
A young girl was selling bottled water outside of her apartment near AT&T Park on Saturday afternoon before the San Francisco Giants took on the San Diego Padres. In the video, a woman is seen on her phone, but ducks out of frame when she sees that the girl's mother is recording her.
"This woman don't want a little girl to sell some water," a woman, who has been identified as the girl's mother, can be heard saying. "She's calling the police on an 8-year-old girl."
"Don't hide. The whole world [is] gonna see you, boo," the woman filming told the woman on the phone. The woman who threatened to call the cops then said that the girl was "illegally selling water without a permit."
The woman identified herself as Alison Ettel. She spoke to Huffington Post and said that this was not a racial issue, but a noise issue. And she said she only "pretended" to call the police.
In an interview with Huffington Post, Ettel said she confronted the mother and daughter because "they were screaming about what they were selling" and she could hear them. She told the news outlet, "It was literally nonstop. It was every two seconds, 'Come and buy my water.' It was continuous and it wasn't a soft voice, it was screaming."
Ettel told Huffington Post that she was receiving online threats, but didn't elaborate on the nature of the threats. Ettel issued an apology while speaking with the publication, saying, "It was stupid. I completely regret that I handled that so poorly. It was completely stress-related, and I should have never confronted her. That was a mistake, a complete mistake. Please don't make me sound horrible."
As of this writing, the 15-second video uploaded by Raj (@_ethiopiangold) has been viewed 5.84 million times. In a subsequent tweet posted on Saturday afternoon, Raj asked viewers to consider the racial aspect of the confrontation. "For all of you saying it's not about race why didn't she stop to harass the white mean that we're selling tickets and teeshirts [sic] but thought calling the police on a child was okay?" the user wrote. "Don't answer. Just ask yourself that."
The video comes a month after another white woman called the police on black people in public spaces in the Bay Area. Jennifer Schulte — an Oakland, California, woman who became known as "BBQ Becky" — called Oakland police on a group of black people using a charcoal grill in a non-grilling area of Lake Merritt park. Schulte specifically notes the people's race in her phone call to police. The encounter went viral after a 24-minute video of the confrontation was uploaded to YouTube.
Because of the recent similar meme, "Permit Patty" tore through Twitter and other social media networks. The hashtag #PermitPatty has a regular commentary and jokes added. Actress and author Gabrielle Union — who has spoken about black and brown children, and the police — tweeted her exasperation. "IIIIIIIII. CANNOT. Ma'am? MA'AM?!?!" Union tweeted with a sad face emoji.
Raj (@_ethiopiangold) tweeted on Sunday afternoon that the 8-year-old girl was back outside selling cold bottled water outside AT&T Park as the San Francisco Giants played the fourth game of their series against the San Diego Padres.
"We out here..." was the caption for the photo of Jordan outside the ballpark. No word on how many waters Jordan has sold this weekend.