The Men Arrested At Starbucks Spoke Out For The First Time & The Video Is A Must-See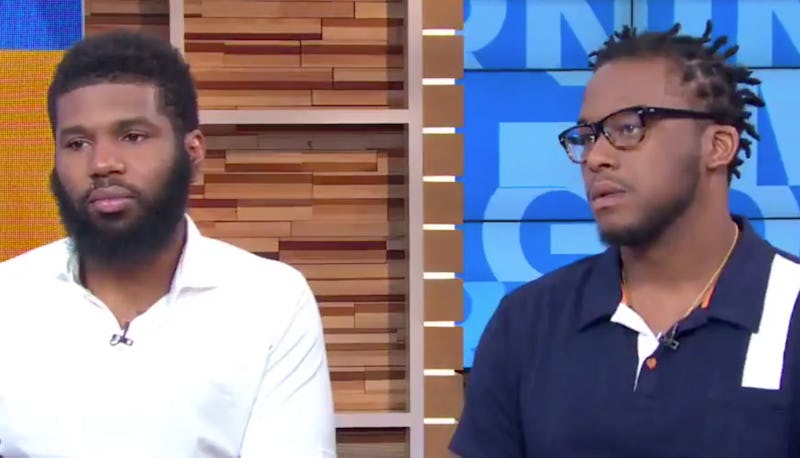 Good Morning America
"They can't be here for us." That was how Donte Robinson described his initial reaction to seeing police officers enter the Starbucks in Philadelphia he and Rashon Nelson were at last week. Appearing Thursday on Good Morning America, Robinson and Nelson spoke about their Starbucks arrest for the first time — and offered their view on what it means in the context of 21st-century America.
According to Robinson, he and Nelson arrived at the Starbucks around 4:35 p.m. and asked to use the restroom. Robinson was informed they were for paying customers only, and so he and Nelson picked a table and sat down, waiting for a third party to arrive for a real estate meeting scheduled to begin at 4:45 p.m.
Robin Roberts, the GMA host who interviewed Robinson and Nelson, pointed out that emergency call records indicate the store manager called 911 at 4:37 p.m. — just two minutes after the two men arrived.
When the police showed up, officers told Robinson and Nelson they needed to leave the Starbucks premises. Video taken by a customer during the encounter shows Robinson and Nelson having a calm conversation with police officers before eventually being handcuffed and escorted out of the store.
According to Robinson, he does not want young men to be "traumatized by this" but instead "motivated and inspired." Nelson added that it was an opportunity to "really step up and show your greatness." Nelson also expressed desire for real change. "Put action into place and stop using your words," he told Roberts.
Roberts asked both men about a counter-argument raised by some — that Starbucks has a policy about making a purchase in order to use the facility. "Rules are rules." Robinson's response was that he understood that line of thinking, but "what's right is right and what's wrong is wrong."
Megan McCain made a point on The View that will likely be familiar to many readers: "This is real racism... when they're arrested for just sitting there and not ordering coffee, which I've done a million times." She went on to say that sometimes "you" go into Starbucks just to use the bathroom, which was a perk denied to Robinson as well.
In response to the firestorm of criticism that Starbucks has faced over the incident, the company is closing 8,000 stores on May 29 for mandatory training on racial bias.
Besides their appearance on GMA, Robinson and Nelson also did an interview Thursday with the AP. Robinson told the AP why he resisted requests that they leave Starbucks.
"We were there for a real reason, a real deal that we were working on," he said. "We were at a moment that could have a positive impact on a whole ladder of people, lives, families. So I was like, 'No, you're not stopping that right now.'"
Nelson went on to say that his arrest made him fear for his own life. Speaking with the AP, he said, "Anytime I'm encountered by cops, I can honestly say it's a thought that runs through my mind." Though he's had encounters with the police before, neither Nelson nor Robinson had ever been arrested prior to last week. Both men spent several hours in jail and were given no indication of what would happen to them. They were finally released after midnight after the district attorney opted not to press charges.
The men are now in mediation with Starbucks and are reportedly advocating for major changes to the store's policies around ejecting customers, including a posted "customer bill of rights" and independent investigations when a customer complains about racial profiling.