These 'Star Wars' Force Friday App Photos Will Give You Serious FOMO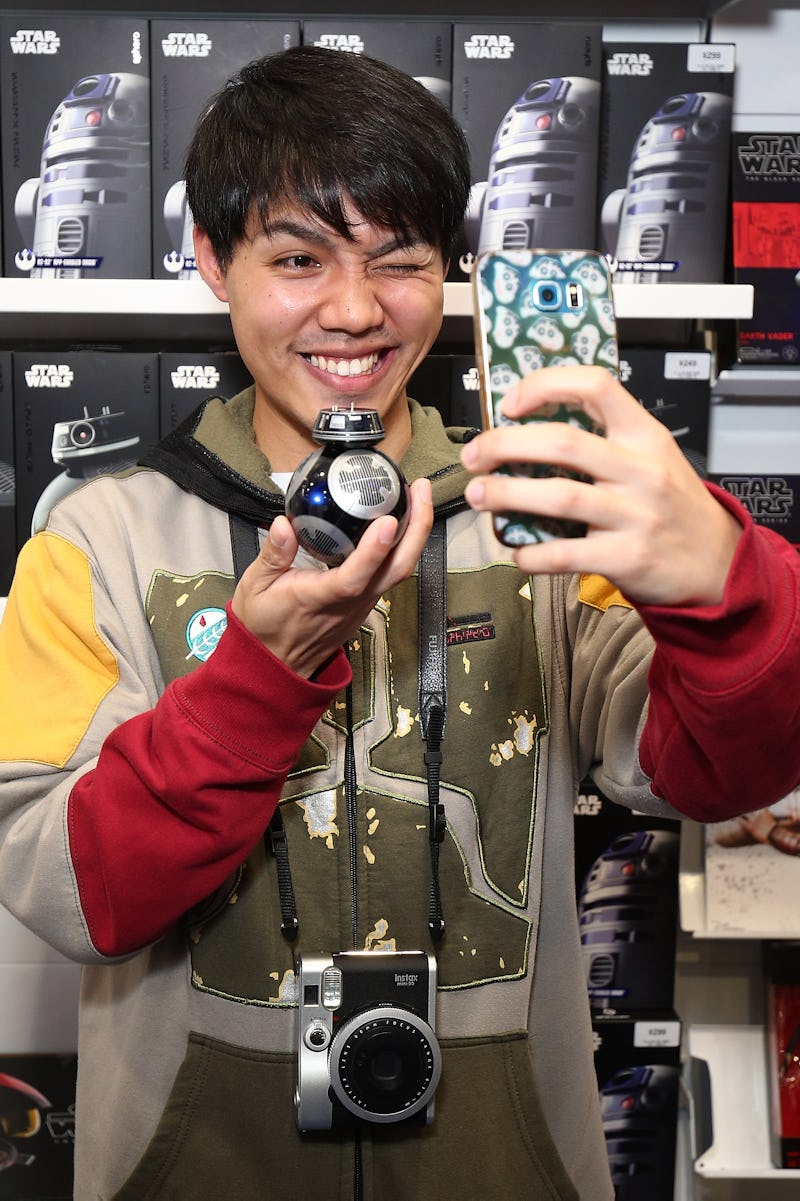 Brendon Thorne/Getty Images Entertainment/Getty Images
Force Friday II is finally here, and that means that the Find The Force scavenger hunt has officially started with it. And as the photos from the Star Wars Find The Force app are proving, fans are having a blast using the Force Friday Star Wars App to hunt down, and pose next to, their new favorite characters. Unless you've been hiding inside the stomach of a Tauntaun for the past month, then you're likely already up to speed on what it is we're talking about here. But, just in case you're not, here's a refresher.
This year's new app means that fans can interact with augmented reality Star Wars: The Last Jedi characters by using it to scan the Find The Force logo (found in store and online) with their camera. You can even take pictures or record video of the characters you find to share with your equally Star Wars obsessed friends, so that all of you can get hyped at the exact same time.
Taking place over three days and across 20,000 retail stores, the hunt will continue to take place both in store and online, with a total of 15 characters to be revealed during that time. As you might expect, fans have already started to upload their discoveries on social media. The added bonus is that, when you post your Find The Force discoveries on Instagram or Twitter using the #findtheforce and #sweepstakes hashtags throughout the Force Friday II weekend, you'll even have a chance to win tickets to The Last Jedi in December.
The levels of fun that fans are having with the augmented reality version of these Star Wars characters is evident all over Twitter and Instagram right now. Check out some of the best ones below.
1. This Surprise
Finding them in stores, for instance, appears to transform a banal shopping experience into a terrifying one.
2. This Pose
Others are seemingly having a great time simply being able to pose next to the characters while also hunting for Star Wars goodies.
3. This Idea
There were others, however, who found inventive ways to play with the AR characters at home.
4. This Recruitment
There seemed to be a lot of young women joining the Resistance in one way or another using the app.
5. This Awe
Most just seem pretty impressed with how the app blends reality and fantasy, though.
6. This Hangout
You can get so close to these guys that the app kind of makes it feel like you're sharing a video of a chill pal-hang.
7. This Invasion
Like, seriously close.
8. This Transformation
There were even people who managed to accomplish a total office-makeover using the app. No, really.
A preview of Star Wars: The Last Jedi toys released on Force Friday II was unveiled on Thursday online, and revealed a handful of new characters — some of which can currently be enjoyed using the app. They included BB-9E, the black and silver First Order BB unit which looks like BB-8's evil sibling; the red-armored Elite Praetorian Guards who are the security force for Supreme Leader Snoke; and Resistance sisters, Rose and Paige Tico, who both look badass.
But there are still plenty of characters, familiar and new, left to be discovered. Get out there and start scanning.