Twitter Is Green With Envy At A Trump-less Toronto Hotel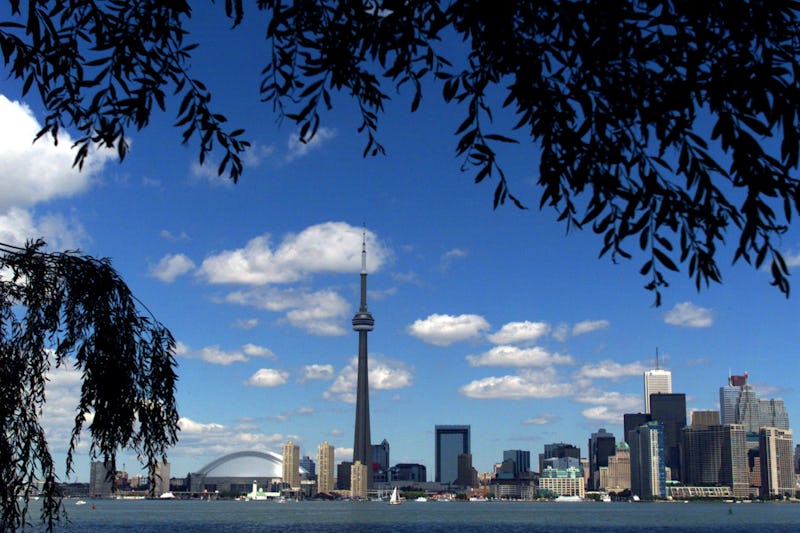 Carlo Allegri/Getty Images Sport/Getty Images
On Tuesday, the world watched as the letters that adorned the Trump International Hotel and Tower in Toronto were taken down one by one, freeing the hotel of its Trump label. On Twitter, people cheered the sight, and wondered if seeing the actual Trump removed from, say, the White House would feel as good.
Although the Trump Organization never actually owned the property, its name has flanked the 65-story building since 2012 as part of a licensing deal. Last month, the owner of the building, JCF Captial, struck an agreement to buy out the Trump Organization. St. Regis, the Marriott's luxury hotel chain, will take over the contract for the building next month.
But it was no easy deal to get the Trump Organization to give up its space on the building. Bloomberg reported last month that the president's company would be paid at least $6 million for terminating the deal. A hefty price tag, but well worth it to the building owners, considering the building struggled under the Trump name. A December 2015 study found that the majority of residents of Toronto and Vancouver wanted Trump's name removed from the towers in the two cities.
Toronto residents got their wish on Tuesday, and Twitter was there to document the removal of the letters every step of the way. And to rub it in America's face a little at the same time.
Next Up, The White House
Shots Fired
Jennifer Keesmaat, Toronto's chief planner, called out her former Vancouver counterpart, Brent Toderian, in a tweet that said "Eat your heart out." Vancouver's Trump International Hotel and Tower is now the only building left in the country to display the Trump name.
You Ruin Everything
Trump's antics have sank the value of his own name, Democratic Coalition co-founder Scott Dworkin said.
A "Great Day"
Many on Twitter seemed elated to see the Trump name dismantled from the top of the skyscraper.
Buh-Bye
And The Crowd Goes Wild
Although clearly not a real picture from downtown Toronto, Democratic Coalition Chairman Jon Cooper had fun imagining that the type of reaction Trump's removal from the building, and from office, should receive.
While Canadians had their day to rejoice the Trump removal, Americans won't see the real Trump removed with such ease. It's going to take much more than some heavy machinery to complete that extraction.