You Need To See These Super Glamorous Photos Of Erika Jayne's Pretty Mess Clubhouse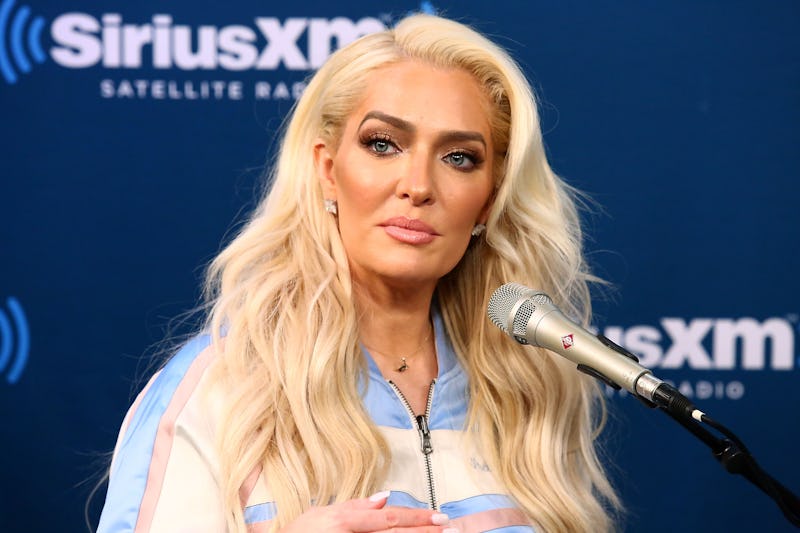 Astrid Stawiarz/Getty Images Entertainment/Getty Images
Echoing the infamous hook of Erika Jayne's hit dance-hall track — it's expensive to be her. Like, really expensive. As if these photos of Erika Jayne's Pretty Mess Clubhouse aren't already confirmation enough that the Real Housewives of Beverly Hills star (whose given name is Erika Girardi) enjoys her some lavish living, Entertainment Tonight's accompanying report makes it pretty clear: it costs about $40,000 a month to live life at Erika Jayne's level.
For fans of the reality star (turned pop princess, entrepreneur, and author extraordinaire), the high price probably doesn't come as much of a surprise, especially given the fact that — as ET's Monday, April 2, report easily conveys — basically everything about the Pretty Mess Clubhouse is intensely Erika. Erika Jayne, that is. "I mean, this definitely says, 'Erika Jayne lives here,'" she told ET during a guided tour of her private workspace, which Erika appropriately dubbed the "Pretty Mess Clubhouse," in reference to her newly-released memoir, Pretty Mess.
To clear up any confusion — in addition to serving as her stage name, Erika Jayne is basically Erika Girardi's catsuit-wearing alter ego. Erika Girardi, in contrast, is the sophisticated, neatly-polished L.A. socialite who doubles as the wife of high-powered attorney Tom Girardi.
For those wondering what actually goes down in the Clubhouse, get this: it's actually Erika Jayne's office. "Erika Jayne needed an office," she said during her conversation with ET.
ET's Monday morning report features a 3-minute video walking tour of the glitzy Clubhouse, in addition to a handful of photos and states that fans can now get a better sense of what the term "office" actually means to Erika Jayne.
Located in the "heart of Hollywood," according to ET, the sprawling 2,000-square foot condo was originally billed as a swanky one-bedroom apartment, but has since been refurbished to fit Erika's "workplace" ideal and is saturated in Erika Jayne's distinctly glamorous, unique style. Seems fitting, given that the star designed it with the intention of giving Erika Jayne's burgeoning career some kind of personalized home base. "This is where we do interviews, we have photo shoots, we create," Erika told ET, introducing the space. "We have everything right here and it's a great spot, and I can thank Los Angeles traffic for that, because, you know, this is a central point. This is the office."
Unsurprisingly, the Clubhouse's aesthetic looks sort of like the set of an Erika Jayne-helmed music video, complete with hot-pink neon light fixtures, low-hanging chandeliers, a "costume" rack (as RHOBH fans already know, Erika refers to any and all ensembles — not just those intended for the stage — as costumes), tons of artwork (including a blown-up rendering of The Notorious B.I.G. and a massive semi-nude portrait of herself), and, of course, a glam room.
And, while the 46-year-old reality star kept a tight lid regarding how much the condo actually cost her to rent and refurbish during her conversation with ET, she was pretty open about the fact that, of all the Clubhouse's glossy attributes, the "glam room" came at the highest price. Not due to actual reconstruction, she told ET, but rather the "magical potions and lotions and tools" stowed away in the glam room's rows of drawers. "This is where the money is," she said during ET's video, introducing the cosmetically-stacked room.
A decked out room denoted specifically for "glam" purposes seems pretty run-of-the-mill for Erika, whose seemingly ever-growing music career relies pretty heavily on the constant care and attention of her styling team. Plus, as Real Housewives fans are already well-aware, there's almost nothing Erika (Jayne, Girardi, or otherwise) loves more than indulging in some over-the-top grandeur.
"Fortunately, things are good, so I can afford it," Erika said jokingly during her conversation with ET. And she's certainly not lying. She told ET that being Erika Jayne full-time costs something like $40,000 a month (with the largest chunk of that sum going to "glam" costs, obviously). But, Erika argued, considering the visual magic she makes happen every single day, $40,000 isn't really all that much. "You realize that's low, for some people," she said of the six-figure sum. "It's low. Yeah. You're talking hair, makeup, wardrobe. Stuff like that. It sounds big, and it isn't."
Whatever the cost may be, one thing's for sure: Erika Jayne knows exactly who she is. If that wasn't crystal-clear before, after seeing the Pretty Mess Clubhouse, it certainly should be.