The Playlist For Michelle Obama's 'Becoming' Tour Shows How Much Music Means To Her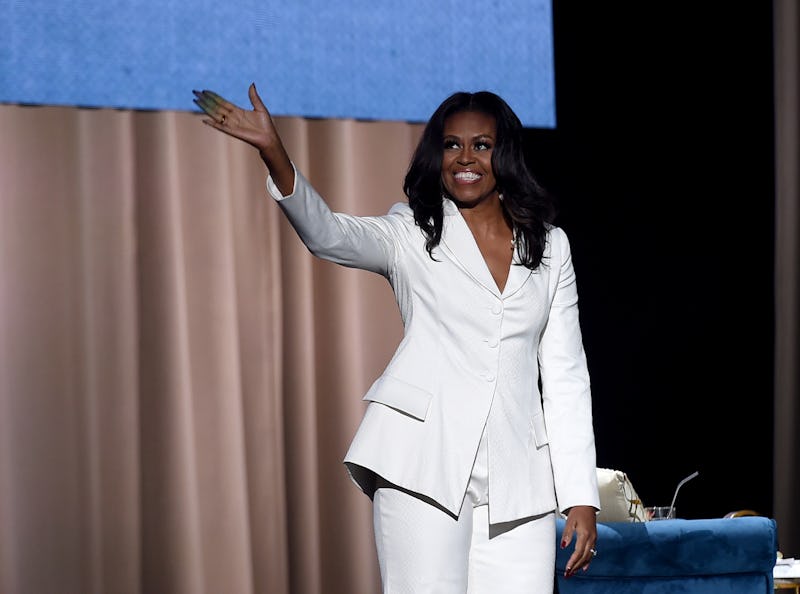 Kevin Winter/Getty Images Entertainment/Getty Images
As you'd probably expect for the former FLOTUS, the playlist for Michelle Obama's Becoming book tour is a carefully created complement to the book itself. According to Billboard, Questlove of The Roots actually curated a soundtrack for the Becoming tour, and if you attend one of her tour events you'll likely hear it. The playlist comes in three volumes, and features songs by exactly who you'd expect Obama to love: Michael Jackson, Stevie Wonder, Aretha Franklin, Ella Fitzgerald, Sam Cooke, and more.
In a statement to billboard, Obama said of the playlist, which is titled The Michelle Obama Musiaqualogy, "Like a lot of people, I connect many of my memories with the songs and melodies I was listening to at the time."
She continued,
From the jazz and Stevie Wonder of my childhood, to Prince and Earth, Wind & Fire as I came into my own as an adult, to Beyoncé, Janelle Monáe, and so many others who provided the stirring backbeats of my time in the White House -- music has always been a defining part of who I've become.
That's why I'm so thankful to Questlove for curating these playlists and infusing them with his signature style. Life's a little better when we live it to Questlove's beat.
And yes, your immediate question has a happy answer: this playlist is available on Spotify and Pandora via the Questlove station. Volume one of the playlist is comprised of music from 1964-1979, volume two is comprised of music from 1980-1997, and volume three is comprised of music from 1997-2018.
What's more, while the first two volumes are technically meant to be played chronologically, the third volume is reportedly meant to be played in a shuffle.
The former FLOTUS is currently in the midst of a 10-city book tour for Becoming, with a series of stops at stadium venues with several prominent names like Reese Witherspoon, Oprah, and Sarah Jessica Parker slated to interview her in front of an audience.
Obama is known to love a good rhythm, and often brings her own playlist to sets for photoshoots, like the recent one she did for Essence Magazine. According to Essence entertainment director Cori Murray, "When she walked on set, she had her own playlist. There was tons of Michael Jackson, Chance the Rapper — and when she put on 'Humble' by Kendrick [Lamar], things got loose."
Becoming's first-day sales release topped 725,000, which represents one of the strongest book releases of the year, according to Page Six.
In an interview with Tracee Ellis Ross for The New York Times, Obama said of her book, "Part of why I knew my book had to be done, and done well, is because it's a rare moment in history that a black woman gets to tell her own story. Success stories look a certain way: they're male; they're white; they're wealthy. That's what power looks like because we've been taught that."
Obama continued, "How many stories do you know where millions of people are hearing about strong women, told by a woman, and hearing her pain?"
Obama also offered up words of advice on how to life your life, in general: "Steer clear of money; steer clear of fame. Those aren't goals. The hard part is digging into yourself and figuring out: What do I care about? That's how I've learned to live."