Ivanka Trump Apparently Donated $50,000 To An Extremely Anti-LGBTQ Church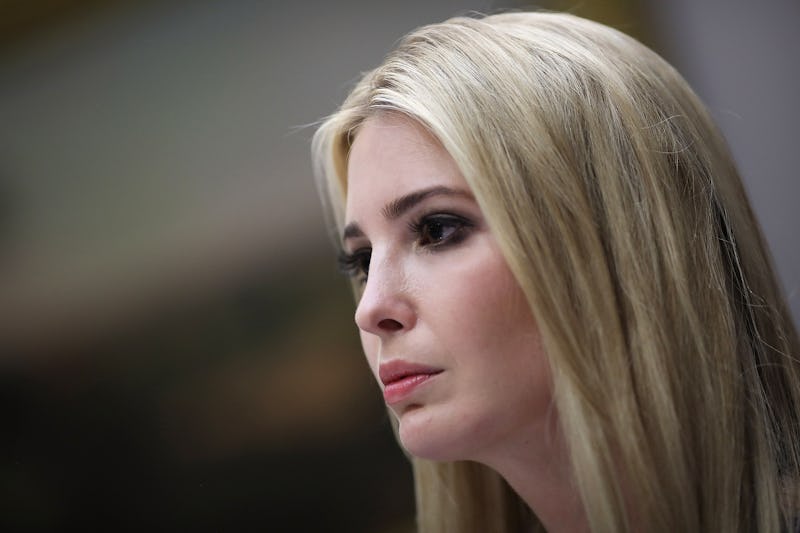 Win McNamee/Getty Images News/Getty Images
The first daughter decided last week to help migrant families at the border — but not by speaking out about her father's former separation policy. Instead, Ivanka donated to Prestonwood Baptist Church, which says it plans to help the kids who've been affected. But there's a group the church is very much against that Ivanka has always claimed she's for.
CBN News reported last Friday that Ivanka donated $50,000 to the Plano, Texas church. She reportedly decided to give money after seeing a tweet from Prestonwood's lead pastor, Jack Graham, in which he said that the church was "working to provide solutions to care for children during this terrible immigration crisis." Prestonwood explained in a press statement that it has reached out to the U.S. Department of Health & Human Services (HHS) about how it can help.
While both Prestonwood and Ivanka are apparently in favor of helping migrant kids, the first daughter has also tried to position herself as an LGBTQ ally, and the church has done the opposite.
Graham spoke out against the Supreme Court's 2015 ruling that the right to same-sex marriage is guaranteed by the U.S. Constitution: He wrote that the decision "set a course for disaster in our beloved nation." Also in 2015, Prestonwood fought a local ordinance that protected citizens from discrimination on the basis of their sexual orientation and gender identity. Meanwhile, the church's website says that people who identify as LGBTQ lack "sexual wholeness" and that gender is "not a social construct or individual choice."
Ivanka likely knows about Prestonwood's background, as the church has prominently aligned itself with President Trump during the past couple of years. Graham is on Trump's evangelical advisory board and has received media attention for standing with the president throughout various scandals, including when he blamed "both sides" for violence in Charlottesville. According to CBN News, Ivanka has also personally met Graham multiple times.
Graham said in a press release that Prestonwood plans to help separated children in part by holding an event to raise their spirits in the first week of July. He said the church's priority is not helping the kids out with "basic needs," because HHS has said that these are already "being taken care of." Instead, he said:
What the kids really need most is someone to brighten their day. They need someone to give them hope. Our plan is to create an event for the children that will encourage them and make them smile. Of course, we will also focus on how we can provide financial aid to families to assist them in their situation.
Bustle reached out for more details about how Prestonwood will allocate its funds.
Ivanka didn't speak out publicly against her father's border separation policy while it was happening, but multiple reports have indicated that she brought up the issue with him in private. Axios wrote that she told him the photographs of separated kids were "a problem," while Representative Carlos Curbelo (R-FL) told The Daily Beast that Ivanka requested he "find a way to stop this practice." New York Times journalist Maggie Haberman reported that Trump told legislators that his daughter asked him, "Daddy, what are we doing about this?"
Since Trump signed an executive order to end the policy — replacing it, instead, with one that keeps families indefinitely in detention together — Ivanka has publicly commented on family separation multiple times. She's tweeted that parents and kids should be reunited "swiftly and safely" and also thanked her father for the order.
"Thank you @POTUS for taking critical action ending family separation at our border," she tweeted on June 20. "Congress must now act + find a lasting solution that is consistent with our shared values; the same values that so many come here seeking as they endeavor to create a better life for their families."
Bustle has reached out to the White House about Ivanka's thoughts on Prestonwood Baptist Church's anti-LGBTQ values.