The 'Pretty Little Liars' Ending Could Be Divisive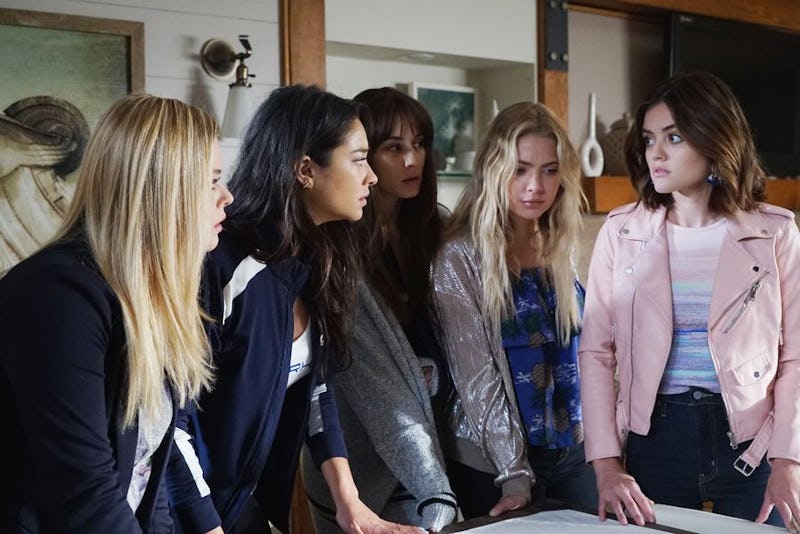 Eric McCandless/Freeform
It's almost time for the final episodes of Freeform's Pretty Little Liars, which will premiere on April 18. As fans get ready to say goodbye to Rosewood, the cast and executive producer revealed at a PaleyFest panel on Saturday that the Pretty Little Liars series finale will be divisive, according to Entertainment Weekly. The cast and exec producer I. Marlene King discussed Season 7B and the finale during the Los Angeles event — and it sounds like fans will be totally mixed over the final episode. According to EW, King described the upcoming series finale as a "love letter to fans" at the event, but Ian Harding (who plays Ezra) said he wasn't a fan of the ending — at first.
EW reported that castmembers Janel Parrish (who plays Mona), Andrea Parker (Jessica DiLaurentis/Mary Drake), Shay Mitchell (Emily), and Tyler Blackburn (Caleb) each said they were shocked and "blown away" by the show's ending. "I'm very excited for the show to air and to see the fans' reactions. I won't have to hold in any secrets anymore," Mitchell said at the event, according to Variety. "The fans can expect to be completely shocked, but happy that all their questions will be answered." But Harding said he had a completely different reaction to the end.
"I read it and I was like, I don't buy this," Harding said at the PaleyFest panel. He continued, saying that the series' end made total sense to him later on. "It was until we had shot and wrapped … I was driving home on my last day, slightly teary-eyed, and it landed on me, who and what this whole thing was, and I kind of went, [gasps], like, in the car, in traffic." So if we think of the cast as a sample size of fans, it sounds like some PLL devotees will find the ending shocking, and others may need some time to process it.
But King said at the event that most fans should be pleased with how Pretty Little Liars ends. "I think that when shows end there's always a group of people who aren't happy about it, but I think the majority of people will be happy with the ending," King said. "We all worked so hard on it with the goal of satisfying fans with a proper ending to a show which has meant so much to so many people."
No matter what, it sounds like the PLL finale is one episode that is not to be missed.