This Is The (Actually Ridiculous) Process To Report Sexual Harassment In Congress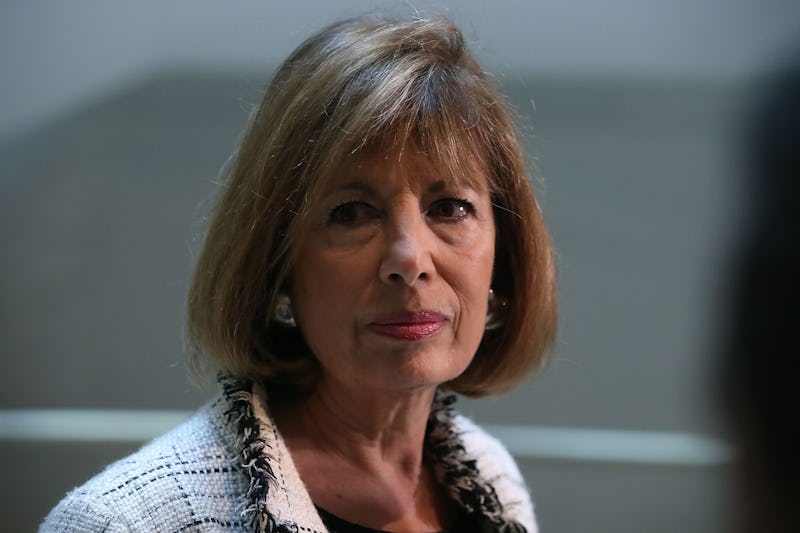 Mark Wilson/Getty Images News/Getty Images
Female lawmakers have been growing increasingly vocal about sexual harassment on Capitol Hill, noting that there are current members of Congress who have been accused of harassing female staffers. The challenge, they say, is the process by which women in Congress have to report sexual harassment — a process so convoluted that many argue it benefits the harasser.
In the House and Senate, official — i.e. those filed with the Congressional Office of Compliance (OOC) — sexual harassment claims don't seem to crop up as often as they do elsewhere. According to a report published by Roll Call, the Senate and House employ more than three times as many people as the Architect of the Capitol and Capitol Police, combined — yet those who work for the House and Senate were responsible for just a small sliver (17 percent) of all requests for counseling filed with the OOC between 1996 and 2015.
Lawmakers critical of the current claim process say the reports are so few and far between because the process is so circuitous. In fact, California Rep. Jackie Speier recently told CBS that the OOC "has really been an enabler of sexual harassment for these many years because of the way it's constructed."
Democratic Rep. Ann McLane Kuster from New Hampshire, who is working to change the way sexual harassment complaints are handled, tells Bustle that legislation to change the current process is "long overdue and makes clear to survivors of sexual harassment that we believe them, and creates a fair system through which they can obtain justice."
So, what does it currently take to report sexual harassment in Congress? Here are the current steps victims must take.
Step 1: File A Claim
After a sexual harassment incident takes place, employees in the legislative branch must first file a claim with the Office of Compliance, according to the Congressional Accountability Act of 1995 (CAA).
Once an incident has taken place, the countdown clock starts: Victims have 180 days (roughly six months) to bring a claim to the OOC — though, according to a survey conducted by Roll Call, only 10 percent of women staffers know that there is a structure in place to report sexual harassment and assault.
Step 2: Counseling
Once a complaint is filed, victims must go through up to 30 days of mandatory counseling. According to the OOC, counselors do not provide victims "with advice about the strength or merits of [a] case."
Instead, counselors consider the information provided, and give victims information on their workplace rights and the administrative procedures under the CAA.
Step 3: Make A Decision
Following counseling, victims have up to 15 days to make a decision on whether or not they want to pursue mediation, an intervention that is led by a lawyer in an attempt to resolve a dispute. As MSNBC's Katie Hunt noted in a recent segment, those who don't want to go through mediation are, at this point, "out of options."
Step 4: Mediation
Those who opt for mediation are bound by a confidentiality agreement. According to the OOC, this means that all parties participating in the mediation must keep confidential "all communications, statements, and documents that are prepared for mediation." The Congressional Accountability Act does not, however, prohibit victims from discussing the underlying harassment with others — though some alleged victims have argued that the confidentiality agreement effectively equates to a gag order.
During the current process, victims continue going to work each day, while there's no attempt to change the workplace environment or notify others of an alleged sexual harasser. So, in essence, the victim could continue working alongside their alleged harasser.
A lawyer representing the congressperson's office (one paid with taxpayer money) oversees mediation. Victims, however, don't necessarily have their own lawyer. Speier told CBS that this current system "allows for the harasser to go unchecked."
Step 5: Settle
Those who reach settlements will likely be subject to a non-disclosure agreement and therefore unable to warn other staffers about the harasser (or even speak to their own therapist about it, notes Hunt).
As many lawmakers have recently noted, those settlements are paid for with taxpayer money.
Step 6: Cooling Off
Those who don't reach a settlement will be subject to a mandatory 30-day "cool off" period before they can file a lawsuit or request a hearing.
A spokesperson for the OOC says the The Congressional Accountability Act does not specify the reason for the cooling-off period, but it does give an employee time to consider any settlement proposals and/or prepare for litigation.
Step 7: Litigation/Hearing
Following the mandatory 30-day cooling off period, an accuser can then request an administrative hearing or take their claim to federal court — though they'll be doing so on their own and without any assistance from the OOC.
Some lawmakers are looking to change this long and confusing process with the "ME TOO" Act (Member and Employee Training and Oversight On Congress Act), which was introduced in November in both the House and Senate. In addition to requiring mandatory OOC training for lawmakers and all Capitol Hill employees, the bill would extend protections to interns and fellows and would establish a confidential advisor to consult with victims — someone dedicated to dealing with these type of complaints
It also seeks to allow individuals who file claims to work remotely without penalty throughout proceedings. Congressional employees would also be given similar whistleblower protections that employees in the Executive Branch have, like being protected from having a personnel action taken against them because of a disclosure.
If the "ME TOO" Act is passed, any member of Congress who settles a claim as the harasser or is found liable as the harasser, would be personally liable to pay the settlement or lawyer or would be required to repay the Treasury for such damages. In other words, it wouldn't come out of taxpayer's pockets.
"If we're going to take on sexual harassment and assault in workplaces across the country the halls of Congress can be no exception," McLane Kuster — a survivor of sexual assault on Capitol Hill herself — tells Bustle. "This is a watershed moment in our society. No longer will sexual harassment and assault be tacitly tolerated and swept into the shadows."