The Queen Just Threw Major Shade At Donald Trump & OMG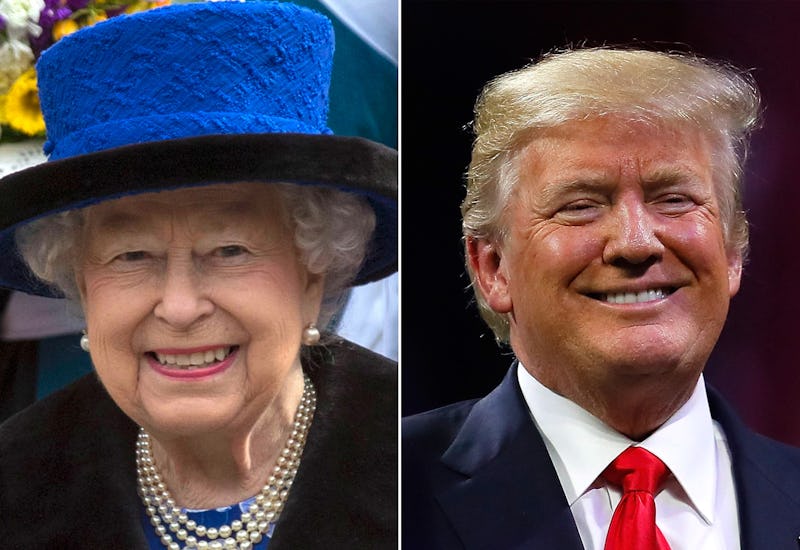 WPA Pool/Getty Images Entertainment/Getty Images / Kevin C. Cox/Getty Images Sport/Getty Images
Queen Elizabeth II, much like everyone else in the British royal family, doesn't talk politics as a rule. She doesn't vote in elections, and she and her family always stay neutral when it comes to current political events. So, whenever she so much as dips a toe into political commentary, it's always surprising — and often very funny. This time, the queen joked about Donald Trump, comparing him to a loud helicopter.
The president need not start vociferously defending himself, however — because immediately after she made the joke about Trump, she followed it up by making the same comparison about former President Obama.
As part of a documentary for ITV that she was filming with the much-loved TV host Sir David Attenborough, the two were wandering through the Buckingham Palace gardens when a helicopter flew overhead and drowned out their conversation.
"Why do they go round and round when you want to talk?" the queen said. "Sounds like President Trump. Or President Obama."
There are several ways to interpret the comment, with one being the assumption that the queen was comparing the two presidents' characters with a noisy helicopter. However, this isn't the first time that she's publicly complained about helicopters in the palace gardens.
In 2016, the queen banned Obama from having his whole entourage of helicopters land on the palace grounds, complaining that a similar visit with six copters in 2011 had destroyed a centuries-old lawn. After the Secret Service initially put up a fight, in the end Obama agreed to land at Windsor Castle with only three helicopters for the 2016 visit. Unlike some of her well-known forebearers, the current queen doesn't often throw her weight around when it comes to making public orders of people, particularly visiting foreign dignitaries — so when she does, she usually gets her way.
So far, though, Queen Elizabeth hasn't had a chance to ban or allow Trump's entourage of helicopters from doing anything on palace grounds, because Trump has not yet visited the U.K. He had a trip to London planned for October 2017, and he had even put in a request to ride in the queen's gold-plated carriage that often gets put to use for visiting heads of state. That visit never came to be, though, and another working visit planned for February 2018 did not take place, either. Trump was meant to visit a newly opened American embassy, but amid reports that his visit would be met with massive protests, the trip got canceled.
The queen actually had invited Trump for a visit, even though his history with the royal family is less than spotless. After Princess Diana's divorce with Prince Charles, Trump sent her so many flowers that she told a friend that he gave her "the creeps."
"As the roses and orchids piled up at her apartment she became increasingly concerned about what she should do. It had begun to feel as if Trump was stalking her," this contact of Diana's said, according to Marie Claire.
Trump also publicly criticized Kate Middleton for sunbathing nude in Paris after some invasive paparazzi photos went public. "Who wouldn't take Kate's picture and make lots of money if she does the nude sunbathing thing. Come on Kate!" he tweeted in 2012.
He hasn't had any direct run-ins with the queen, though, and there's a very high chance that he will end up meeting her whenever it is that he makes his first presidential visit to the U.K. There's no telling when exactly such a thing could happen, though, so for now, the queen's beloved Windsor Castle lawns will be left in peace.