You Don't Have To Stay Through The Credits To See This Extra 'Ralph Breaks The Internet' Scene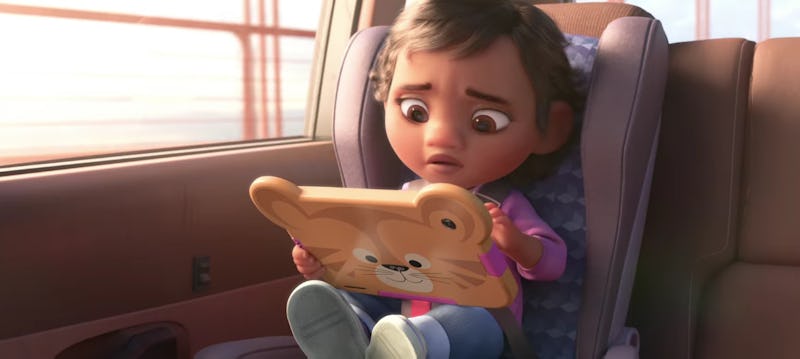 Walt Disney Pictures
Spoilers ahead for Ralph Breaks the Internet. If you're a Disney fan, you know it's usually worth sticking through the credits to watch the post-credits scene, where there's either a funny bonus scene that isn't directly tied to the plot, or a hint to an upcoming sequel. The creators of the Wreck-It Ralph sequel, out Nov. 21, decided to go with the former route, but the Ralph Breaks The Internet post-credits scene will feel special to Disney fans because it features a recent princess: Moana.
No, this scene isn't canon in Moana's storyline, but it's amusing to see both Disney films collide. In this extra scene, toddler Moana is shown playing a cutesy game called "Pancakes and Milkshakes," where she has to feed a bunny and a kitten. But Moana notices that there's something wrong with the game: Ralph has barged into it and played it for her. He overfeeds the bunny pancakes, giving the game a hilarious yet grim twist.
Those who watched the trailer for the film might have already seen it, since the trailer includes a condensed version of the scene. But the good news is that if you want to watch the whole thing before it hits theaters, you can actually do so on YouTube. That doesn't mean you shouldn't stick around after the credits, though. It's definitely worth watching and especially hearing the theater's reaction to the ending.
This isn't Moana's only scene in Ralph Breaks the Internet, either. The newest Disney princess appears as part of the ensemble of princesses, who Vanellope encounters throughout her journey into the internet. The film plays off of those re-imagined modernized Disney princess outfits that often pop up on the internet, and gives the princesses a fresh, comfy wardrobe inspired by Vanellope. Moana sports an orange tank top that says "SHINY," a nod to Tamatoa's song in the film.
In an interview with SlashFilm, voice actor Auli'i Cravalho shared what it was like to portray Moana again in the film alongside the iconic Disney princesses. "I did not get to meet them in person until later at D23 when we did the actual reveal of Wreck-It Ralph and we had a little short clip," said Cravalho. "We recorded everything separately, but it was wonderful to see these incredible women who kind of shaped my childhood, if I can say that. I'm only 17. My childhood was, what, three years ago."
As Disney devotees know, this is hardly the first time a character from one movie has shown up in another, but often they're hidden references or Easter eggs, not actual plot points, such as Lady and The Tramp appearing in 101 Dalmatians; Belle walking around town in The Hunchback of Notre Dame; and, of course, Rapunzel and Flynn Rider's attendance at Elsa's coronation.
Seeing all the princesses appear in Ralph Breaks the Internet is the perfect crossover for the biggest Disney fans, but it feels extra special to have Moana appear twice. Even if her post-credits scene isn't canon, it's enough to hype fans up for a possible Moana sequel.