The Real Black Lives Matter Facebook Page Deserves As Much Attention As The Fake One Got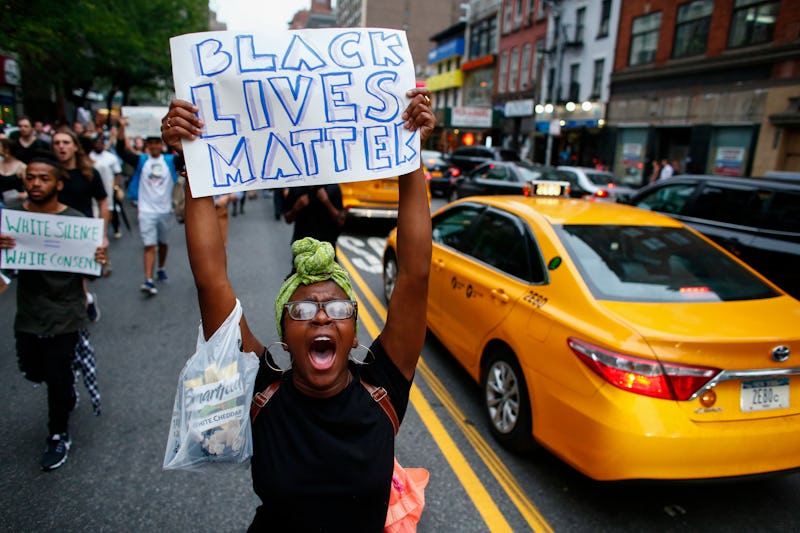 Kena Betancur/Getty Images Entertainment/Getty Images
Nearly 700,000 people. That's how many Facebook users followed a fake Black Lives Matter Facebook page run by a white Australian man, according to a report from CNN. While the issues that this report raises are many and varied, an important one to note is that it took the attention — and also the money, in some cases — away from the real Black Lives Matter Facebook page and the movement itself.
As of right now, the official Black Lives Matter Facebook page has just over 320,000 followers — less than half of what the fake one had. That page is linked to the Black Lives Matter website, and it shares information about events, fundraisers, and current events. The official Black Lives Matter page hasn't begun selling merchandise yet — but the fake Facebook group included a "shop" section that collected over $100,000 it claimed went to causes supported by BLM. In fact, CNN reports that some of the money went to various Australian bank accounts.
"We also help people who can't get support otherwise that are victims of hate crimes or have been affected by racism that come to us, we can't often help them financially but try our best to get them free legal advice or some place to stay with one of our network," an archived version of the donation link on the site reads, according to The Guardian.
In the minds of the actual Black Lives Matter founders, fundraisers like that from people unconnected to the movement — who ostensibly don't have the same goals, and who definitely don't come from the same background — take away from the legitimacy of the actual movement.
"We rely on donors who believe in our work and our cause and that money will be used in a way that is respectful," BLM co-founder Patrisse Cullors told CNN.
There is an official Black Lives Matter donation page, but the official Facebook group also promotes outside causes that are related to the movement — like a fund to help the children of Stephon Clark, a black man recently killed by the police in Sacramento, or a BLM educational project posted on Indiegogo. Most of the real Facebook group's posts aren't asking for donations; instead, they focus on sharing information and uplifting the voices that the movement has aimed to empower all along.
Ian Mackay, the man who allegedly created and ran the fake group, also reportedly registered numerous domain names seemingly related to the Black Lives Matter movement. These included blacklivesnews.com, blackkillingsmatter.com and blackpowerfist.com, which encouraged participants in its forums to donate. Mackay denies running the group and claims to have sold a domain name related to Black Lives Matter that he acknowledged purchasing, CNN reported.
While the money that was siphoned away from causes that BLM actually supports is a significant problem, the fact that the fake Facebook took away from the real group's visibility does even more to hurt their movement. Almost 700,000 people thought they were seeing messages that came straight from the heart of the BLM organization, but they came from someone who, according to Gizmodo, was far more focused on fundraising than on awareness raising. Black Lives Matter is doing real and valuable work in communities across America — and the hundreds of thousands of people following the fake account weren't hearing anything about that.
"We are expansive. We are a collective of liberators who believe in an inclusive and spacious movement," the official Black Lives Matter website says on the "About" page. "We must ensure we are building a movement that brings all of us to the front."
Anyone who followed a page that was posing as a Black Lives Matter page probably wanted to join that movement or support those goals — if you were one of them, make sure you check out the real page.
This perspective is reflective of the author's opinion, and is part of a larger, feminist discourse.