'The Real Housewives Of Atlanta' Support Sheree At The Season 9 Reunion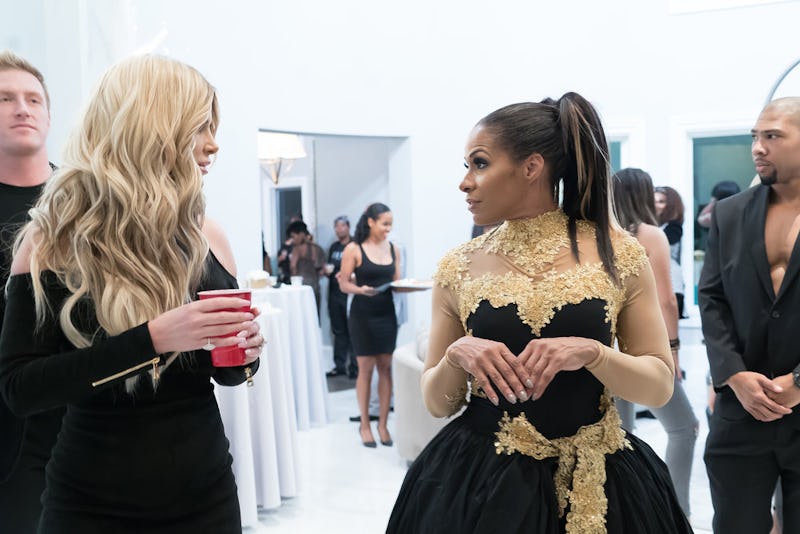 Annette Brown/Bravo
One of the most emotional moments on The Real Housewives of Atlanta Season 9 was when Housewife Shereé Whitfield alleged that her husband, Bob, abused her. Bob confirmed that he had said the things that Shereé talked about, and even shared more things on his own from the past while the whole crew were together in Hawaii, hoping to rekindle their relationship. Their hopes to getting back together died on that trip, but it looks like Shereé is now, finally, processing that she was was in an abusive relationship. On the second part of the RHOA Season 9 reunion, Andy was surprised to hear that despite her admittal on camera that Bob had put her through serious trauma for years, Shereé's kids had not seen the episodes or heard about what their father had said or their parents' troubled marriage yet.
And the rest of the RHOA were able to finally put their disagreements aside for a moment and actually rally around Shereé, which was pretty shocking considering that seconds earlier, Phaedra and Kandi were sniping back and forth about who was obsessed with whom, and earlier in the episode, Kenya accused Shereé of "trivializing abuse" when she said that Kenya had "provoked" Matt into breaking her windows. However, now that the season is over, Shereé amended her earlier comments on Twitter, and reconfirming her assertion that Bob allegedly was abusive towards her.
But despite all of the drama above, the ladies all took a moment to stand up for Shereé, who often presents herself as one of the toughest among the cast. Cynthia reassured Shereé that this wasn't her fault, and that she didn't have to be super tough. Porsha reached out too, and even Kenya went over to give her a hug.
There weren't really many shocking revelations in the second installment of this reunion, but it was surprising to see a moment where the constant bickering subsided in order to offer Shereé some support. Shereé, as of the RHOA reunion in late April 2016, has not pursuied any legal action against Bob, but she is finally speaking up with the support of her costars.