Ashley Darby's Season 2 'RHOP' Tagline Is A Showstopper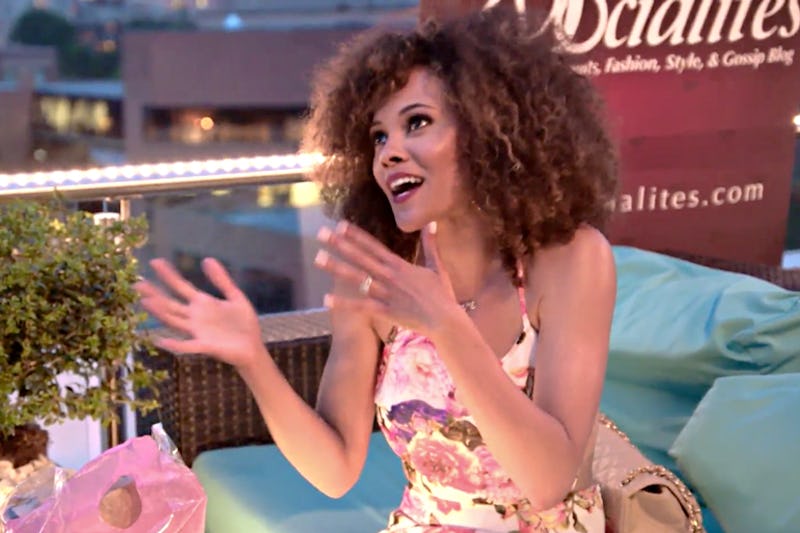 Bravo
The second season of this Real Housewives franchise is right around the corner, so it's time to listen to the ladies make an attempt at a pithy and captivating tagline. The Real Housewives of Potomac Season 2 taglines officially dropped Monday. Granted, taglines aren't easy to craft and at times they do fall flat, depending on the Housewife. Unfortunately, that can be said for most of the RHOP women.
If you compare their taglines to Season 1, well, not only are they just as boring, but some of them sound awfully similar. Of course, that doesn't include new Housewife Monique Samuels. But, there are several others that sound familiar. For example, one particular RHOP star used the exact same tagline from the first season, with a tiny tweak. Another Housewife, who holds herself up way above the other women (hmm... I wonder who that could be?) came up with a tagline all about just that. FYI, she did that for Season 1, too. Really? Couldn't they have been a little more creative?
Thankfully, Ashley Darby mixed things up. Now her tagline is a standout and just goes to you she won't be backing down in Season 2. You know, similar to how she didn't in Season 1. Darby is here to stay in Potomac, make a name for herself, and refuse to let anyone tell her otherwise.
And now allow yourself to become acquainted with this season of RHOP taglines that may or may not make you fall asleep.
"Word on the street is... I'm still the word on the street." —Gizelle Bryant
Her tagline for Season 1 was: "The word on the street is that I'm the word on the street." Really, Gizelle?
"Potomac put me on a pedestal, and the view is spectacular." —Karen Huger
We get it. You think you're better than everyone else. As for her very first tagline, it was: "In Potomac, it's not about who you know, it's who you are and I'm everything." Hmm... kind of like her being on a pedestal?
"I may be rough around the edges, but baby, so are diamonds." —Monique Samuels
Firstly, she clearly loves diamonds. Secondly, I like that she can admit she has flaws, because nobody is perfect. Though, it's not the strongest first tagline.
"Don't let the green eyes fool you, I'm as real as they come." —Robyn Dixon
This sure sounds like her way of addressing all those comments last year about her race. It also kind of relates to her Season 1 tagline, which was: "I don't have a cookie-cutter life, and I'm not apologizing for it." She is real and so not perfect, OK?
"Why cry over spilled milk, when you can laugh over champagne." —Charrisse Jackson Jordan
I can get down with this one. I mean, I'd rather laugh over champagne, too. If you can't recall her tagline from last year, it was: "If I don't know who you are, then you are not worth knowing." It seems like she's in a better and more positive place this time around.
"I've played by Potomac rules, but now it's time to play by own." —Ashley Darby
Mic drop. You tell 'em! By the way, her tagline for Season 1 stood out, too. As she declared, "Throw this spring chicken into the cougars den and let the games begin."
And with that, you can watch the ladies deliver their taglines here and check out some footage from Season 2.
Yeah, Darby is absolutely the Season 2 taglines queen.