The Real Reason Kim Cattrall Won't Do 'SATC 3' Has Reportedly Been Revealed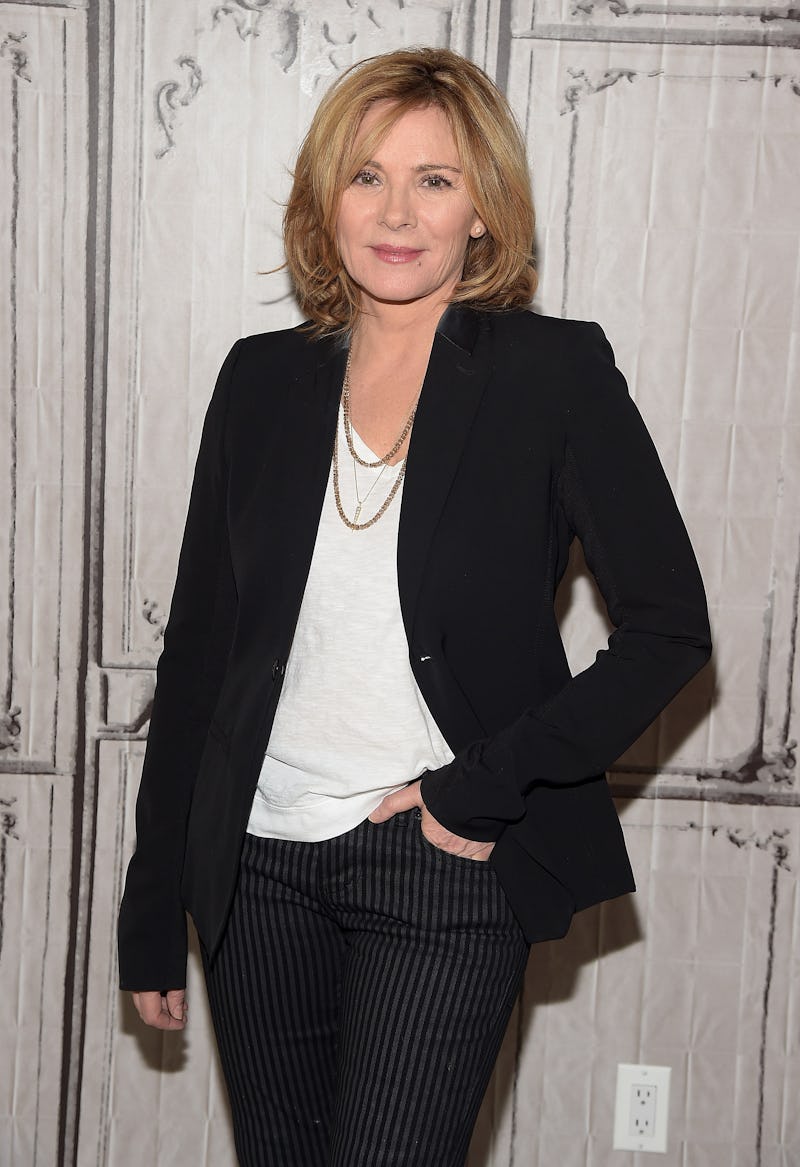 Theo Wargo/Getty Images Entertainment/Getty Images
For all those who couldn't help but wonder the real reason Kim Cattrall wouldn't do Sex and The City 3, E! News just might have the answer. According to a source close to Sex and the City 3 who spoke with E! News, the reason the actor hesitated to participate didn't only have to do with Cattrall's Sex and The City salary as previously reported, but never confirmed. It actually had to do with Samantha's storyline in the third Sex and The City movie — or, to be more exact, the lack thereof. "Kim never wanted to really do the movie to begin with," the source reportedly told E!. "It was a combination of not great money and a bad storyline for Samantha." (Bustle has reached out to Cattrall and Sex and the City producer and director Michael Patrick King for comment, but had not heard back at the time of publication.)
Last week, the Origins podcast, which takes a deep dive into Sex and the City, revealed that Mr. Big was going to die in SATC 3. According to Origins host James Andrew Miller, this meant the film would be "more about how Carrie recovers from Big's death than about the relationship between the four women," which E! suggests upset Cattrall. That said, the actor didn't participate in the podcast, which included interviews with other Sex and The City stars like Sarah Jessica Parker and Chris Noth, and has yet to comment on Miller's statement.
But, E!'s insider claimed it was more than just the film reportedly putting most of its focus on Carrie, it was Samantha's rather cringe-worthy storyline that allegedly turned Cattrall off to the project. This source claimed that Samantha's "main storyline" in SATC 3 "revolved around her and Miranda's 14-year-old son Brady. Early in the film, Brady gets caught masturbating. He is also caught sending 'd*ck pics' of his erect penis to Samantha."
Cattrall has never specifically talked about Samantha's storyline in the third Sex and The City movie. In fact, Cattrall told People last year that, "There's nothing concrete," to the film, adding, "There's no script," and barely even an "idea." However, she has been open about why she didn't want to do the film.
"I think the climate changed," Cattrall told the Scottish newspaperThe Daily Record in 2016, via E! News, after it was revealed that SATC 3 was cancelled. "To have four women talking about shopping trips and spending $400 on shoes when people are having trouble putting food on the table? It doesn't mean we don't need that but I think the pendulum swung in a different direction."
Especially for Cattrall who has said she isn't interested in playing Samantha again. Last year in a sit-down with Piers Morgan for CNN, Cattrall said, "Me playing her, that I can assure you will never happen. For me it's over, it's over with no regrets." She told Morgan that she felt she was being blamed for the movie's cancellation, when she was just making a decision that was best for her.
While Cattrall told Morgan that "going backwards in life doesn't make me happy," for fans, it's hard to believe that her alleged ongoing "feud" with Parker doesn't play at least a small role in her decision to say goodbye to SATC. Their supposed disagreements have been playing out in the tabloids longer than their HBO show was even on the air. This is despite the two continuously saying there is no feud.
There's one SATC star that hasn't given up hope that another Sex and the City could get made. Of course, it's Kristin Davis who is a total Charlotte in real life, too. "Maybe we'll figure out something to do," she told People in 2017. "I don't know, it would be great."
For all those Charlottes out there, it doesn't hurt to believe that another Sex and the City movie could happen one day. But maybe don't get your hopes up that Cattrall will have anything to do with it.