Why Beyonce & JAY-Z Named Their Twins Sir And Rumi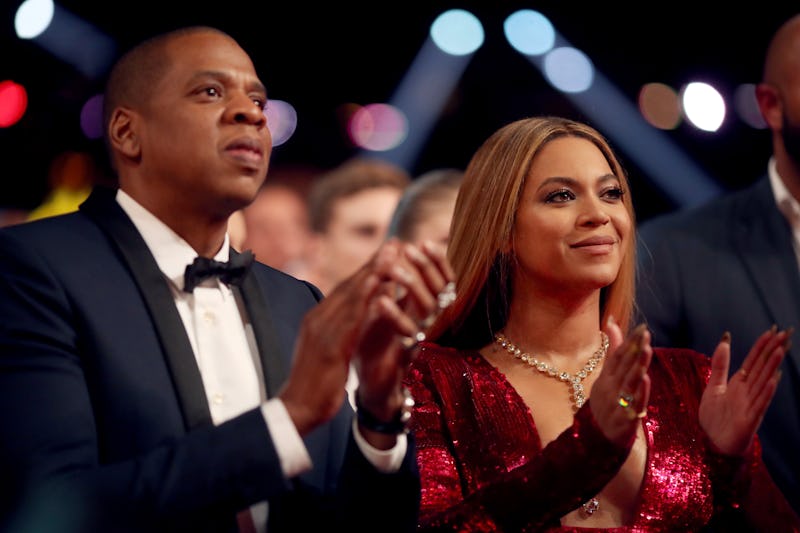 Christopher Polk/Getty Images Entertainment/Getty Images
If there's one thing that celebrities are known for, it's coming up with some of the most unique names to give their newborn children. With that said, you can always count on there to be a pretty meaningful reason behind why some famous couples choose the baby names that they do. A recent episode of the Rap Radar podcast episode revealed why JAY-Z and Beyonce named their twins Rumi and Sir Carter, and the power couple's reasoning behind it is actually pretty personal.
The 47-year-old rapper was a special guest on the Rap Radar podcast on Friday, Aug. 26, when he explained to the show's hosts, Elliot Wilson and Brian Miller, that the inspiration behind the names of their newborn twins actually comes from a famous poet. "Rumi is our favorite poet, so it was for our daughter," he told the hosts. "Sir was like, man, come out the gate. He carries himself like that. He just came out, like, Sir."
Rumi was a 13th century-born Muslim poet whose full name was Jalāl ad-Dīn Muhammad Balkhī, according to Poets.org. He published work on a variety of topic including love and religion, and is considered the best-selling poet in the United States even though he's been deceased for nearly 800 years.
It's really not surprising that the two chose to name their twins after a figure that they have a personal connection to. Their five-year-old, firstborn daughter Blue Ivy's name is filled with its own symbolism. "Blue" is significant to JAY-Z because of the popularity of his series of Blueprint albums, while "Ivy" comes from the Roman number IV for four. The number four has played a huge role in the couple's life, as Beyonce's birthday is on Sept. 4, JAY-Z's birthday is Dec. 4, the singer's 2011 album was called 4, and they married on April 4, 2008.
So, not only do all three siblings have unique names, but they also have names that hold a great deal of significance to their powerful parents. We might as well get used to hearing these already-famous names now, as we'll likely be hearing a lot more of the Carter twins in the future.