Why The Recent Spike In Abortion Bans Could Actually Be *Good* News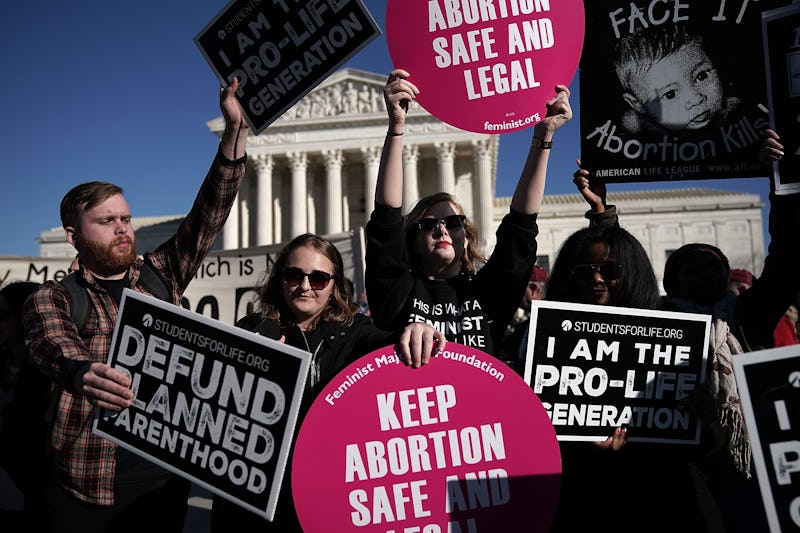 Alex Wong/Getty Images News/Getty Images
An energized anti-abortion movement spent the first five months of 2018 pushing through a slew of proposals to narrow access to abortion. Iowa passed the most restrictive anti-abortion law in the country, outlawing the procedure after six weeks of pregnancy; Mississippi banned abortion after 15 weeks; and Louisiana is well on its way to passing its own 15-week ban. While Donald Trump's presidency has emboldened anti-abortion lawmakers, political scientists tell Bustle this surge of recent abortion bans is also fueled by Republicans' fears that they'll lose their legislative dominance in the November midterm elections.
"There's some amount of fear that the backlash to the [Trump] administration — the backlash to some of the more extreme measures — is going to limit their capacity for legislative change in the coming year," Renee Cramer, professor and chair of Drake University's Law, Politics, and Society program, tells Bustle. "I think they're worried about 2018, so they want to solidify as many victories as they can."
While these restrictive abortion laws aren't exactly new — more than 400 abortion restrictions were passed nationwide from 2011 through 2017 — anti-abortion lawmakers have accelerated their activity in recent months. In the first quarter of 2018, five states adopted 10 new abortion restrictions, by the Guttmacher Institute's count. An additional 347 measures to restrict access either to abortion or contraception were introduced in 37 states.
"We are seeing a level of aggressiveness this year that is worth noting," Shivana Jorawar, state legislative counsel for the Center for Reproductive Rights, tells Bustle. "It's kind of like [anti-abortion lawmakers] are intensifying anti-choice activity."
Multiple factors are at play when it comes to this active anti-abortion movement. For starters, these experts agree that Republicans have been encouraged by Trump's anti-abortion rhetoric and are hopeful that he'll appoint another conservative Supreme Court judge to the bench with the goal of ultimately overturning Roe v. Wade. They point out that conservatives are likely pandering to their anti-abortion base as part of their re-election campaigns, too.
"We've seen women becoming much more politically engaged in local communities, at the state level — really at all levels of politics — and this push to restrict women's reproductive rights is a reaction against that."
But Republicans are also scared they'll lose their power to push through laws restricting abortion after the November elections, experts tell Bustle. FiveThirtyEight estimates that 46 percent of voters favor the Democratic Party ahead of the midterms, compared to 40 percent who favor the Republican Party. Democrats have fared well in special elections for Congress and flipped 41 seats in state legislatures across the country since 2016, by CNN's count.
Considering the signs that Democrats may reclaim legislative power from them in January, experts believe anti-abortion lawmakers may be making a mad dash to push through as many new restrictions as possible before then.
This is happening at both the federal and the state level. State lawmakers pass most abortion restrictions, but Jennifer Lawless, director of the Women and Politics Institute and a professor of government at American University, explains that Democrats regaining control of the U.S. House would make it "virtually impossible" for anti-abortion members of Congress to further restrict access to the procedure. "That creates more incentives for the states to continue to handle it themselves," she says.
It's possible a blue wave could hit state legislatures at the same time, and that concern about this outcome could simultaneously be fueling a surge in anti-abortion legislation.
"The reason [states] might be rushing to handle it right now — or at least introducing some pretty high-profile examples of restrictions — is because if there is this blue wave, they're not going to be in the majority in a lot of the states that have been pretty successful at implementing restrictions," Lawless explains.
Nichole Bauer, assistant professor of political communication at Louisiana State University, has a different theory to explain the spike in abortion restrictions so far this year. She believes that rise can actually be attributed to male Republicans pushing back against the historic number of women running for office this year. If lawmakers were passing more restrictions solely because they worried about getting clobbered in an election year, she argues, America would see a similar wave of anti-abortion enthusiasm every election year.
"In the post-2016 electoral era, we've seen women becoming much more politically engaged in local communities, at the state level — really at all levels of politics — and this push to restrict women's reproductive rights is a reaction against that," Bauer says. "It's this reaction of men asserting their authority over women and over women's bodies."
There's no hard data to shore up that theory. But with the majority of women vying for elected office running as Democrats, according to the Center for American Women and Politics, women candidates are likely contributing to Republicans' worries about losing power this fall.
Just 18 percent of Americans believe that abortion should be illegal in all circumstances, according to a 2017 Gallup poll — a figure that's remained largely consistent for the past 40 years. Yet the flood of restrictive abortion legislation proposed across the nation this year has created a "crisis when it comes to abortion access in our country," as Jorawar put it.
The good news for abortion rights advocates is that the very same thing fueling anti-abortion lawmakers' push for tighter restrictions could lead to fewer of them holding elected office next year. If that proves to be the case, the trend of conservative-controlled states introducing hundreds of new restrictive abortion measures every year could soon hit a roadblock.