The Rihanna and Lupita Movie Is Really Happening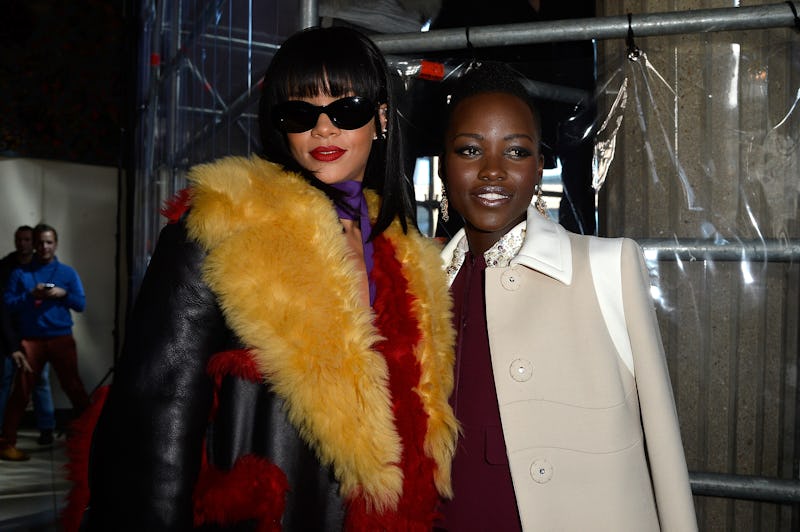 Pascal Le Segretain/Getty Images Entertainment/Getty Images
A few weeks ago, Rihanna, Lupita Nyong'o, and Ava DuVernay joked about doing a buddy movie together via a Twitter meme concept and turns out, it's actually happening for real. This is not a joke. Rihanna, Lupita Nyong'o, Ava DuVernay are making the movie for Netflix, according to Entertainment Weekly, and it's Twitter's dream come true. Bustle has reached out for comment to the originators of the concept Twitter user Kateria (@WHOOPHERASSKOURTNI), and the Tumblr user Roxy (@elizabitchtaylor), but did not hear back in time for publication. According to EW, Insecure's Issa Rae is in talks to write the script. Rae's rep told Vanity Fair that "the original Twitter users who imagined the concept for this film will be credited and included in some form."
As you can guess, the response to the original Twitter post made in April has given the project a certain amount of buzz on social media — and now in Hollywood. It all started when star Nyong'o spotted the original tweet about a celebutante pipe dream of sorts. @WHOOPHERASSKOURTNI posted the following tweet on April 18: "Rihanna looks like she scams rich white men and lupita is the computer smart best friend that helps plan the [scams]." Accompanying the tweet wasa photo of Rihanna and Lupita sitting front and center at the 2014 Miu Miu Fashion Show. The idea began to gain traction, as Nyong'o sent a tweet to Rihanna cosigning the concept and just like that, it manifested.
Soon, Lupita was on board and asked Rihanna if she would be, too.
"I'm in Pit'z," tweeted RiRi on April 23, saying she'd join in on the then-theoretical Twitter movie.
Twitter user Mikelle Street recruited DuVernay to the project and the Oscar nominee responded, "Lights set. Camera's up. Ready to call action for these queens."
Then, Twitter user Darrell (@dvrrxll) asked Insecure's Issa Rae to join the Twitter dream project. Her response was a GIF of a typing cat.
And now, it's all coming true in real life, making this film a quartet for black excellence and another victory for women in media. As soon as the news broke that the movie would be made official, Twitter went nuts for it.
One user is so happy that yes, Twitter did that.
For some users, this untitled and not-yet filmed movie is already their favorite.
The movie's release is not yet known, since it's still the developing stages, but EW reported that production could start in 2018.
This just goes to show you the conjuring power of social media where a hopeful joke can easily turn into a Twitter dream come true.