The 'Riverdale' Season 3 Trailer Will Leave You Wanting To Know So Much More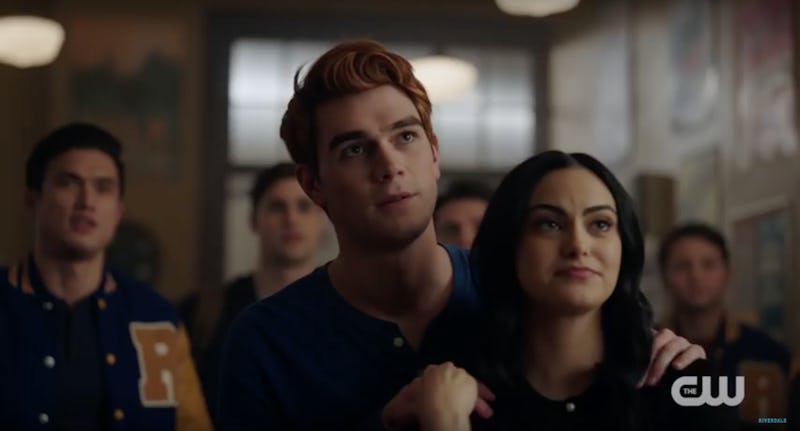 Riverdale/The CW
For all the Riverdale fans worried about Archie Andrews' fate, you can now exhale. The CW has given the public its first look at the season 3 trailer of Riverdale, which was released during the 2018 Comic-Con show panel on Sunday.
At the end of Season 2, Archie had been wrongly arrested and thrown behind bars for the murder of Cassidy Bullock. The sneak peek ahead for Season 3 does not explain how he gets out of jail, but it does show Archie out, enjoying life with the usual gang.
According to E! News, KJ Apa, the actor who plays Archie, has revealed that this upcoming season will follow his character through his trial, which seemed to be exceptionally difficult, if any insight is to be gleaned from one of the trailer's scenes.
"After the worst summer ever, I want us to have a normal Labor Day weekend," Archie says to Betty, Veronica, and Jughead over milkshakes at Pop's Diner.
Betty is played by Lili Reinhart, Veronica by Camila Mendes, and the ever-brooding Jughead by Cole Sprouse. The four are seen coupled up in the trailer, with Archie and Veronica as a pair and Jughead and Betty as the other. But love isn't the only juicy element in the show; the show's trailer promises a slew of mysteries and mystifying cult rituals.
During an interview with Entertainment Tonight at Comic-Con, a group of Riverdale cast members that included Apa, Mark Consuelos, Marisol Nichols, Ashleigh Murray, and Luke Perry teased a few highlights from Season 3.
"We start off, Archie is on trial for the murder of Cassidy Bullock," Apa says of Archie. "He's innocent, but you never know what can happen in Riverdale. That's the great thing about our show. So we'll see what happens."
And doing her due girlfriend diligence, Veronica does visit Archie while he's in the slammer. "He doesn't want her to, but she's a good girlfriend," Apa said. "So she'll probably be coming to visit, but I think the distance is going to shake things up a little between the two of them."
Nichols also dished on the chemistry between her character, Hermione Lodge, and her husband, Hiram, played by Consuelos. "I think, with Hermione, she can't show all her cards. Even though she does have some power for herself, she's going to have to navigate it carefully," Nichols said.
And if you loved the musical episode of Riverdale, there could be another one in the making. "I think they're going to find a way to do it again," said Ashleigh Murray, who plays singer Josie McCoy.
But as much excitement as there is traditional to high school drama, the trailer also shows a more sinister side of events for Season 3. One of the most compelling scenes shows Betty hearing strange chanting in her backyard, with the camera revealing Polly, played by Tiera Skovbye, with their mom, Alice, played by Madchen Amick, around a fire.
Some sort of ceremony leads the women to crowd around a bonfire, holding the twins above the fire. The Farm, a group Polly joined, has been a vague topic since Season 1, and it's expected that the inner workings of The Farm will be fully explained this upcoming season.
During another interview with the Riverdale cast, Sprouse revealed more tidbits that viewers can expect throughout the show, especially on Bughead's fate.
"Actually, it's looking like it's going to be pretty good for Bughead this season so far," Sprouse said, expressing his desire for "happiness" and consistency" in the relationship, though his onscreen girlfriend did caution that it's still early.
"We're two episodes in, so we don't know how things are going to pan out," Reinhart said.
Whatever happens, the large fan base (and impressive ratings) mean there will certainly be a lot of eyeballs watching for answers to all the baffling questions raised in the trailer.