The Royal Family's First Same-Sex Wedding Is Happening Soon & Here Are All The Details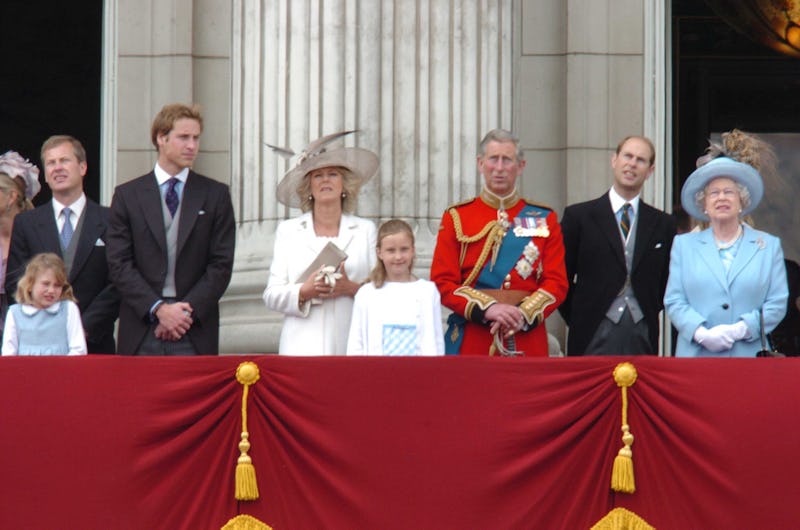 Alan Davidson/Silverhub/REX/Shutterstock
There's about to be a majorly positive first for the British royal family. According to People, the royal family will have its first same-sex wedding this summer. Lord Ivar Mountbatten, a cousin of Queen Elizabeth II's, is set to wed his partner, James Coyle.
Mountbatten, who is a member of the extended royal family, will marry Coyle at his own country estate in Devon in what will reportedly be a private ceremony. He's related to the the current monarch as he is a descendent of Queen Victoria's, as is Elizabeth, according to The Peerage. He met his intended Coyle at Verbier, a Swiss ski resort. The royal explained to the Daily Mail in a revealing joint interview with Coyle and his ex-wife Penny Mountbatten that there wasn't the typical proposal situation or anything, but "just an acceptance of this great love."
It's unclear if the Queen, being his cousin and all, will attend the affair. While Mountbatten is close to her son Prince Edward (he's even the godfather to his daughter, Louise, per The Herald Sun), he and his wife, Sophie, the Countess of Wessex, will not be at the ceremony either because of some already scheduled events. Although, that doesn't mean that they're not supportive of him. The groom-to-be told the Daily Mail that they both "adore James." He also said, "Sophie and Edward know of our plans and are really excited for us."
In an incredibly modern move, the royal's ex-wife, Penny, will be the one to walk him down the aisle on his wedding day. Apparently, this was the couple's daughters' idea, as Penny explained during their Daily Mail interview, "It makes me feel quite emotional. I'm really very touched." The former husband and wife pair are obviously still on great terms with each other, as this move exemplifies. There's even still a good deal of love in their relationship, as Mountbatten said, "I loved Penny when we were married, as I still do very much."
He was previously married to his ex-wife for 16 years, with whom he shares three daughters, Ella, Alix, and Luli, according to the Daily Mail. Prior to their marriage, he was upfront with her about his sexuality, identifying himself as bisexual at the time. The two eventually parted ways in 2011, but have since maintained their close relationship.
In 2016, Mountbatten first came out publicly as gay in an interview with The Mail on Sunday. Per the article, it took time for him to "admit his true identity, even to himself." During his interview, Mountbatten detailed how much he struggled with coming to terms with his identity. He explained there wasn't an issue so much with his sexuality itself; there was more-so an issue with the climate in which he grew up. "Being a Mountbatten was never the problem, it was the generation into which I was born," he said, "When I was growing up, it was known as 'the love that dare not speak its name', but what's amazing now is how far we have all come in terms of acceptance."
He also revealed that he had found happiness in his new relationship with Coyle. "I'm just so pleased now to have found someone who I am happy to call my partner." And now, two years after his reveal in The Mail on Sunday, he's set to get married to his partner in a lovely ceremony, which will mark a major historic moment for the British royal family.
Not only is it wonderful to see Mountbatten so happy in his relationship, but it's also so great to see that the royal family, and the Earl and Countess of Wessex in particular, is so accepting of him. While the family is known for abiding by strict rules and following traditions rooted in history, it seems that with their acceptance of Mountbatten's sexuality and his union with Coyle, they're well on their way to becoming a thoroughly modern monarchy.
Editor's Note: This story was updated on June 18.