The 'RuPaul's Drag Race' Season 9 Cast Is Insanely Talented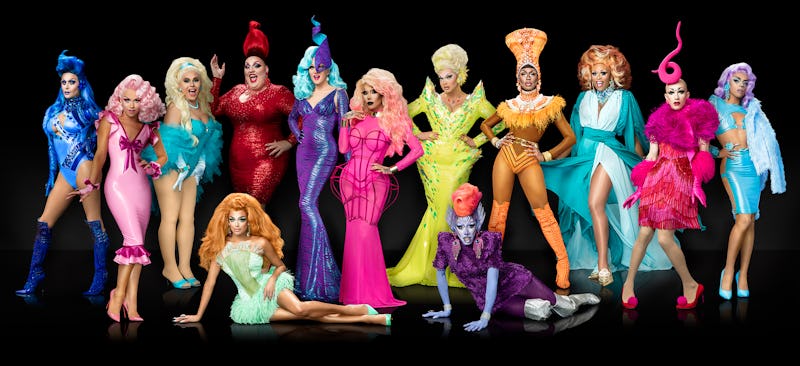 VH1
If you're not planning to watch Season 9 of RuPaul's Drag Race, I'm afraid I'm going to have to tell you to change your plans, because this show is a television event that everyone should be present for. Unlike most reality competitions, it's a largely celebratory, thrilling, positive viewing experience, despite having a beloved challenge that judges the participants based on how well they can openly insult one another. And getting to know the RuPaul's Drag Race Season 9 cast reveals that yet another group of incredibly talented drag queens has been cast to compete for the crown and $100,000 prize.
After last fall's All-Stars 2, in which drag performer Alaska was crowned as the second entrant into the RPDR hall of fame alongside Chad Michaels, RuPaul's Drag Race has a long and hard road ahead if it wants to top that season. But there are quite a few things that fans are hoping for in this new season, like a win for a Chicago queen (as one of the major hubs and home to fan favorites like Kim Chi, it's long overdue), more impressive feats of fashion and wiggery, and (if it's even possible) a reservoir of gif-able moments that rivals Bianca del Rio's. Here are the contenders for the new season premiering on VH1 on March 24, and as you meet the queens, try to predict who will make it to the final three and who could be the victim of the rare double elimination.
Aja
A young, Brooklyn queen with what seems like a lot of attitude could easily spell a mean girl who relies on a perfectly beat face to get her through the competition. But the above performance shows that Aja can dance and has an impressive sense of drama by entering in an oversized skirt and sleeves.
Alexis Michelle
Every season, there's at least one performer who says that they're a trained theatrical performer but still totally blows it on an acting challenge and/or gets sent home early (see: Mantle, Kelly, Turner, Robbie, and LaQueer, Madame). Is that Ms. Michelle's fate? Her mashup performance as the Witch from Into the Woods and Barbra Streisand is suitably dramatic, but it remains to be seen if it can translate to TV.
Charlie Hides
The oldest contestant in herstory? That has me intrigued, because if an older performer has the right skill and polish, she can easily "sail through the competition" like Bianca or Chad (or get sent home first like Tempest DuJour — anything is possible!). And Charlie is an experienced, funny, and well-dressed queen who's worked in not just different drag scenes, but different countries — both the U.S. and the U.K. She also does impressions, which should mean at least one of these queens knows what they're doing in the Snatch Game this season.
Eureka
This queen also has pageant experience, which may help her make it to the end. And Eureka's last name may be O'Hara, but don't get her confused with Phi Phi. Self-possession and confidence is half of what makes this queen so great. The other half is, of course, those enormous pageant earrings and wigs.
Farrah Moan
A Vegas resident who works a bubblegum pink, 1940s pinup, showgirl aesthetic... Farrah Moan seems like Derrick Berry crossed with Violet Chachki. If you were engineering the perfect Drag Race love-to-hate-her contestant, that's exactly who I would mix together, so let's hope Farrah can bring drama to the runway — even if she calls herself not that competitive.
Jaymes Manesfield
I love a queen who pays homage to the icons of Old Hollywood, but Jaymes seems a little all over the place, touting her acting, singing, dancing, sewing, and puppeteering skills in her official bio. But she can put them all to use in a live performance, and Milwaukee was home to fan favorite Tracey Martel (otherwise known as Trixie Mattel).
Kimora Blac
The shade is strong with this one, who calls herself a "lifesize Barbie" in drag and a "really hot guy" out of drag. I'm getting a slight Gia Gunn vibe here. I certainly hope the whole Look Queen/Comedy Queen binary has been put to rest (you need both to make it on RPDR), but Kimora certainly seems like she'll be prepared with a snide comment for any queen who isn't as much of a "perfectionist" as she is.
Nina Bo'nina Brown
Nina's stunning makeup skills have a sense of drama and fun and her Transformations video is particularly inventive and showcases the way she can turn a face into a 3D cartoon fantasy. And she's also capable of transforming herself into an eerily accurate version of Angela Bassett — makeup can do anything, y'all.
Peppermint
Peppermint is the first competitor to enter the show as an openly trans woman (other trans women have competed on the show, but didn't share their gender identity openly when first cast). She's also a well-known NYC performer who has worked frequently with fellow legend of the scene Sherry Vine, has her own charmingly 2000s music videos, and she has the Hey Queen! seal of approval.
Sasha Velour
"Quirky" is an adjective usually applied to characters in indie dramas, not inventive performers, but a queen who can turn the traditional lip-sync on its head this profoundly is always worth watching.
Shea Couleé
I know it's become a cliche at this point, but Shea is fierce, that perfect mix of breathtakingly beautiful, talented, and a little terrifying. Her costumes are beautiful — I anticipate a lot of jaw-dropping moments from the judges' panel. And she has her own short film that costars Kim Chi (along with plenty of other recognizable queens) about exacting revenge on a cheating man; basically, the dream.
Trinity Taylor
By all accounts, this successful pageant winner should be a natural frontrunner... unless she thinks she's somehow above the no doubt numerous performing challenges that are now a big part of the competition. But, at least judging from her Instagram, Trinity doesn't seem to take herself too seriously. She also has a strong connection to the Pulse nightclub in Orlando, the setting for a devastating and tragic attack on the gay community last summer, as she was Miss Pulse in 2011, according to the Orlando Sentinel.
Valentina
She's only been doing drag for 10 months, but already, she has a pretty well-defined look and a list of inspirations a mile long (many of them tied to her Latinx heritage).
Long gone are the days where you could show up with promise and very little polish and make it onto the RuPaul's Drag Race mainstage. Even the rookies and the newbies are bringing it to Season 9.