Supermarket Fashion Just Got A Major Upgrade With This New Sainsbury's Collection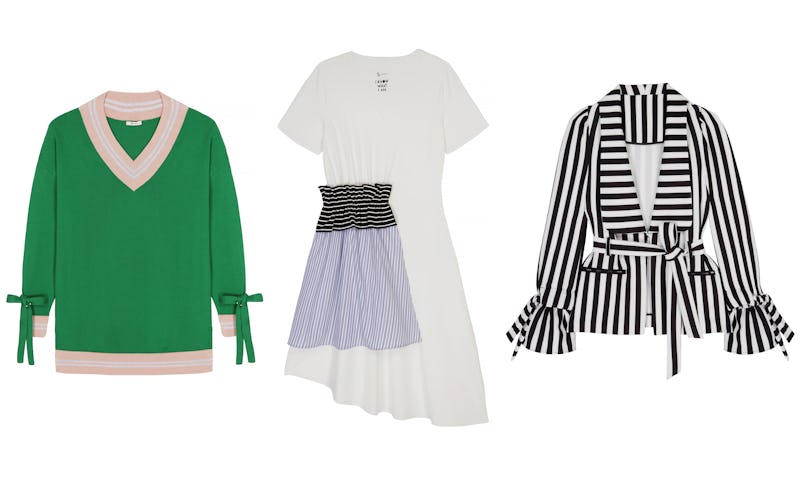 Tu
I'll admit that I've been the first to turn my nose up at supermarket fashion. But a new Sainsbury's Tu Graduate Fashion Week collaboration has firmly changed my opinion. Launching on May 29, the supermarket's Tu line will release a collection produced by two British fashion graduates from the class of 2017. Emerging designers Laura Gillings and Amy Vanderwal were selected for the honours last summer, and have spent the subsequent year on a one-year scholarship with Tu's in-house design team, repurposing their graduate work into a womenswear and menswear collection, respectively.
Gillings, who studied at Bath Spa University and won the Tu Womenswear Scholarship, has created a 16-piece collection that will slot nicely into your summer wardrobe. Inspired by '60s tailoring, each piece can be made to work all day long.
Stripy shirts and ruffled skirts feature along with sporty tracksuits, bold cricket jumpers, and a series of graphic T-shirts. Its monochromatic palette is far from boring with splashes of lilac, orange, and green appearing every now and then. (Hats off to the first person to sport the bright orange striped suit.)
While some young designers might have been put off working with a supermarket brand by a sense of snobbery, Gillings was only too willing to put her name to a Tu collection after realising that this was the only way to cater to a bigger audience. "Working with the team has been the best part of this experience," she told WWD. "I've realised that I want to make my career designing for the high street. I want my designs to be accessible to everyone." The entire range goes up to a UK size 22.
Nottingham Trent University's Vanderwal was awarded the Tu Menswear Scholarship, resulting in a similar 12-piece collection. Unlike the womenswear range, Vanderwal's debut is much more casual, mixing distressed denim with coordinated checked shirts and shorts. Her colour palette sticks to easy-to-wear black, grey, and red, and the pieces are likely to draw attention from anyone, regardless of gender.
Most excitingly, Sainsbury's hasn't upped its prices for the stylish collections. Starting from just £9, the most expensive item is a jacket that will set you back £32. If you don't manage to pick up something this time round, there will be a further collection from each designer later in the year.
Both Gillings and Vanderwal were given mentorships from two notable designers while producing the capsule collections. Well-known British designer Henry Holland proved to be the perfect help for Gillings, thanks to his frequent collaborations with high street stores such as Debenhams, while esteemed menswear designer Oliver Spencer was on hand throughout Vanderwal's time at Sainsbury's.
"I think Laura adds lots of femininity to the androgynous," Holland commented in an interview with WWD. "She has a really strong sense of colour and print and an amazing level of design."
This year's Graduate Fashion Week will kick off on June 3. Featuring catwalk shows from the country's top design universities, the four-day event will culminate in a glitzy awards gala on the evening of June 6.
Once again, Sainsbury's Tu will be awarding a menswear and womenswear scholarship to two of the leading young designers. An announcement on the Graduate Fashion Week website revealed Oliver Spencer will return to mentor the menswear category, while design duo Teatum Jones will take on womenswear. The latter is a particularly exciting addition, since Teatum Jones have a reputation for spearheading conversations around inclusivity after featuring disabled models in several of their runway shows. Collections from these designers will be available at Sainsbury's in 2019.
This season's designs will also be available to buy on-site at Graduate Fashion Week, with Tu hosting a pop-up shop for the very first time. You can buy tickets to the industry event via the website.
Update: This post was updated to reflect that Tu's Graduate Fashion Week collection will go up to a UK size 18. The rest of Sainsbury's Tu clothing goes up to a size 22.