The 'Santa Clarita Diet' Guest Stars Are Amazing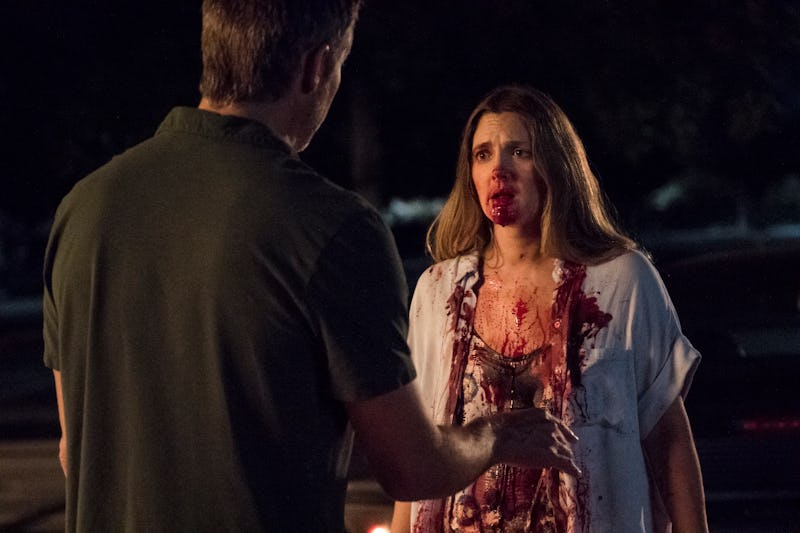 Erica Parise / Netflix
Zombies have often been a metaphor for society, but Netflix's new comedy The Santa Clarita Diet has a different take on the genre by putting the undead in a spinoff of suburban America. The series stars Drew Barrymore and Timothy Olyphant as a seemingly idyllic couple with a dark secret. The Santa Clarita Diet guest stars include many of your favorite comic actors that cement the show's status as a satire. There are some mild spoilers for The Santa Clarita Diet ahead, so don't read on if you don't want to know whose faces will be coming to call.
According to the official Netflix description for the series, Sheila and Joel are a "husband and wife realtors leading vaguely discontented lives in the L.A. suburb of Santa Clarita with their teenaged daughter Abby, until Sheila goes through a dramatic change sending their lives down a road of death and destruction... but in a good way." Alive or undead, Mom's gotta eat!
The couple's kids are played by Liv Hewson and Skylar Gisondo. Richard T. Jones and Ricardo Chavira play her neighbors, who are both police officers. Here are some of the other guest stars you will see along the way.
Natalie Morales
She plays another cop on this show, and you probably know Morales from Parks and Recreation, Girls, The Grinder, Trophy Wife, and White Collar.
Nathan Fillion
The former Castle and Firefly star plays Gary, one of Sheia's coworkers.
Ryan Hansen
This actor has been in everything, from Veronica Mars to Party Down, 2 Broke Girls, Resident Advisors, Bad Teacher, and so much more.
Mary Elizabeth Ellis
Along with Joy Osmanski​, Ellis plays one of Sheila's neighborhood friends. You know Ellis from New Girl, The Grinder, and of course as the Waitress on It's Always Sunny In Philadelphia.
Thomas Lennon
This comedian, who you know from The Odd Couple and Night At The Museum, plays the principal at the kids' school.
Andy Richter
The comedian plays Sheila's boss.
Portia De Rossi
The Arrested Development actor plays a scientist.
John Gemberling
Finally, the Broad City actor also makes a guest appearance. That's a funny group of people which should make for an hilarious show!