The Satanic Temple Wants Anti-Gay Bakers To "Bake Cakes For Satan" For Religious Freedom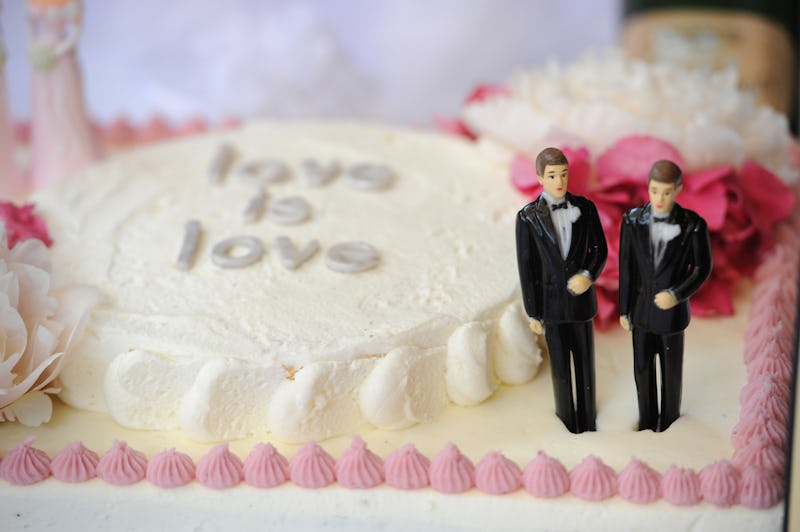 ROBYN BECK/AFP/Getty Images
The LGBTQ community and queer advocates have been up in arms since it was announced that this fall, the Supreme Court would decide on a 2012 anti-discrimination lawsuit brought against a Colorado baker, Jack Phillips. The suit was originally filed when Phillips refused to bake a cake celebrating the gay marriage of Charlie Craig and David Mullins, claiming his refusal was a religious freedom. Though both the Trump administration and several religious groups recently filed a brief supporting the baker, the LGBTQ community has gained their own ally in the form of The Satanic Temple. The organization wants you to fight homophobia, one Satan-themed cake at a time.
The Salem, MA, based religious organization is encouraging people to purchase Satan-themed cakes from anti-gay bakers in a show of solidarity for the LGBTQ community. A TST spokesperson, Lucien Greaves, said in a press release, "Our organization has received a lot of concerned messages from people who are upset by the prospect of an environment in which the LGBTQ community are openly and legally treated as second class citizens." In response, they created the most clever response ever to support those who voiced concern. "Because religion is a protected class, a baker may refuse service to LGBTQ people, but they may not refuse service based upon someone's religion," Greaves says. "If they aren't willing to make a cake for same-sex unions, let's have them make a cake to honor Satan instead."
As a recognized organization, The Satanic Temple is invoking their protections under religious freedom and the First Amendment to request Satanic-themed cakes from bakers who claim religious freedom in refusing to serve gay people. Ironically, these are the same exact protections anti-gay bakeries are claiming justify their "right" to deny gay couples service. Buying a cake that honors Satan from an anti-gay bakery is an act of solidarity for marginalized communities and represents a stance that all people — not just those who hold certain religious beliefs — deserve protection under anti-discriminatory laws.
This isn't the first time The Satanic Temple has utilized the First Amendment to expose the flawed and often hypocritical argument many anti-gay or anti-choice groups rely on. Earlier this September, news broke that the Missouri Supreme Court would hear The Satanic Temple's ongoing lawsuit against the Governor and Attorney General of Missouri. The organization is fighting to repeal the state's restrictive abortion regulations, claiming the laws violate religious beliefs under the Religious Freedom Restoration Act (aka, the same law Hobby Lobby used to justify not covering their employee's contraception on religious grounds).
In addition to The Satanic Temple's call to action, the organization is offering direct support for LGBTQ couples who have been discriminated against by anti-gay bakeries. Greaves says to those couples, "If you can't get a cake for your same-sex union, we'll host a party in your honor at The Satanic Temple headquarters in Salem." They'll also "order a cake that praises Satan from your offending discriminatory 'religious liberty' enthusiast." The Satanic Temple also has ordained officiants, who can and will perform Satanic wedding ceremonies regardless of the couple's sex orientations. Even if the Supreme Court decision is a loss for the LGBTQ community (and let's hope not!), The Satanic Temple is clearly ready to provide whatever resources they can.
The Satanic Temple has long been a force for political good, standing with marginalized people time and time again as they've faced discrimination. According to the organization, their mission is to "...encourage benevolence and empathy among all people, reject tyrannical authority, advocate practical common sense and justice, and be directed by the human conscience to undertake noble pursuits guided by the individual will." Members of The Satanic Temple participated in the Women's March in Seattle this past January, and have advocated for separation of Church and State. They've even taken a stand against the extremist Westboro Baptist Church, by performing a "Pink Mass" at the gravesite of Westboro Baptist Church founder's mom, and declaring the ritual made her "gay."
Despite the taboo and misinformation surrounding The Satanic Temple, the organization truly works to create social justice and change for some of the most vulnerable members in our community. The Satanic Temple's public call for support of LGBTQ community is just what some of us need right now in this trying situation. TBH, I can't wait to see some pictures of the Satan-themed cakes The Satanic Temple will inspire.