All The 'Orange Is The New Black' End Credits Songs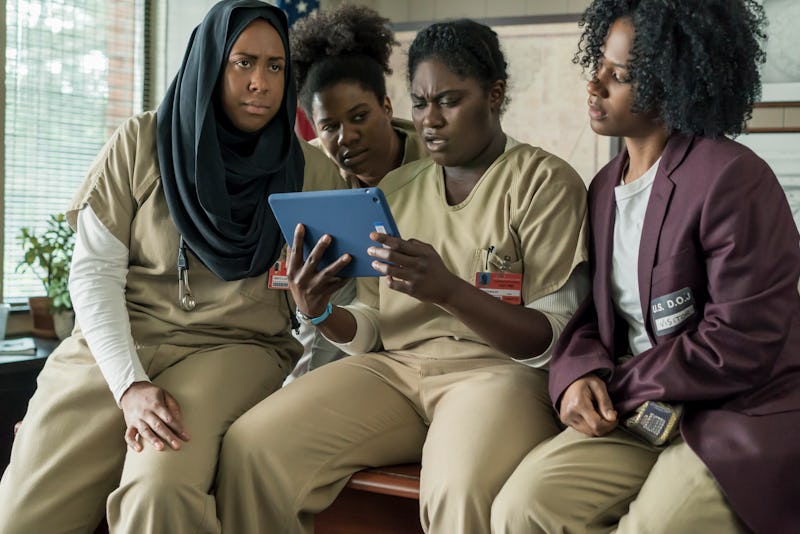 Myles Aronowitz/Netflix
After the heartbreaking and tense way that Orange is the New Black ended last year, it's a relief that this new season is a little more hopeful and a little more resilient. There are still dark and suspenseful moments, but the change of pace during the prison riot is welcome. The music, particularly the songs that close out each episode, reflects that pace and tone well. In case you're looking to commemorate the new season with a playlist, here are all the end credits songs in Orange Is The New Black Season 5. Be warned, there are a few mild spoilers for Orange is the New Black Season 5 ahead, so don't scroll past where you've watched unless you're willing to risk a few plot details.
Jenji Kohan shows are known for their imaginative song choices. Before end credits songs became a hallmark for Orange is the New Black, her Showtime series Weeds used music in a similar way. Sometimes the end credits song reflects a particular mood that punctuates a cliffhanger. Sometimes it relates to a particular character's story. Sometimes its an ironic juxtaposition.
Without further ado, here are the songs and artists used this season on OITNB.
"Hey Mami" By Sylvan Esso
Episode 1 ends with this song, setting the tone for the season.
"Pictures" By System Of A Down
Next, in Episode 2, is this blast from the past.
"I Should Not Be Seeing You" By Connie Conway
This kind of sentimental song, featured at the end of Episode 3, is a juxtapositional favorite for shows like Orange is the New Black.
"I Wish I Were A Princess" By Peggy March
Alison's story is represented by this song in Episode 4.
"Dreamgirls" From Dreamgirls
But, of course, it's from the private school production featured in Episode 5.
"List Of Demands (Reparations)" By Saul Williams
The demands start working in Episode 6.
"My Love" By Petula Clark
A different kind of throwback for Episode 7.
"Especially Me" By Low
This more ominous song fits the ominous end to Episode 8.
"California Dreaming" By Mumiy Troll
This cover of the popular Mamas and the Papas song ends Episode 9.
"Take 'Em Down" By Whissell
Episode 10 ends with a cliffhanger and this anthem.
"Under the Wild Skies" By Luisa
Episode 11's song, I believe, is partially relating to the outdoor camp.
"My Heart Goes Boom" By Miss Li
Everything's ramping back up with this song in the Episode 12 credits.
Episode 13: "To Build A Home" By The Cinematic Orchestra
The chilling final moments of the show are accompanied by this soft piece. That's it, that's Season 5. It's a good mix of genres, and sets the tone for both where this season went and where it's going next.