The Premiere Date For 'A Series Of Unfortunate Events' Season 3 Has Been Revealed!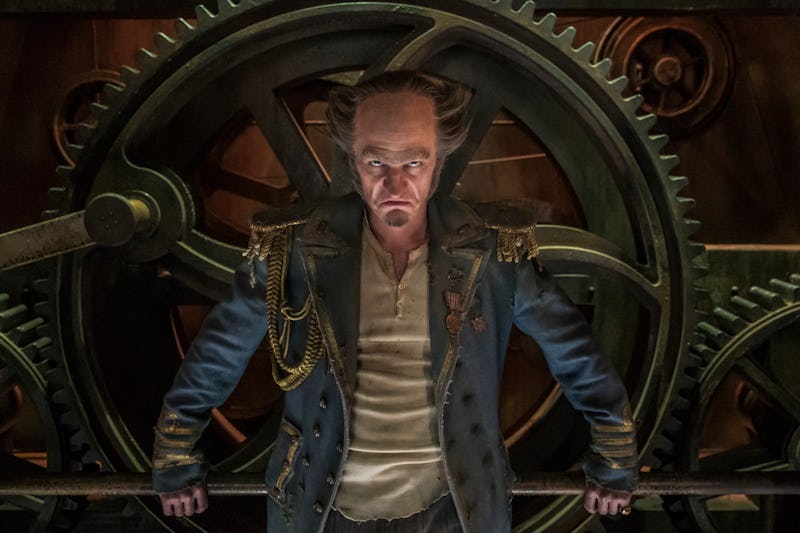 Eike Schroter/Netflix
An unfortunate amount of tragic circumstances have befallen the Baudelaire children as of late, and now their journey is about to come to a fortunate (or perhaps, unfortunate) end. Neil Patrick Harris who stars in the Netflix series as the malicious and vile Count Olaf, shared a teaser trailer for the show's final installment and revealed the premiere date of A Series of Unfortunate Events Season 3, which will bring these unfortunate events to a close once and for all, hopefully providing some much-needed answers along the way.
The third and final season of ASOUE will hit the streaming platform at the start of the new year on Jan. 1, and according to Count Olaf and Lemony Snicket — both of whom are prominently featured in the teaser trailer — they've made sure to save the worst of this story for last. So if you've neglected to heed Lemony Snicket's warning to stop watching as these awful occurrences unfold, then take no comfort in knowing that the darkest of days are still ahead. Needless to say, if you were hoping for a happily ever after to come out of this, you've definitely been watching the wrong show. Because where the Baudelaires go, tragedy and mayhem are never too far behind.
"Count Olaf and Lemony Snicket come bearing terrible news — the release date of A Series of Unfortunate Events, season 3!" Harris tweeted along with the brief but ever amusing trailer, while also spoiling the release date in the process. (A tried and true Count Olaf move, by the way.)
The teaser showcases the show's two main characters, Lemony Snicket and Count Olaf, as they do their best to recount everything that's happened thus far — though their descriptions of what's taken place could not be more different. For example, what Count Olaf refers to as "golden opportunities," Lemony Snicket calls "unfortunate events." And while Count Olaf is lamenting the fact that his days of tormenting the Baudelaire children are coming to a close, Lemony Snicket couldn't be more happy (well, as happy as he seems to get) to finally be done with this dark and dismal tale of woe.
Those who have read the books may have an inkling of how the rest of this rather stressful journey unfolds, but Lemony Snicket promises that regardless, viewers will finally receive the answer to some very plaguing questions. The fate of the Baudelaires, who were last seen about to plummet from a high cliff, as well as the meaning behind those mysteries letters V.F.D. will all be revealed by the time the final credits roll. And let's not forget about the sudden appearance of Allison Williams' character, whom many presume to be Lemony's sister, Kit Snicket.
It's sure to be a treacherous road ahead for these characters, but at least all of this misery is gearing up to come to an end once and for all. Can you think of a more unfortunate way to kick off the start of 2019?