Why HBO's 'My Brilliant Friend' Might Not Be For Everyone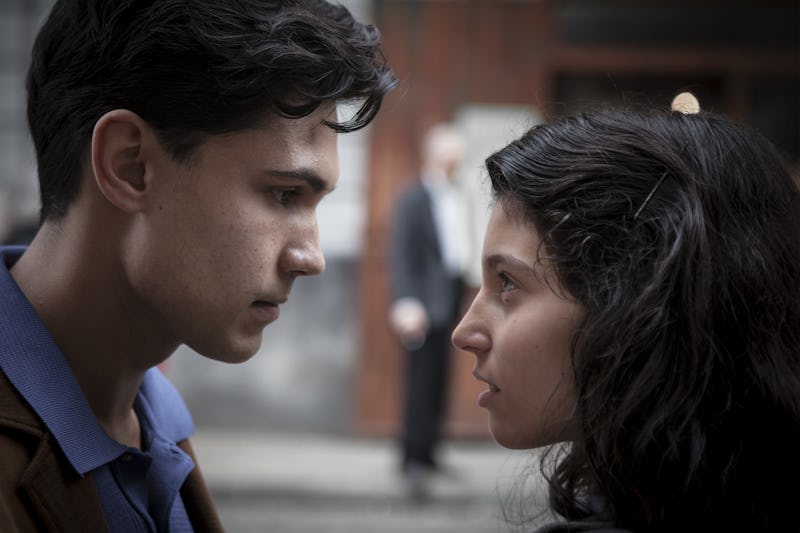 Eduardo Castaldo/HBO
Spoilers ahead for My Brilliant Friend Episodes 5 and 6 Elena (Margherita Mazzucco) and Lila (Gaia Girace) are growing up, and with that comes attention from men. And while it's been obvious from the beginning that women don't have much agency in the adaptation of Elena Ferrante's Neopolitan novels, the sexual assault in My Brilliant Friend Episodes 6 is still difficult to stomach. The show's realistic depiction of 1950s Naples — especially when it comes to what women can and cannot do — is impressively executed.
However, in these most recent episodes, My Brilliant Friend's heavy subject matter becomes weightier still — subject matter like sexual assault, violence against women, and men's inability to take no for an answer. With such heavy themes, it's puzzling how anyone is watching the episodes back to back the way HBO is releasing them, rather than allow audiences to chew on each installment for longer.
Up until this point in the series, Lila and Elena have both been confined to their neighborhood; however, the Greco girl finally gets to see the world outside of their dusty, suffocating walls in Episode 6. Her former teacher, Maestra Oliviero, gives her the opportunity to stay with her cousin in Ischia, an island off the coast of Naples. There, Lenu passes a blissful summer on the beach, swimming, reading books, and writing unreturned letters to Lila. To make things even more exciting, Elena's old crush, Nino Sarratore (Francesco Serpico), shows up with his family, and they begin spending time together. It soon becomes clear that Nino hates his father, Donato Sarratore, although he's both charismatic and kind.
Although he was young, Nino remembers what transpired between his father and the widow, Melina Cappuccio — an event which caused the Sarratores to leave the neighborhood. "He knew perfectly well she was a fragile woman, but he took her anyways," the boy says of Mr. Sarratore's affair with Mrs. Cappuccio. "Out of pure vanity. Out of vanity, he'd hurt anyone without feeling responsible for it, because he's convinced he makes everyone happy. He thinks he should be forgiven for everything."
Nino's describing a dangerous, narcissistic man, but Lenu doesn't understand what he means until Mr. Sarratore comes into her bedroom (which doubles as the kitchen) and begins kissing her. She's too stunned (and likely too afraid) to refuse him, but it's clear that she doesn't reciprocate his advances. She is also a 15-year-old girl, a minor. After Mr. Sarratore molests Elena, he gently pulls the sheets back over her. "I'm so fond of you, and I know you're very fond of me, too, aren't you?" he tells her, smiling. Audiences can clearly see that Elena is crying, but whether or not Sarratore could tell in the dark, the fact remains that he sexually assaulted a just-turned-15-year-old. It's a gut-wrenching scene to watch, and it's obvious that Lenu's been traumatized by a supposedly nice man whom she viewed as a father figure.
If that weren't enough to handle this week, there's also Lila's tale of woe. The Cerullo girl has been fending off Marcello Solara's tenacious advances all summer. Even after she rejects his first proposal, he refuses to take no for an answer and continues to court her. Save for Rino, the Cerullos don't understand why Lila would reject such a nice, rich boy from the neighborhood, and her father is adamant that she accept him. The Solaras have a reputation for getting what they want, and Marcello doesn't understand why Lila would reject the lavish lifestyle he's offering her.
"[Y]ou're a bitch — a prize bitch," he hisses at her. "You need to watch out; you're testing my patience. But sooner or later, my patience will run out, and I'll make you pay for all these insults."
The Solara boy resorts to bribery, giving the Cerullos everything from chocolate to a television set. And it's clear that the longer the summer wears on, the more tired Lila gets. "She didn't know how to get out..., [and] she was terrified," the narrator explains of Lila's predicament. "Marcello was actually a good catch, but the good smacked of bad, and the bad smacked of good — a blend that took her breath away." Lila finally throws Marcello's grandmother's ring back in his face, which causes him to drop his nice-boy façade, backing her up against the wall. "[Y]ou're a bitch — a prize bitch," he hisses at her. "You need to watch out; you're testing my patience. But sooner or later, my patience will run out, and I'll make you pay for all these insults."
It's depressing that even for a girl as strong-willed as Lila, no one listens when she tells Marcello no: Not her family, not the rest of the neighborhood, and certainly not her would-be fiancé. And if Lila can't make decisions for herself, how is any other girl during that time? After all, this is the same Lila who stood up to Don Achille.
With all this heavy subject matter featured in nearly every episode of My Brilliant Friend, it's surprising that anyone can keep up. The series is just as humorless and dark as The Handmaid's Tale, which is similarly hard to marathon due to its violent subject matter. But however difficult the HBO series might be to stomach, the rampant misogyny is still an important — if not depressing — part of the story.
If you or someone you know has been sexually assaulted, call the National Sexual Assault Telephone Hotline at 800-656-HOPE (4673) or visit online.rainn.org.