This 'Riverdale' Black Hood Theory Just Got A Lot More Interesting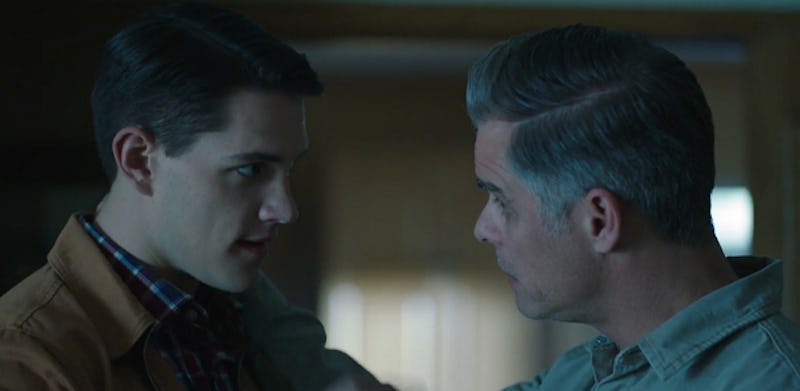 The CW
Break out the box of tissues, because even in the midst of a serial killer on a twisted rampage, an underground drug ring, and rival gang animosity, Riverdale's Kevin Keller (Casey Cott) is having a moment. The only out gay kid in town has generally had it pretty easy on The CW's dark Archie Comics drama so far, giving his hilarious and witty commentary on everyone else's issues while managing to stay out of the crazy drama himself. But that's all going to change.
In this week's episode, "The Watcher In the Woods" (airing Wednesday at 8 p.m.), Kevin goes through quite an emotional journey. Despite the fact that there is a serial killer running around shooting people in broad daylight and sneaking into their homes to slice their neck with a cello bow (RIP Miss Grundy!), Kevin is on the prowl for someone to love, and that means sneaking into the woods at night to meet other guys. Apparently, there is some kind of underground hook up culture in Riverdale in the woods, and Kevin wants in on that action.
Understandably, the added risk factor of a serial killer makes this quite a dangerous endeavor, and when his friends and family find out he's putting his life on the line like this, they won't be happy. Warning: some harsh truths will be spoken, tears will be shed and hearts (both of characters and viewers) will be broken.
"Kevin has pent up a large amount of loneliness and he's in a lot of every other character's drama up until now," Cott tells Bustle about finally getting to tackle a juicy, dramatic storyline for Kevin. "He just needs to feel something and he's trying to find someone in whatever way he can and that leads to this really risky, dangerous situation we find him in in this episode."
While Kevin may be ready to put his safety in jeopardy to connect with someone, even if only for a little while, his loved ones won't see things the same way, especially his father Sheriff Keller (Martin Cummins) and best friend Betty (Lili Reinhart). When Kevin finally reaches his limit with others trying to control his life, things will get downright heated.
"As the episode unfolds, it becomes clear that not only is there a lot of loneliness pent up for him but there is animosity towards Betty and the lack of friendship she's given him recently," Cott says. "The second she has a boyfriend, she's pretty much been gone. She just assumes she can tell Kevin how to live his life and what makes her comfortable, and on top of that there is this distance from his father."
Cott was ready and waiting for Kevin to take control of his own life. "I think it's really good for Kevin that he finally is getting a chance to open up and tell people how he really feels," he says, adding that getting to film this episode meant a lot to Cott.
"It was so fun to explore another side within Kevin and I think there are many more layers there still to be explored," he says. "One of the joys of playing a character on TV where you have so much time is finding all these new different aspects and emotions in your character and getting the chance to tell that story. I love doing that and this is a big one for Kevin."
By the end of this week's episode, Kevin Keller will be a changed man. And he's not the only one going through some changes this year. "Throughout this season, each character has a moment where they all realize they're not invincible," Cott says. "All of a sudden, there is a real terror streaking through the town and it goes from goofy to really not funny anymore, and this is Kevin's moment where he realizes that with so much going on, staying close to friends and family is really important right now."
One of those friends is Kevin's secret fling Moose (Cody Kearsley), although their amazing season one affair hasn't been rekindled this year (yet). Cott reveals that there is a "wonderfully written" scene between the two former lovers in this episode where fans get to see that "unspoken bond between them."
"It's really lovely," Cott says. "We'll see where it goes and what happens, but for the time being, they are just friends. It's a really beautiful friendship and this is a cool moment for them. And that's what Kevin really needs more than anything right now."
When asked if that's because Kevin's father Sheriff Keller is secretly the black hood killer as the most popular fan theory suggests, Cott lets out a big laugh.
"That would be wild," he says. "I don't know what would happen to Kevin if that happens. But to be honest I have no idea who the black hood killer is. Every theory theoretically makes sense because that's what a theory is."
A self-described fan of fan theories, Cott loves spending his time reading up on who everyone thinks is underneath the black hood, but he has no theories of his own.
"I literally have no idea," Cott says with another laugh. "I'm also the worst at this because I convince myself within five minutes that it could be five different people. So I am going to cop out and say I could literally convince myself that it's anyone at this point."
No matter who ends up being the black hood killer, let's just hope that it don't cause Kevin any more heartbreak. OK, Riverdale writers?