The Shoes Alexandria Ocasio-Cortez Wore While Campaigning Just Became A Part Of History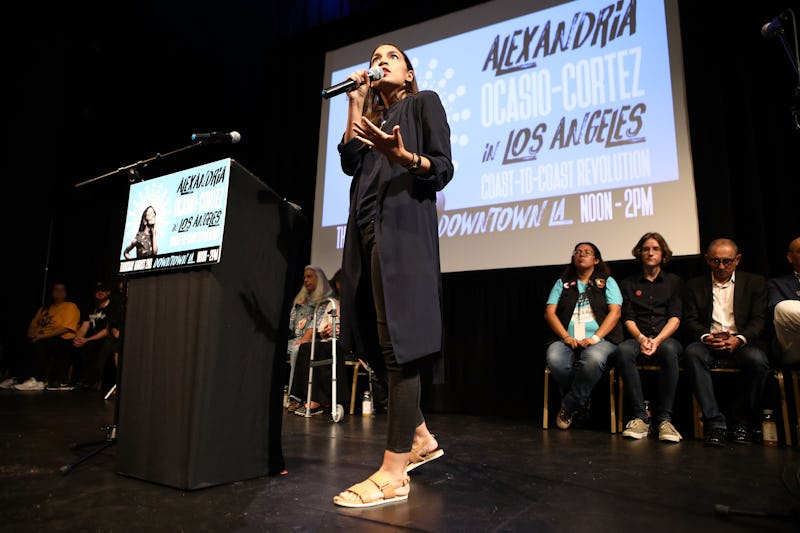 Mario Tama/Getty Images News/Getty Images
Can a beat up pair of sneakers really be considered a part history? If they belonged to the right person, the answer is definitely yes. New York Representative-elect Alexandria Ocasio-Cortez's campaign shoes are set to become a part of history in the Cornell Costume and Textile Collection's upcoming "WOMEN EMPOWERED: Fashions from the Frontline" exhibit, CNN was among the first to report.
"We can't think of a better example of fashion from the frontline: U.S. Representative-elect Alexandria Ocasio-Cortez of New York's 14th district has loaned us her first pair of campaigning shoes," the Cornell Costume Collection wrote Wednesday in an Instagram post promoting the upcoming exhibit. "These shoes represent the hard work, dedication, determination, and commitment of the youngest woman ever elected to Congress."
Earlier this month, Ocasio-Cortez defeated Republican Anthony Pappas to become the representative-elect of New York's 14th district with a whopping 78 percent of the vote, according to The New York Times. She is now set to become the youngest woman ever elected to Congress when the 116th U.S. Congress convenes in January.
But it was Ocasio-Cortez's primary upset that really turned the spotlight on her — and her shoes. At the time, TIME magazine called Ocasio-Cortez's primary defeat of 10-term incumbent Rep. Joe Crowley by nearly 15 percentage points "the biggest upset of the 2018 elections," while The Guardian characterized it as "one of the biggest upsets in recent American political history."
When some attempted to downplay her victory in New York's Democratic primary by claiming that she'd won simply because of "demographic reasons," Ocasio-Cortez offered up her shoes as proof of her hard work. "Some folks are saying I won for 'demographic' reasons," the then-congressional candidate tweeted after her primary victory in June. "[First] of all, that's false. We won w/voters of all kinds. [Second], here's my 1st pair of campaign shoes. I knocked doors until rainwater came through my soles."
Included in the tweet were two pictures of a well-worn pair of brown zip-up sneakers with multiple holes worn through the soles. "Respect the hustle," she continued. "We won bc we out-worked the competition. Period."
"Women Empowered: Fashions from the Frontline" is set to open Dec. 6 and aims to chronicle "how women strategically use fashion for empowerment and collective upliftment," according to a press release from the Cornell Costume and Textile Collection.
"In formulating the overall concept for the exhibit, we found ourselves repeatedly returning to the idea of physical spaces where empowerment might occur: the sports arena, the street, stage, academy, and the government," curatorial team member and Cornell graduate student Jenny Leigh Du Puis said in a statement. "In each of these public spaces, women have used fashion to overcome obstacles, become visible, and share their voice."
Other featured items include collars from Supreme Court Justice Ruth Bader Ginsburg, items worn by suffragettes seeking to get women the right to vote, as well as clothing worn by former Attorney General Janet Reno, late Texas governor Ann Richards, and her daughter and former Planned Parenthood President Cecile Richards.