The Government Shutdown May Cost The Economy More Than The Border Wall Would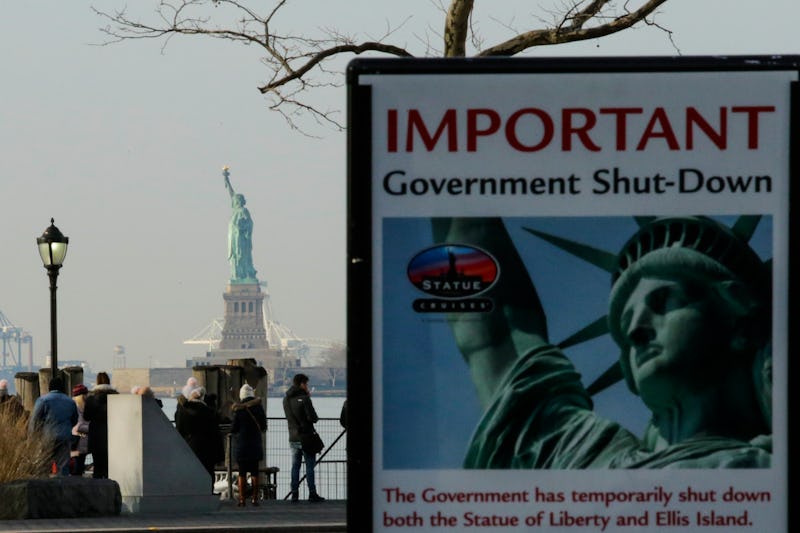 Eduardo Munoz Alvarez/Getty Images News/Getty Images
The economic impacts of the longest government shutdown in U.S. history are likely worse than initially thought, according to a new report from one of the world's leading financial research and rating agencies. In fact the shutdown is believed to have cost the economy more than the $5.7 billion President Donald Trump wanted for his border wall as Standard & Poor's (S&P) estimates the economy lost $6 billion during the shutdown.
According to an analysis from S&P, the shutdown cost the U.S. economy at least $6 billion, although that number is expected to climb higher. While the ratings agency had previously estimated the shutdown would have only a "modest impact" on the economy, a more recent report noted that its overall economic impact was "likely worse than what we had previously expected," ABC News has reported.
What's more, analysts at S&P didn't appear convinced that the economic effects of the shutdown wouldn't continue to linger despite Trump's support of a short-term spending bill designed to re-open and fund the government for three weeks. "Although this shutdown has ended, little agreement on Capitol Hill will likely weigh on business confidence and financial market sentiments," Reuters quoted the agency as having said in a press release.
According to S&P, part of the shutdown's direct economic cost came in the form of a loss of productivity from the thousands of furloughed federal employees. But the ratings agency said shutdown had indirect costs as well, including that which stemmed from lost economic activity to outside businesses.
These direct and indirect costs "amplified with each week the government remained closed," ABC quoted the agency as having said. In fact, S&P claimed that as the shutdown dragged on, they found that its weekly cost — previously estimated to be an average loss of $1.2 billion of real Gross Domestic Product — "likely widened beyond" the initial estimate.
S&P's most recent analysis of the shutdown's economic cost appears to directly counter an earlier claim from Larry Kudlow, Trump's economic adviser and the director of the National Economic Council. In an interview last week, Kudlow told reporters they would "see an immediate snapback" in the economy when the government re-opened. What's more, he claimed the shutdown wouldn't have any lasting damage on the country's economy, The Hill reported.
"We had expected that other indirect costs were likely just delayed, with businesses recouping some of those losses once the government reopens its doors," the agency said in a press release. "But, with a five-week closure, we suspect that more of those economic activities indirectly tied to the government may have been outright canceled."
Trump announced Friday that he had agreed to a stop-gap funding bill, which would temporarily end a partial government shutdown that began Dec. 22. While the short-term funding bill Trump agreed to doesn't contain funding for his border wall, Trump said he would use the time it allotted him to work with a bipartisan committee of House and Senate legislators to develop a deal that included money for border security.
"After 36 days of spirited debate and dialogue, I have seen and heard from enough Democrats and Republicans that they are willing to put partisanship aside, I think, and put the security of the American people first," Trump said Friday while speaking to reporters from the White House's Rose Garden.