ASOS Has A New 'Simpsons' Collection & Honestly, It's Every '90s Kid's Dream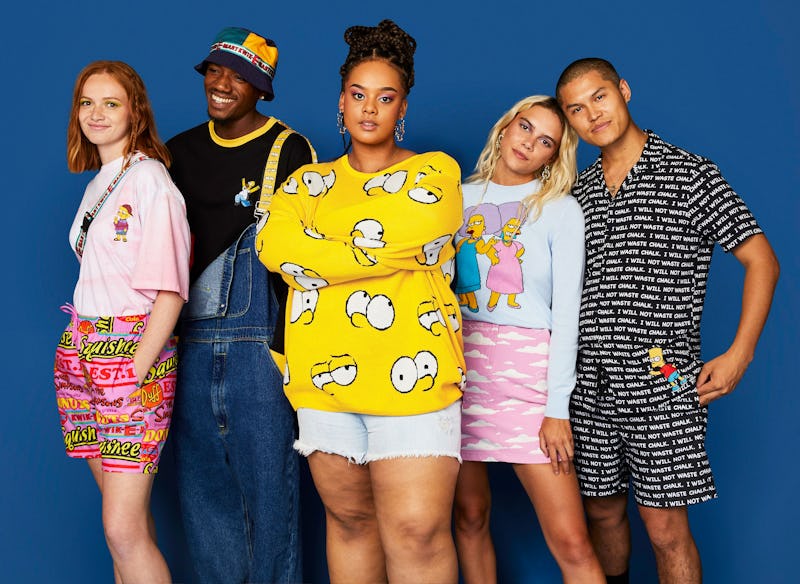 ASOS
When you were younger, you'd come home from school, switch on the TV, and sit down to watch one of the best cartoon shows to have ever been created. And now, you can relive your after school days as The Simpsons and ASOS have joined forces for the ultimate nostalgic collection. Taking inspiration from today's streetwear trend and typical '90s style, the summer-ready collaboration — which launches on Thursday — includes all of your favourite characters as well as lots and lots of yellow. Bart Simpson features heavily along with his dad Homer, of course, and those sassy sisters, Patty and Selma.
ASOS' design team have managed to come up with more than 30 memorable styles and are hailing it as one of the brand's most inclusive collections yet. As well as traditional womenswear and menswear, some pieces are designed to be unisex with styles available in both ASOS Curve and Plus (which goes up to a UK size 30).
Whether you've got a festival to attend or just want to make the most out of your summer wardrobe before the dreary autumn weather sets in, you'll find something in the colourful range which mixes Kwik-E-Mart and Duff Beer graphics with those instantly recognisable Simpsons eyes. Oh, and Lisa like you've never seen her before.
The range encompasses everything from hoop earrings shaped like Bart Simpson's head to printed T-shirts sweatshirts dungarees, swimwear, socks, and bum bags. Although a high proportion of the collection is pretty loud, those who are looking for something more subtle won't be disappointed thanks to the wide selection of denim pieces.
The clouds from the programme's famous opening sequence appear on standard blue denim jackets and jeans as well as on a Barbie-pink denim skirt. And Bart's signature detention lines reading "I will not waste chalk" are printed across bowling shirts, casual shorts, and a pinafore dress.
If you've got a holiday in the pipeline, the collection's bright yellow swimsuit and patterned pink bikini will add some vibrancy to your suitcase. Alternatively, the Bart-printed jumper and socks will make a perfect addition to any winter wardrobe.
As with any ASOS collaboration, the prices are so affordable that you'll easily be able to pick up multiple items without breaking the bank. Prices start from just £8 for a pair of socks and range up to £60 for a denim jacket. The majority of the range is around the £20 to £30 mark (with that bum bag and bucket hat available for just £15 each).
It's safe to say that Simpsons fans are very very excited for the chance to inject the cartoon characters into their wardrobes. "I can't believe ASOS are releasing a Simpsons collab and I can't pretend that I don't want to purchase such classics as: Kwik-E-Mart bucket hat, Patty and Selma denim jacket, or Thank You Come Again tote," one admirer tweeted.
Others can't seem to pick their favourite items, with one person admitting that they are "ready to buy it all" and another describing the entire collection as "fire."
To those who aren't a fan of this brilliant collab, I only have one thing left to say: Eat. My. Shorts.