'The Simpsons' Predicts Lady Gaga's Halftime Show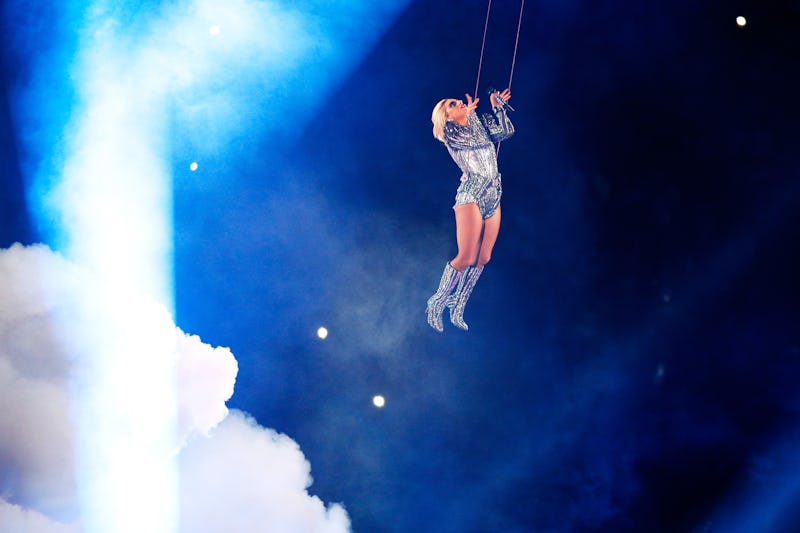 Bob Levey/Getty Images Sport/Getty Images
OK, I think it's time we admit it: The Simpsons writers are sorcerers. There's no other explanation as to how a cartoon has predicted so many real-life scenarios. It's not coincidence; it's witch craft. I'm kidding, of course, but the show does have a reputation for making some eerie connections. Their latest? The Simpsons predicted Lady Gaga's Super Bowl show. Not just the fact that it would happen — she belongs on that kind of high-profile stage, so duh — but the performance itself.
In the Season 23 finale, "Lisa Goes Gaga," Mother Monster (who also lent her voice to the 2012 episode) descends upon the arena while attached to a harness — much like she did when she took the stage at Sunday night's Super Bowl LI. They may not have gotten the songs — or the fire-shooting bra — right, but they were spot on with the entrance and the sparkly silver bodysuit. The internet is shook.
While it's possible that Gaga took inspiration from the animated imagining, she previously said her sister was the one that gave her the idea, and, based on these 12 other times The Simpsons predicted the future, it's fair to say the series has simply proved its psychic prowess yet again.