'The Simpsons' Finally Addressed That Apu Controversy, But Totally Missed The Mark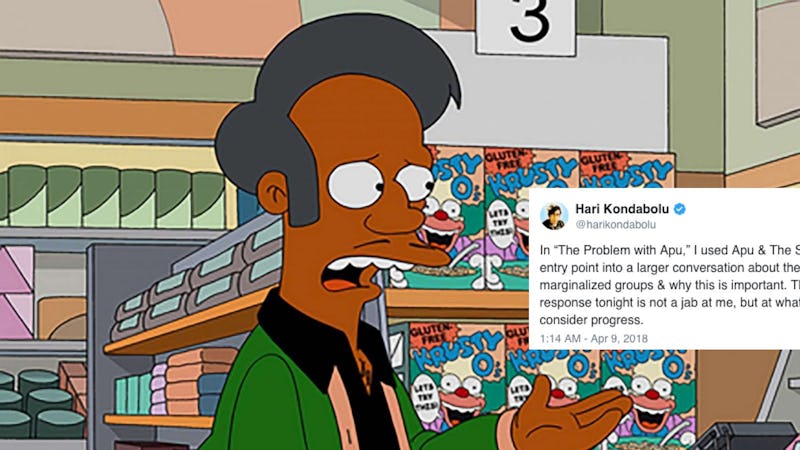 20th Century Fox; Hari Kondabolu/Twitter
The Simpsons has never been afraid to comment on current events, usually with a well-executed joke or a smart, sarcastic take. But with last Sunday's episode, The Simpsons responded to the controversy over Apu in a way that disappointed a lot of fans. This included Hari Kondabolu, director of the documentary The Problem With Apu, which looks at the complex issue of the Indian character who is at once beloved, but also problematic by contributing to cultural stereotyping. The problem with The Simpson's response to Kondabolu's documentary is that it doesn't seem to want to address the conversation surrounding Apu, but instead, dismiss it. (Bustle reached out to Fox, who declined to comment on the backlash.)
On the latest episode, "No Good Read Goes Unpunished," Marge encourages her family to start reading more, and in doing so, she realizes that one of her childhood favorites is far less woke than she recalled. "It's not exactly what I remembered," she tells Lisa of the book that has a young white girl reprimanding her non-white staff and "baptizing savages without their permission."
Marge attempts to rewrite the children's book, removing all the offensive parts. "It takes a lot of work to take the spirit and character out of a book, but now it's as inoffensive as a Sunday in Cincinnati," Marge says before reading the new version of the story about a "cisgender girl named Clara... fighting for wild horse rescue and net neutrality," which in Lisa's opinion has been so sanitized it's lost its point.
"Well, what am I supposed to do?" Marge asks, only to have Lisa look directly into the camera and explain, "It's hard to say. Something that started decades ago and was applauded as inoffensive is now politically incorrect. What can you do?"
It's then that camera flashes to a bedside photo of Apu, which is signed "Don't have a cow, man!" It's a signature Bart line, his way of calming down an adult who's overreacting, but here it's used to calm down an audience that has started to question Apu. The takeaway essentially being that there's nothing the writers of The Simpsons can do now, so everyone should just let it go.
The episode continuously makes the point that many stories from the past are offensive. (The Jungle Book's author Rudyard Kipling shows up to talk about this, as if it's no big deal.) In some ways, the episode makes the case that somehow that's what makes those stories entertaining, and to change that would somehow hinder people's enjoyment of them.
Basically, the writers created the scene equivalent of a shrug emoji with help from Marge and Lisa. Arguably the two most level-headed characters on the series — who often fight for what is right — are fighting to give The Simpsons a pass for their past missteps. "Some things will be dealt with at a later date," Marge says. "If at all," Lisa replies as the two stare blankly at the camera. The assumption being that Apu falls into the latter category.
With this response, The Simpson appears to miss the point of Kondabolu's documentary completely. As Kondabolu, who is a fan of the show, tweeted after the episode, "I used Apu & The Simpsons as an entry point into a larger conversation about the representation of marginalized groups & why this is important. The Simpsons response tonight is not a jab at me, but at what many of us consider progress."
Kondabolu's documentary makes the case that this is a complex issue that deserves a thoughtful discussion. But The Simpsons' response reduces it to a discussion of political correctness, basically accusing Kondabolu of overreacting. Producer Al Jean implied that this is a non-issue by retweeting fans, who made the case that this was a "direct message to politically correct people" and those who "just want to cry about everything nowadays b/c it makes them feel like they're doing something."
The thing is, The Simpsons didn't have to reply to Kondabolu's documentary, which is why this response is so "heartbreaking," according to Entertainment Weekly's Dana Schwartz. It shows how little they tried to understand the other side of this discussion, which focuses so much on the lack of South-Asian representation on TV. In it, Kondabolu talks about hearing Apu's voice as "a white guy doing an impression of a white guy making fun of my father," since the character is played by Hank Azaria. The Simpsons don't think they should be blamed for the criticism of this character, but that doesn't mean they should belittle the issue.
The reason fans were disappointed by this response was because it wasn't self-aware, which is something the show has been celebrated for in the past. As Sean O'Neal at AV Club pointed out in his piece "What Can You Do About Apu? The Simpsons Used To Know," The Simpsons addressed the problem with Apu in a 2016 episode called "Much Apu About Something." In it, Apu's nephew, Jay, played by The Mindy Project's Utkarsh Ambudkar — a real-life critic of the character — tells the Kwik-E-Mart owner he's a stereotype who's caused him life-long embarrassment.
That episode takes a thoughtful look at the character, which in many ways is an example of the American dream and is certainly an important member of the Springfield community. But Apu has actually caused embarrassment for many, as Kondabolu's documentary pointed out. The Simpsons have been willing to admit there's something wrong with Apu, despite their good intentions by addressing it in a real way, why didn't they do the same here? It might be a question the writers are asking themselves, perhaps, a little too late.
Kondabolu's documentary wasn't meant to insult The Simpsons, but to start a bigger conversation. With this episode, The Simpsons might have thought they were putting to rest their Apu problem, but now by dismissing it, they seem to have a bigger issue on their hands. It's one, though, that may finally lead to the nuanced conversation Kondabolu and so many others were looking for all along.