The Song In The '13 Reasons Why' Season 2 Trailer Is A '90s Track That'll Make You Shiver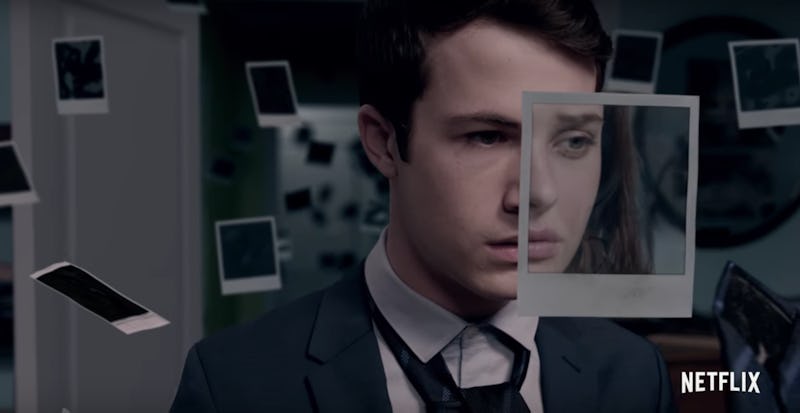 Netflix/YouTube
On Monday, Netflix announced that the second season of 13 Reasons Why will debut on March 18, with a new trailer. Though it doesn't reveal much about the plot, the song in the 13 Reasons Why teaser trailer offers insight into Clay's mindset. Scored by Depeche Mode's 1993 single "I Feel You," the song is an apt choice both for the teen drama's love for throwback elements and how it might pertain to how the story develops for Clay (Dylan Minnette) and his understanding of his recently deceased classmate Hannah (Katherine Langford).
The teaser unfolds with various characters apparently frozen in space around school, town, and their homes surrounded by many, many polaroid pictures. While the first season unfolded with a new tape recording for each episode, it seems that in this season a different analog technology is taking center stage with the square prints offering clues to another dark secret. The teaser ends with Clay flipping over a shot of Hannah's eye, which appears sad and broken, and on the back the words are written, "The tapes were just the beginning."
With those ominous words it's clear that Clay is only going to travel deeper into Hannah's life and, likely uncover terrible truths about others at their high school and in their community.
In the first season, Hannah revealed to Clay how the actions of friends and others at her school led her to feel depressed and isolated. She told Clay about what happened because she trusted him, and through the series and the tapes he begins to learn more about her.
In "I Feel You" the song's narrator, as the name implies, feels a similar strong connection to the song's subject. The song starts,
"I feel you
Your sun it shines
I feel you
Within my mind."
This would certainly seem to relate to Clay, who always has Hannah in his thoughts as he goes through his school. Though he didn't get to see many moments where her "sun shined," he certainly could feel the dark clouds of her emotions.
The song also uses a lot of imagery that relates to heaven and the afterlife, which also relates to Hannah since she's dead. The lyrics to the second verse are:
"I feel you
Your heart, it sings
I feel you
The joy it brings
Where heaven waits thre's golden gates
And back again
You take me to
And lead me through oblivion"
These lyrics could be read to be about bringing someone through bliss, but that last line "and led me through oblivion" could, in the context of the show, be related to Clay's own state of mind. At one point in the first season he questioned himself when he thought he might have played a part in Hannah's situation.
There's also the very real danger Clay could be in for continuing to look into Hannah's death and other tragic secrets people wish he would leave uncovered. If the stakes raise higher, he could be facing even more dire consequences for his desire to do the right thing.
According to a Netflix press release, the second season will begin right where the first season left off, with the school mourning Hannah's death and facing trial. An unnamed person " will stop at nothing to keep the truth surrounding Hannah's death concealed." Meanwhile the series of polaroids lead Clay and his friends to discover "sickening secret" that is being covered up by a conspiracy.
It sounds like Clay might be facing some pretty tough circumstances as he continues to seek justice for Hannah's death. The mystery he uncovers won't be revealed until the second season hits Netflix on May 18. In the meantime, check out the teaser to see if there's any other clues about Season 2.