Attention, '90s Kids: The 'Space Jam' Sequel With LeBron James Is Officially Happening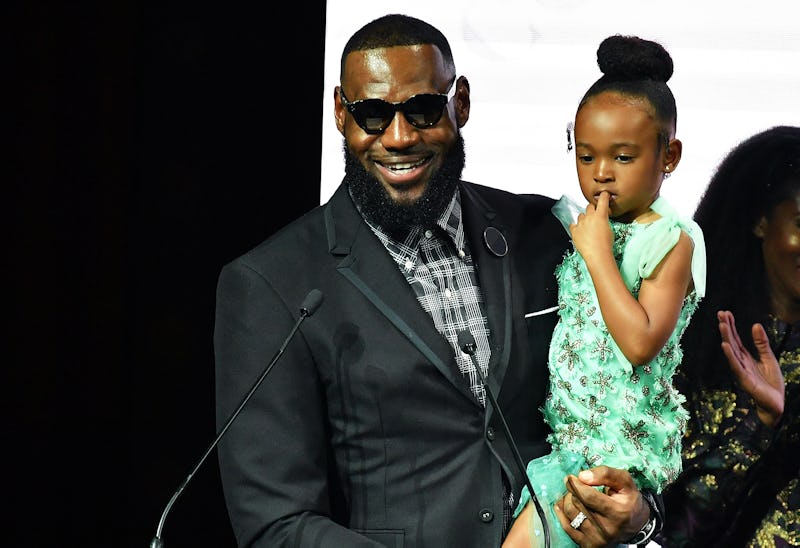 Slaven Vlasic/Getty Images Entertainment/Getty Images
The Venn diagram of '90s kids, basketball fans, and filmmaker enthusiasts overlaps in a circle that reads "excited for a potential Space Jam 2." And now, their wish is granted! On Sept. 19, a Space Jam sequel starring LeBron James was announced, with Black Panther director Ryan Coogler producing per The Hollywood Reporter. Bleacher Report released a short clip of James at a press conference in his Tune Squad uniform — spoiler alert, it's perfect — and SpringHill Entertainment posted a behind-the-scenes look at the locker room that'll have every fan dancing to Jock Jams faster than you can say Bron's Secret Stuff.
According to The Hollywood Reporter, James "loved [Coogler's] vision" for the movie, and noted that there weren't widely-known black superheroes when he was growing up. "For Ryan to bring [Black Panther] to kids," the NBA star said, "It's amazing". It's the first project he's announced since Black Panther, but Coogler will produce and not direct. Terence Nance — an award-winning filmmaker who previously created Random Acts of Flyness for HBO — will be behind the camera.
The untitled Space Jam sequel will be the third feature film from SpringHill Entertainment, which was created by James, and the first to (presumably) appear in theaters. This confirms that there is literally nothing LeBron James can't do.
It's hard to believe that Space Jam 2 is actually happening, as rumors about such a project have circled for the better part of 20 years. As THR points out, even Justin Lin — best known as directing the Fast & The Furious series — was even attached to direct. But by the time rumors really got started, it was obvious that at the very least, LeBron James would have to star. Who else could take the mantle from Michael Jordan? James has the singular talent, the charisma, and the name recognition, among other qualifiers, and it's been a while since the "LeBron vs. MJ" crowd had any new evidence for their side of the argument. Can't two GOATs just coexist in peace?
And since Space Jam 2 is officially underway, that means one more crucial thing: A cast. If the sequel's equivalent of the Monstars are going to drain modern NBA stars of their powers, who might they choose? (Other than Joel Embiid. Throw the whole movie out and start over if there's not at least a cameo by Joel Embiid.) Polite suggestion: Get some WNBA players in there this time, too!
As THR reported, production is "tentatively" set for 2019. Likely mid-2019, which would mean Space Jam 2 would begin filming immediately after the NBA off-season. That means fans may very well be treated to casting updates throughout the nascent NBA season. Basketball-adjacent news is often as wild as it is sudden (Trade rumors and Jenners and burner accounts, oh my!), which means that so much as hint of Space Jam sequel casting will cause a ruckus on Twitter.
Again, the details fans have are scarce: There's a director, a producer, and a star set for Space Jam 2, but anything else is just a rumor. For now! Oh, except that the original 1996 website for the film is still live in its original format. Because that is very real.