'Sports Illustrated' Included An Activist Statement In Its Swimsuit Issue — But Not Everyone Is Happy
The Sports Illustrated Swimsuit Issue is known as a celebration of women's bodies as defined by the male gaze. But the newest installment is taking things a little further and highlighting the strength and courage of women, not just their bodies in relation to men's desire. Sports Illustrated's "In Her Own Words" photoshoot is a new project designed by the magazine to create a platform for women to share their narratives using their own words.
In an effort to keep up with the push for women's equality, the magazine says it wanted to show it celebrated more than just bodies in its pages. In this shoot, a series of women were photographed naked with words painted across their bodies. These words were chosen by the women themselves, and are phrases that they thought best represent them.
If you're wondering why taking the bathing suit off and asking women go full nude is an evolution for SI, there's a reason behind that decision.
"It is a platform that allows the voice, the strength and the passion of these women to be expressed in the rawest form…on the naked body…with all the artistic and creative control left to them," SI explains in an article. In other words, it's not meant to be sexy and teasing, but vulnerable and honest.
Wanting to make sure the shoot wasn't directed by the male gaze, the studio was directed by all women — including the photographer, Taylor Ballantyne — and they "handed over the control to the women who are our brand."
But some people believe that this was the magazine trying to cash in on the #MeToo movement by painting their models in empowering words and leaving it at that. Some touched on the fact that prior to this issue the models were only objects rather than participants, and even athletes that were photographed didn't get an interview and a chance to talk about themselves and their work. So splashing a few phrases on naked limbs seems a bit empty.
Fashion Magazine wrote, "But rather than a superficial attempt at bringing their models' voices into the narrative through these images, how about—stay with me—actually giving them some space to say what they think?"
But here's the thing: They did. The women photographed wrote long-form essays to accompany their photos, explaining their challenges and relationships with themselves.
"We believed in, supported and encouraged them to become a canvas and share their truth," SI explains in the issue. The end result is an amazing series featuring varied women, all sharing their stories, vulnerabilities, confidence, and perspectives.
There are nine women starring in the series, all ranging in age, shape, color, and walks of life. The women featured include plus size model Hunter McGrady, 52-year-old former supermodel Paulina Porizkova, model Georgia Gibbs, curve model Kate Wasley, feminist artist and model Myla Dalbesio, Olympic gold medalist and sexual assault survivor Aly Raisman, model and activist Ebonee Davis, model and actress Olivia Culpo, and plus size model Robyn Lawley.
Former supermodel Paulina Porizkova, 52, approached her shoot by writing "truth" across her chest and talking about aging in the beauty industry. In her essay, Porizkova shared a recurring dream she has, where she's the only middle aged woman on a photo-shoot with teens, and they're all on a beach waiting to be photographed. But Porizkova never gets her turn.
Porizkova explains that she accepted that her modeling days were behind her, so when SI asked her to pose nude she wanted to hang up the phone. But she decided to do it because her life's mission is to spread and share truth — and that includes her own experience with age.
Porizkova explains her relationship with the word, writing, "It was one that represented and encompassed everything I believe in, everything I aspire to be, everything I think would make the world a better place." Truth demands that people be seen and heard, so Porizkova came to "In Her Own Words" with her story.
Plus size model Hunter McGrady decided to write words like "fearless," "boundless," and "worthy" across her body, and spoke about how she had to find the strength to create her own image when society kept trying to push its stereotypes on her body.
"A blinded and brainwashed society has tried to convince me that as a tall blonde woman with a pretty face, I'd never be taken seriously. The beauty with out brains, blonde bimbo has for too long been the cliché de jour," she explained. "Additionally, I was told that I would never make it as a model because I wasn't thin enough, had stretch marks, cellulite on my legs, rolls when I sat down, and less than perfect skin."
But she was fearless and resilient enough to brush away those ideas and subscribe to her own image, and she conveyed that through the shoot.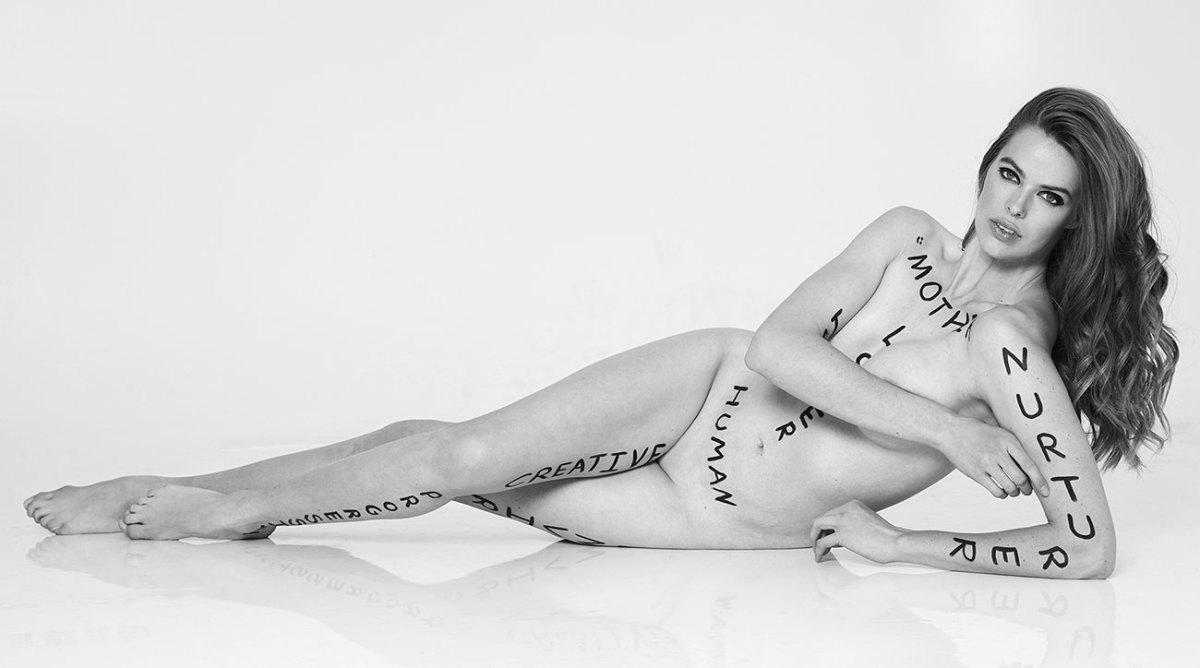 Model Sailor Brinkley-Cook opened about her struggles with body image and how she would obsessively keep her weight in check. She chose words like "stronger" and "fighter" and shared how she finally accepted herself.
"I feel now I have almost entirely given myself the allowance to live imperfectly and enjoy it all," Brinkley-Cook says. "I feel now that I am more understanding toward my choices and mistakes. I want anyone struggling with their bodies, or with eating, or with themselves, to look around at the world. Take a deep breath. There is so much more out there than a measurement."
As you can see, each story is raw, vulnerable, and honest, and shares the story behind each woman. You can check out the rest of the stories on Feb 13, the official launch of Sports Illustrated Swimsuit 2018.