Trump's Ex-Campaign Manager Will Face One More Trial — And It May Be Even More Intense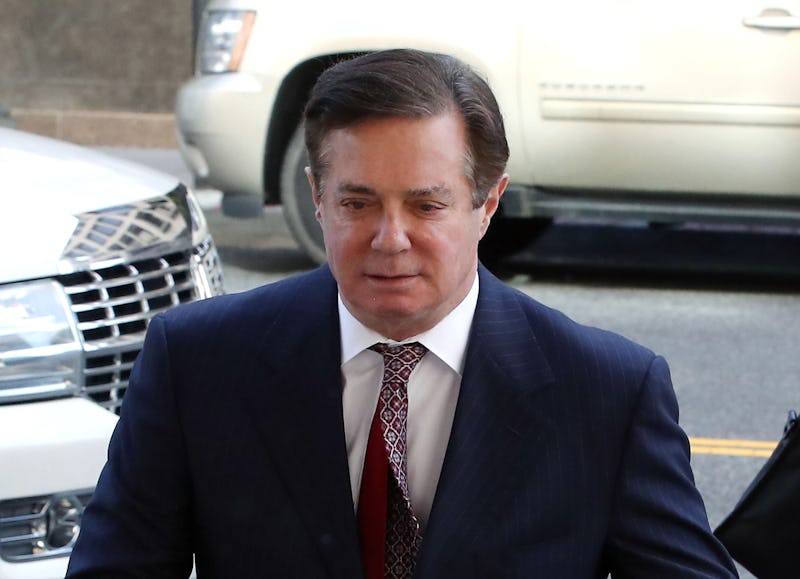 Mark Wilson/Getty Images News/Getty Images
The summer of high-profile court cases will extend into the fall, as lobbyist, political consultant, and former Trump campaign adviser Paul Manafort's second trial start date is scheduled to begin Sept. 17, according to several news outlets. The trial is expected to be lengthy, and will reportedly include over 1,000 pieces of evidence.
In Washington next month, Manafort will face charges of money laundering, conspiring to defraud the Treasury Department, failure to register as a foreign agent, and making false statements to federal agents. He has pleaded not guilty to all charges. September's trial will be the second Manafort undergoes this summer. The first one, in Virginia, began at the end of July.
During the Virginia trial, he faced 18 different charges. In the end, Manafort was found guilty of five counts of felony tax fraud, one count of failing to declare a foreign bank account, two more counts of bank fraud. The remaining 10 counts resulted in a mistrial.
Manafort served as Trump's campaign chairman between March 2016 and and August 2016. In mid-August of that year, Trump reorganized his staff, giving Manafort a lesser role in the campaign, according to Time. The reorganization took place after news broke about Manafort's relationship with Russia. Manafort resigned from the campaign two days later. He was ultimately replaced by Steve Bannon and Kellyanne Conway, Time reports.
The former campaign adviser's alleged ties to Russia come by way of Ukraine, where he worked for nearly 10 years as a political consultant for a pro-Russia political party, according to NBC News. One of that party's leaders, Viktor Yanukovych, was the Ukrainian president between 2010 and 2014, until he was ousted during the 2014 Ukrainian revolution. He is currently in exile in Russia, and is wanted for treason in Ukraine.
The party Manafort did consulting for was known for extolling anti-Western rhetoric, opposed participation in NATO, and was backed by Russia-supporting oligarchs, according to NBC News. Manafort allegedly earned millions of dollars for his work with the party. What Manafort did with that money, which he allegedly accrued both from the party itself and Ukrainian oligarchs, is at the heart of the money laundering charges he faces in September.
It's important to note that none of the charges against Manafort include charges against the Trump campaign, nor do they allege any direct ties between the Trump campaign and Russia. However, as Lawfare points out, the bank indictment alleges that Manafort participated in bank fraud between 2015 and 2017, a time period which includes his work on the campaign.
Manafort didn't need to go through two separate trials, but his team requested that they be split. One reason for the split, that has been suggested by analyses published in several outlets, could be that a Virginia jury could potentially be more friendly to Manafort than a D.C. jury.
In Virginia, Manafort's guilty counts mean he could face decades in prison. With the charges in D.C., where he is largely expected to face a jury less friendly to his cause, he could face up to 20 years in prison if convicted.