If You're Obsessed With The 'Stranger Things' Cast, Here's What To Do Next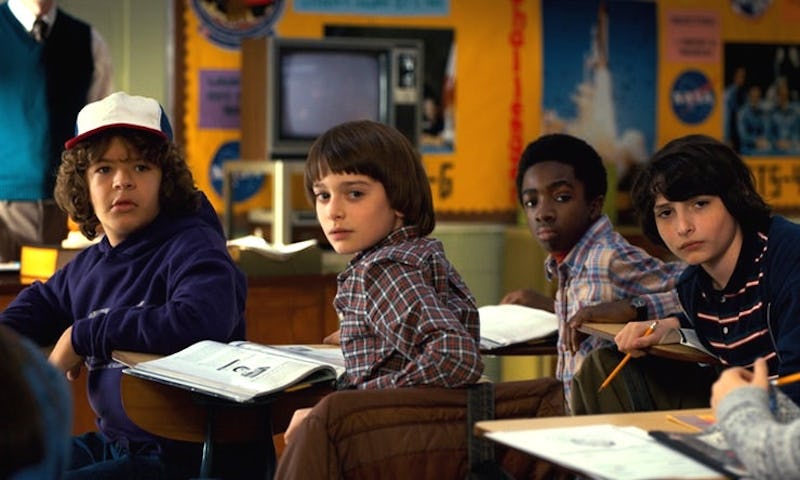 Netflix
The second season of Netflix's hit show Stranger Things dropped on Friday, Oct. 27, and fans everywhere spent the weekend marathon watching as much as they could. But for those of us who can't get enough of the cast, you can follow a number of the Stranger Things cast members on Snapchat. Why Snapchat? Well, because it's the best way to get a true behind the scenes look at what's going on with the show's stars. Whether it's seeing them preparing for, then later attending award shows, hanging out with friends IRL, or promoting their hit show — Snapchat is a great way to keep up with your favorite Stranger Things stars.
Oh, and creators Ross and Matt Duffer have confirmed that there will be a third season of Stranger Things, so odds are the cast will be snapping pictures and videos from on set when production begins. According to Vanity Fair it could be a while before Season 3 stars filming, but hey it's better to add the stars on Snapchat now so that way you're ready in advance.
Sadly, the entire cast isn't on active on Snapchat. In an interview with Marie Claire UK, Winona Ryder admitted she thought Snapchat was a type of snack before being corrected by one of her Stranger Things co-stars. "I'm like the old grandma. 'Snack chat? Give me a piece of that!'" Ryder joked of the social and messaging app. "I'm like the confused older person." Fortunately you can follow Ryder on Instagram.
Luckily, half a dozen Stanger Things stars are on the popular messaging app. You can find each celeb on Snapchat by either searching for them by first and last name, or by their username (listed in the parenthesis) below.
Millie Bobby Brown (milliebbrown)
Millie Bobby Brown, who plays the eerie and insanely entertaining Eleven is quite active on Snapchat. She posts lots of selfies (both with and without face filters), pictures of her adorable dog, and shots of some of her "besties."
Caleb McLaughlin (wise_man1013)
Caleb McLaughlin is also on Snapchat, though it isn't clear what the inspiration is for his username, wise_man1013. The star, who plays Lucas, snaps photos of himself and his family and is a great person to follow on the messaging app.
Shannon Purser (mynameisntbarb)
Barb! Primetime Emmy Award nominated actor Shannon Purser is a total gem on every social media platform. If you're a fan of Stranger Things then you absolutely must follow Purser on Snapchat. On a related note, did you know that she is also a talented singer?
Noah Schnapps (theschnappchat)
You can follow Noah Schnapps, who plays Will, by looking up his username, theschnappchat. Get it? Talk about a fun username.
Dacre Montgomery (dacremontgomery)
Season 2 newcomer Dacre Montgomery is pretty active on Snapchat. Montgomery plays fellow newcomer Max's (Sadie Sink) older brother, and though Sink isn't currently on Snapchat, Montgomery definitely is.
Finn Wolfhard (finnwolfhard)
Mike actor Finn Wolfhard goes by username "finnwolfhard" on Snapchat. Check him out and you might get to see more of his traveling adventures.
If Snapchat isn't enough for you, then you can also follow your favorite Stranger Things stars on other social networks like Twitter and Instagram. Just search by name and you should have no trouble finding each star. Staying up to date with the likes of Brown, Wolfhard, and Purser should help you stay entertained until the next season of Stranger Things comes out.