The 'Stranger Things' S2 Premiere Date Is Here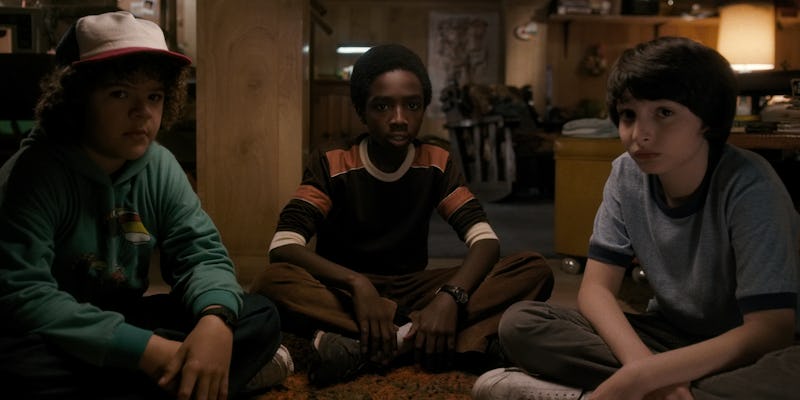 courtesy of Netflix
It's almost time to go back to Hawkins. While you were decompressing from Gaga's performance (or actually watching the game), fans got a look at the new season of last year's most talked-about Netflix hit. The Stranger Things Season 2 Super Bowl ad is our first look at the nostalgic goodness to come, and it looks amazing. Plus, the trailer revealed that the Stranger Things Season 2 premiere date is Halloween!
Sure, it's a long wait considering that Season 1 came out last summer — but the only thing more fitting than a blood-curdling campfire story is a spine-chilling Halloween tale. Season 2 will take place in 1984, a year after the first incident with Eleven, Will's disappearance, and Barb's tragic demise.
The trailer showed our four young heroes dressed as the Ghostbusters, because of course it did. The tantalizing teases include an arcade marquee, Chief Hopper digging into the ground, men in HazMat suits with dangerous looking tasers, Will continuing to struggle with the Upside Down, a door that seems to lead right to it, and a drawing of what looks to be a whole new monster. Watch the new trailer to start looking for clues below. What does #WorldUpsideDown even mean?
I also love the sneak attack, disguising this trailer as an old school Eggo waffle ad. Surely, Eleven would approve of the artistic choice.
I have to admit, I'm a little bummed out that I have to wait a few extra months for more Stranger Things. There's not as much television to choose from in the summer, and it made the show feel special. That said, I'm just glad it's coming back at all, and there is something autumnal about the series — whether it's the '80s back to school attire, the coziness of Hawkins as a town, or the Halloween monsters surrounding it. So, Halloween is a pretty fitting choice — even if fans have to wait to see it.