The 'Stranger Things' Season 3 Release Date Is Here With An Ominous Message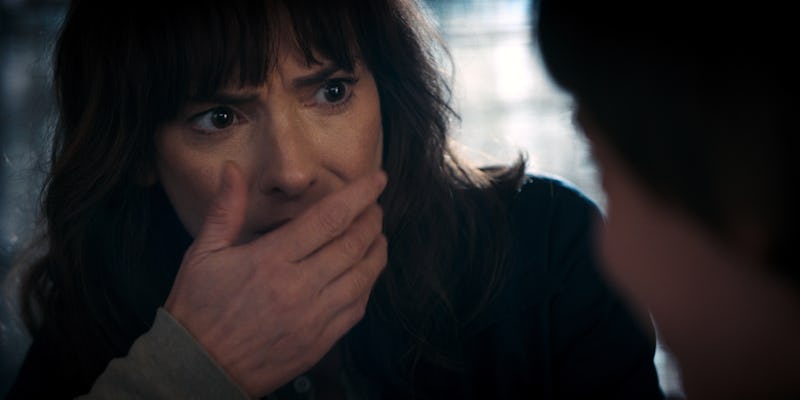 Courtesy Netflix
Audiences could be headed back to Hawkins, Indiana, sooner than they thought. On Monday, Dec. 31, during the various New Year's Eve programs, the Stranger Things Twitter account posted something cryptic about Season 3, then followed it up with a live stream of their own creepy NYE ball drop. All of this revealed that Stranger Things Season 3 will arrive on July 4, 2019.
Fans will recall that Stranger Things Season 2 aired Oct. 26, 2017, which means that its third installment will be arriving a bit more than a year and a half after the second. As a quick refresher, Season 2 followed Eleven as she ran away from Hawkins, got a goth makeover, and eventually returned home to close the Upside Down for good (maybe?). Will, meanwhile, was possessed by the Mind Flayer, newbie Max was initiated into the group, and Bob was sadly killed by some demodogs.
Netflix first teased a third season back in July 2018 with an old-school, promotional video for the Starcourt Mall. "Starcourt Mall has it all!" the announcer chirped, but since it's Stranger Things and Hawkins is no ordinary Indiana town, there's likely more to this shopping center than meets the eye.
So what can these newest Season 3 teasers tell audiences about what's in store for Eleven and co.? Could they be headed back for the Upside Down? For one, it will take place in 1985 — one year after the events of Season 2. The latest teaser video shows the 1985 Dick Clark's New Year's Rockin' Eve (sponsored by Starcourt Mall, of course!). However, footage of the Times Square crowd is soon cut off and replaced by a retro computer screen filled with green numbers and letters. Some of these are highlighted, which ultimately spell out, "When blue and yellow meet in the West." Which means...what exactly?
Blue and yellow together make green, but it's unclear if that in itself means anything. Could they be referring to fireworks, since the series comes out on the Fourth of July? Whatever the case, there's also another flash of computer screen in the clip, and while this one's a bit harder to read (there's lots of hacker-esque code scrawled over it), viewers can parse a few details: For one, it says "Welcome to Lynx Corp.," and at the bottom, the screen reads: "Run program SilverCatFeeds.exe."
However, that's not all. The Times Square billboards footage slowly begins to turn — wait for it — upside down, because of course it does. The whole thing has a very retro video game vibe, which could be a reference to the arcade that the Hawkins kids love frequenting. This would make sense, since Stranger Things is set to release a video game that will coincide with the Season 3 plot, according to Variety. The game will be a 16-bit style Action Adventure RPG that will be released sometime in 2019, per a Netflix press release. Would it be too wild to guess that the Upside Down will somehow turn into a video game??
Regardless of what all of this means, fans have seven long months to analyze all of the evidence and try to figure it out for themselves. After all, one summer can change everything.