The 'Summer House' Cast May Not Always Get Along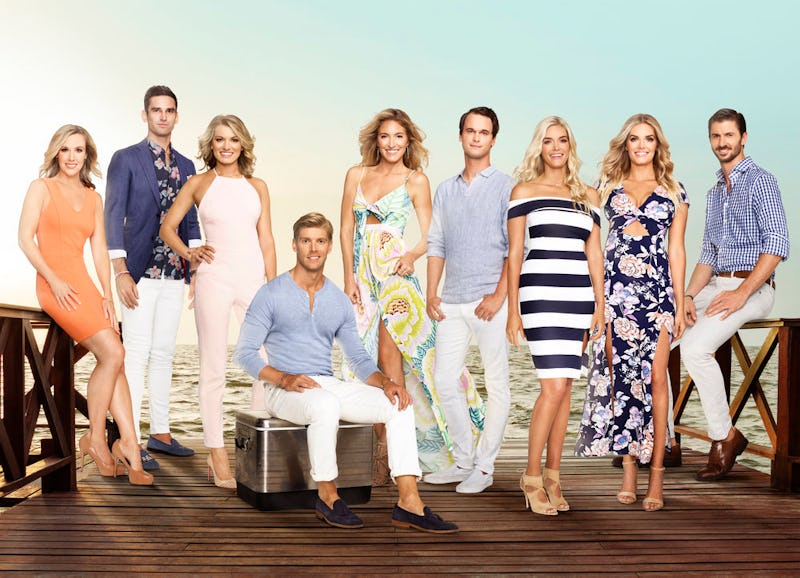 Virginia Sherwood/Bravo
As if you didn't already have enough TV to watch, I've found a brand new reality show gem. Summer House is the latest addition to the Bravo lineup and if I know anything, it's that the network excels at serving up some deliciously dramatic reality TV. Summer House is no exception, as the series will follow the shenanigans of nine friends who are spending their summer weekends in a house together in Montauk, a town in the Hamptons. Stassi Schroeder is set to make an appearance one weekend, but even without her, the Summer House cast will have you glued to the drama all season.
With the dead of winter bringing cold temperatures and blankets of snow to many parts of America, who wouldn't want to live vicariously through these beach-dwellers? Plus, the cast's Bravo bios feature basically everything you could want in a reality series. There's a party boy who refuses to grow up, an ex-model, identical twins, and a newly single, relatable woman ready to have some fun. Here's a quick guide to the Summer House cast that should give you an idea of what to expect once the season kicks off on Monday, Jan. 16.
Ashley Wirkus
Ashley is one of the twins and is newly married. Her Bravo profile refers to her as the caretaker of the group, which makes me think she'll be the one complaining about late nights and worrying about her friends' whereabouts. However, this summer house is also Ashley's last big hoorah before moving back to California "to start settling down," so she may surprise viewers with some antics of her own.
Lauren Wirkus
Lauren is the other half of the identical twins, but unlike her sister, is happily single. She's also a financial wizard during the week and is spending time in Montauk to have some fun with her sister before Ashley moves to California.
Carl Radke
Carl is the new guy in town, as he comes to Summer House through another cast member, his friend Kyle. He's also the ex-model I mentioned above, but currently works in medical-device sales. He is single and it looks like he is ready to mingle. He also wears super tight white pants with sailboat-emblazoned loafers, which is something I just felt that I needed to point out.
Kyle Cooke
Kyle is apparently a "man-olescent" and I think that's really all we need to know.
Cristina Gibson
Cristina is a freelance reporter who seems to really have it together and her Bravo bio makes it sound like she may not be as close with the rest of the group by the time the summer is over.
Everett Weston
Everett is described as a Type-A personality and is newly coupled up with Lindsay (more on her in a minute). He is also an army veteran who served on the front line in Iraq. According to his Bravo profile, he is co-founder of Operation: Heal Our Heroes (HOH), which is a nonprofit organization that strives toward improving mental health and bringing awareness to the suicide epidemic among our nation's veterans. Hopefully, Summer House will give him a large platform to promote this worthy cause.
Lindsay Hubbard
Lindsay is described by Bravo as the "ultimate alpha female," so do with that what you will. She is also the president of a public relations firm, dating Everett, and a Hamptons veteran who has coming to the beach for over a decade. I have a feeling that we'll see Lindsay take charge of the group this summer.
Jaclyn Shuman
Here is the newly single, relatable one I told you about. Jaclyn hails from Texas but now lives in NYC and has since falling into fit modeling, which isn't something I didn't realize you could "fall into," but Bravo bios don't lie. She recently went through a major breakup, so we'll likely see her coping with that while getting back into the dating scene during her time in Montauk.
Stephen McGee
Stephen moved to NYC from Alabama and quickly rose in his career. He is an event planner for socialites and the like during the week and according to Bravo, he "shakes things up and doesn't care what people think."
There's quite a mix of personalities in the Summer House, so I can't wait to see what kind of drama unfolds between commutes back to New York and trip to the beach.