The 'Supernatural'-'Scooby-Doo' Crossover Gave Jared Padalecki Anxiety For The Sweetest Reason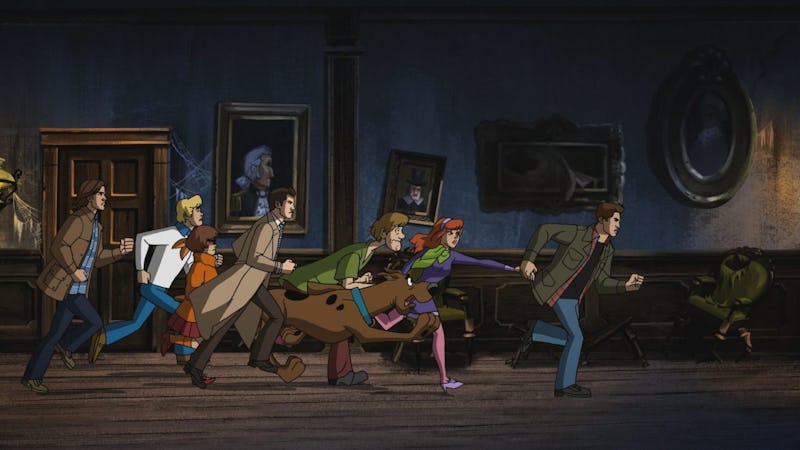 The CW
Supernatural is no stranger to wild, high-concept, extremely meta episodes. After all, 13 years of making the same sci-fi series means the writers get to try out some weird things that most shows never get the chance to do. Some of the best Supernatural episodes of all time flipped every TV and sci-fi trope on its head, putting the Winchesters though wackier and wackier situations. As if that wasn't entertaining enough to watch, each season the writers go one step further and attempt to top the previous year's meta episode. That means the spectacle gets even bigger, and this season's Scooby-natural crossover between Supernatural and Scooby-Doo might be the most ambitious endeavor of the entire series.
Not only are Sam (Jared Padalecki) and Dean (Jensen Ackles) getting animated along with Castiel (Misha Collins), but they're getting to live out their fantasy of hanging with the Scooby gang and solving one of the classic mysteries from the cartoon while putting their own Supernatural spin on it. The mostly-animated episode has been in the works since last January, and putting in over a year of preparations was something totally unprecedented for Supernatural. When Bustle visited the Supernatural set in November, the stars had already recorded the audio — "They put Jared and myself and Misha into a studio and recorded the whole thing so it will all be documented, which may or may not be a good thing," Ackles quips — and had already seen early drafts of the animation.
For an hour-long, serialized drama, working on an episode over a year before it airs (and a full season in advance!) is truly a complicated, impressive task. The amount of intense planning that went into making it work is almost unfathomable. But that's not the reason why Padalecki was freaking out about the Scooby-Doo crossover.
"I grew up watching Scooby-Doo and I remember when the Scooby-Doo movies came out," Padalecki says, sitting in the Supernatural production office on set in Vancouver. "They wanted me to try out for Shaggy. I was young, and [Matthew] Lillard [who ended up playing Shaggy] is great. [But] I fought not to do it."
Because Padalecki felt so passionate about his love for Scooby-Doo, and it played such a big role in his life, he just "wanted to watch that as something I enjoy." Just like how he's a big James Bond fan, he would never want to try out for James Bond. But now that Supernatural is incorporating the Scooby-Doo world and characters into its own mythology, it didn't feel so wrong to him.
"I'm really excited for Scooby-Doo to be part of the Supernatural lore, but I'm more excited for the Supernatural lore to be a part of the Scooby-Doo canon," Padalecki says. "That's cool for me, you know what I mean? That now there's a footnote about Supernatural when people are talking about Scooby-Doo."
Padalecki definitely wants to do more with Scooby-Doo in the future, despite how much work and planning went into bringing the animated episode to life. "It's nerve-wracking to make when you're such a fan of something," he adds. "It certainly causes some anxiety, but they seemed happy with it."
Calling the Scooby-natural crossover "similar" to fan-favorite meta episode "The French mistake," Padalecki is confident this will easily become one of the best Supernatural episodes of all-time. The episode takes place about 90 percent in animation with the Scooby gang, and the 10 percent live-action scenes help to set up the story of how Sam, Dean and later, Castiel, get sucked into the cartoon. Think of the hour like one long "Changing Channels" scenario, only this time Dean couldn't be happier about the situation. As for whether Dean is going to hook up with his lifelong crush Daphne, he'll certainly try. But he might not be the Winchester to score a kiss from a Scooby gang lady. Never underestimate the power of Sam's luxurious hair, especially when it's animated.